News > Spokane
NCAA rule forces D.Lish's to change name of 'Karnowski' burger
UPDATED: Fri., March 31, 2017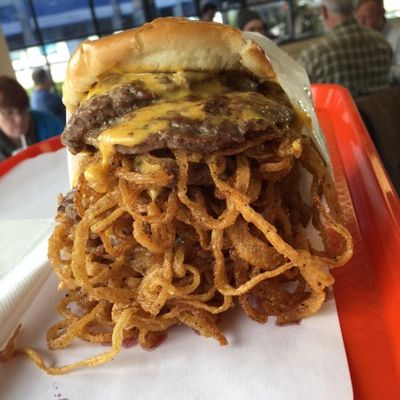 Spokane's D. Lish's Hamburgers has changed the name of its recently introduced seven-patty novelty burger, formerly called "the Karnowski" in honor of Gonzaga University's star basketball player Przemysław "Przemek" Karnowski.
"We're calling it the Zag burger now," said Mike Lish, the owner of the restaurant at 1625 N. Division St. "Because we're a for-profit company, we're not allowed to use any NCAA players' names or likenesses to make money."
Lish said he got a call this week from one of Gonzaga's NCAA compliance officers asking him to change the name of the $14 behemoth burger. He stressed that it was an amicable conversation and that he happily made the change, although he was surprised by the strictness of the athletic association's rule.
"I was just really caught off guard that there would even be a problem," he said.
A spokesman for Gonzaga's athletics department, Todd Ziedler, said the change helps ensure that Karnowski will be eligible to play in the Final Four this weekend.
"As an NCAA member school, it is Gonzaga's institutional obligation to monitor and enforce NCAA rules to protect the eligibility of all student-athletes," Zeidler wrote in an email. "We appreciate the continued encouragement of our teams and student-athletes, as well as everyone's diligence in helping us maintain compliance."
Local journalism is essential.
Give directly to The Spokesman-Review's Northwest Passages community forums series -- which helps to offset the costs of several reporter and editor positions at the newspaper -- by using the easy options below. Gifts processed in this system are not tax deductible, but are predominately used to help meet the local financial requirements needed to receive national matching-grant funds.
Subscribe to the Coronavirus newsletter
Get the day's latest Coronavirus news delivered to your inbox by subscribing to our newsletter.
---