News > Spokane
Bloomsday post-race festivities and shirt pick-up will be along Main Avenue this year
Mon., May 1, 2017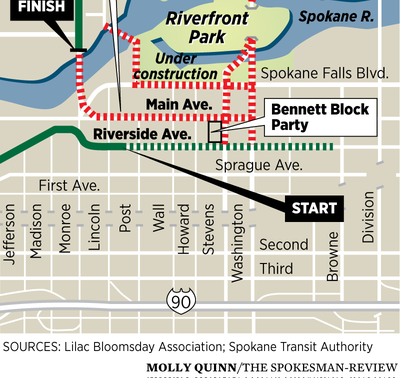 Those finishing the 41st running of Bloomsday downtown on Sunday will find themselves picking up one of the event's signature shirts in a new location.
Construction of a 2.2 million-gallon combined stormwater tank near the downtown library and a new ice ribbon feature in Riverfront Park will push the festivities following the 12-kilometer road race one block south, along Main Avenue. Spokane Mayor David Condon announced the change to the finish line procedure in a joint news conference with race planners on Monday morning.
"Despite everyone's best efforts, these improvements do cause some temporary disruption," Condon said.
Portions of Main Avenue, a block north of the starting location on Riverside Avenue, will be shut down starting at 9 a.m., requiring participants to access the starting line on Wall Street, said Mark Starr, president of the Bloomsday board.
"The sidewalks are going to be open on both sides," Starr said. "At 9 o'clock, we have to close it to secure the shirts."
The Bloomsday course will not be affected by construction, still ending on the Monroe Street Bridge, race organizers said. Festivities that usually take place in the Gondola Meadow at Riverfront Park will move to the Bennett Block on Stevens Street between Spokane Falls Boulevard and Main Avenue. Corporate Cup participants will find their post-race celebration in the meadow beneath the Clocktower.
The Washington and Stevens streets couplet will be closed to vehicle traffic, along with other downtown streets as early as 5 a.m., and will reopen around 2 p.m. Pedestrians will be able to use the bridge to access the starting line and avoid the construction in the park, Starr said.
"Even with all the construction, I think people are really going to be surprised with what a great experience it is," he said.
Spokane Transit Authority expects to move about 20 percent of race day participants using shuttle service that will begin at 6:20 a.m. The service concludes at 2 p.m. Sunday, when normal bus routes will resume. The downtown plaza will be closed to STA coaches through 3 p.m.
"Nothing's changing with our service this year," said Beth Bousley, director of communications and customer service for STA.
A map of STA services for Bloomsday is available at spokanetransit.com.
The transit provider will be giving elite athletes a vanpool tour of the course on Saturday, before the race, as has been done in years past. Those who want to buy sticker passes providing fast boarding on race day can buy one for $1.50 at the STA Plaza or the Bloomsday trade show at the Spokane Convention Center through Saturday; they can be affixed to your starting number. The fare is $1.50 for each trip on race day, and exact change is required on buses.
As of Monday, registration for this year's Bloomsday is lagging behind numbers for the past few years, but organizers expect more to sign up during a late registration period beginning this weekend. Organizers said 40,169 people had signed up to run as of Monday afternoon, compared to 46,566 last year and 46,914 in 2015. The most runners ever to complete the course did so in 1996, when 56,156 people crossed the finish line.
Participants will also climb a new and improved Doomsday Hill, completed by Halme Construction in time for the race on Sunday. Construction of another stormwater tank didn't impede Bloomsday last year, but it did change the course of bicycle ride SpokeFest.
The National Weather Service is predicting a mostly cloudy race day, with a high near 65 degrees and an overnight low Saturday night of around 42. There's a 30 percent chance of showers Saturday, and a 20 percent chance of rain Sunday.
Local journalism is essential.
Give directly to The Spokesman-Review's Northwest Passages community forums series -- which helps to offset the costs of several reporter and editor positions at the newspaper -- by using the easy options below. Gifts processed in this system are not tax deductible, but are predominately used to help meet the local financial requirements needed to receive national matching-grant funds.
Subscribe now to get breaking news alerts in your email inbox
Get breaking news delivered to your inbox as it happens.
---