News > World
South Korea's likely next president warns the U.S. not to meddle in its democracy
Tue., May 2, 2017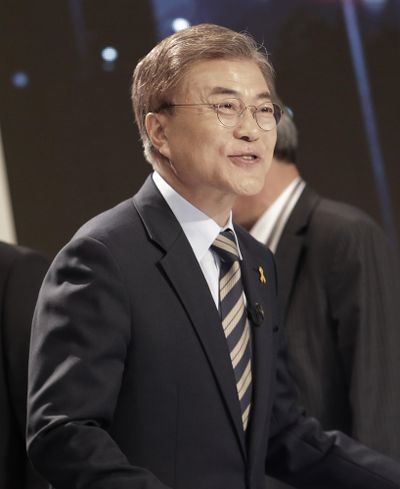 SEONGNAM, South Korea — South Korea is on the brink of electing a liberal president with distinctly different ideas from the Trump administration on how to deal with North Korea – potentially complicating efforts to punish Kim Jong Un's regime.
He's also a candidate who fears that the United States government has been acting to box him in on a controversial American missile defense system and circumvent South Korea's democratic process.
"I don't believe the U.S. has the intention (to influence our election) but I do have some reservations," Moon Jae-in told the Washington Post in an interview.
Barring a major upset, Moon will become South Korea's president Tuesday, replacing Park Geun-hye, who was impeached in March and is now on trial for bribery. Because Park was dismissed from office, Moon will immediately become president if elected, without the usual transition period.
With Moon pledging to review the Park government's decision to deploy the Terminal High Altitude Area Defense, or THAAD, antimissile system, the U.S. military has acted swiftly to get it up and running. This has sparked widespread criticism here the U.S. is trying to make it difficult, if not impossible, for Moon to reverse it.
The final components for THAAD were taken onto the site into the middle of the night last week, triggering protests, and the system became operational Monday. It is designed to shoot down North Korean missiles but many in South Korea fear it will make them more of a target.
"It is not desirable for the (caretaker) South Korean government to deploy THAAD hastily at this politically sensitive time, with the presidential election approaching, and without going through the democratic process, an environmental assessment or a public hearing," Moon said, sitting on the floor in a Korean restaurant after an evening rally in Seongnam, south of Seoul.
"Would it happen this way in the United States? Could the administration make a unilateral decision without following democratic procedures, without ratification or agreement by Congress?"
Privately, Moon aides say they are "furious" over what they see as the expedited installation of THAAD. U.S. Forces Korea said that the deployment is in line with plans to have the system operational as soon as possible.
But Moon warned that the U.S.'s actions could contribute to rising anti-American sentiment in South Korea and complicate the countries' security alliance.
"If South Korea can have more time to process this matter democratically, the U.S. will gain a higher level of trust from South Koreans and therefore the alliance between the two nations will become even stronger," Moon said.
But in a move that shocked South Koreans, President Donald Trump last week said he would make Seoul pay $1 billion for THAAD, despite an agreement that South Korea provides the land and the U.S. supplies and operates the battery.
Ironically, this insistence could boost Moon's chances of becoming president as it has angered people who were on the fence about THAAD and enraged the system's opponents even more.
"Is South Korea a colony that has to cough up cash whenever the U.S. wants it to?" Park Hee-ju, an anti-THAAD activist, told the left-leaning Hankyoreh newspaper, which Moon helped found.
Even conservative papers have been taken aback by the sudden change. "Trump's mouth rocking South Korean-U.S. alliance," declared a headline in the right-wing Chosun Ilbo.
A 64-year-old former human rights lawyer who was chief of staff to former progressive president Roh Moo-hyun, Moon has a commanding lead in the polls. He is now regularly attracting twice the support rate of his closest rival, centrist Ahn Cheol-soo.
Thanks to THAAD, and to North Korea's recent provocations and Trump's tough response, foreign policy is at the top of the election agenda.
Moon, who is closely associated with the "sunshine policy" of engagement with North Korea, could hardly be more different from Park – or from Trump.
He wants to reopen an inter-Korean industrial park and in TV debates has talked about South Korea taking the initiative on North Korea. He wants South Korea, not the United States, to have operational control of the military alliance if a war breaks out.
American analysts say that some of Moon's campaign pledges – like his pledge to reopen the industrial park – are "fantastical," and the candidate struck a markedly more measured, more diplomatic tone in the interview.
"The answer is no," Moon said when asked if he would seek to rebalance the security alliance with the United States.
"I believe the alliance between the two nations is the most important foundation for our diplomacy and national security. South Korea was able to build its national security thanks to the U.S. and the two nations will work together on the North Korean nuclear issue."
But Moon did say he wants South Korea "to able to take the lead on matters on the Korean Peninsula."
"I do not see it as desirable for South Korea to take the back seat and watch discussions between the U.S. and China," he said, although he would not approach or open talks with North Korea without "fully consulting" the U.S.
Moon has said he would be willing to go to anywhere, including to Pyongyang, to make progress on denuclearizing North Korea.
"I could sit down with Kim Jong Un but I will not meet him for the sake of meeting him," he said. "I will meet Kim Jong Un when preconditions of resolving the nuclear issue are assured."
There is some overlap here. Trump this week said that he would be "honored" to meet Kim "under the right circumstances." This comment struck a markedly different tone from Trump's recent talk about the potential for military action, sending warships to the region and warning of the possibility of a "major, major conflict."
Indeed, Moon stressed the things that he and Trump have in common – like their shared belief that the Obama administration policy of "strategic patience" towards North Korea was "a failure." He agreed with Trump's method of applying sanctions and pressure to North Korea to bring them back to negotiations – although this is essentially what "strategic patience" was.
"I believe President Trump is more reasonable than he is generally perceived," Moon said. "President Trump uses strong rhetoric towards North Korea but, during the election campaign, he also said he could talk over a burger with Kim Jong Un. I am for that kind of pragmatic approach to resolve the North Korean nuclear issue."
Even if there is a large divide between Moon and Trump on most issues related to North Korea, analysts doubt how much strain this will put on the alliance.
"For the last decades, through two conservative presidents, South Korea had a more friendly relationship with the United States," said Kang Won-taek, a professor of political science at Seoul National University.
"Moon Jae-in's position is clearly different from those conservatives presidents, but generally speaking, I don't think relations between the two countries will change that much," Kang said. "After all, we have a common enemy."
Local journalism is essential.
Give directly to The Spokesman-Review's Northwest Passages community forums series -- which helps to offset the costs of several reporter and editor positions at the newspaper -- by using the easy options below. Gifts processed in this system are not tax deductible, but are predominately used to help meet the local financial requirements needed to receive national matching-grant funds.
Subscribe to the Coronavirus newsletter
Get the day's latest Coronavirus news delivered to your inbox by subscribing to our newsletter.
---