News > Spokane
Spokane to get tougher on downtown parking meter limits starting July 1
UPDATED: Tue., May 2, 2017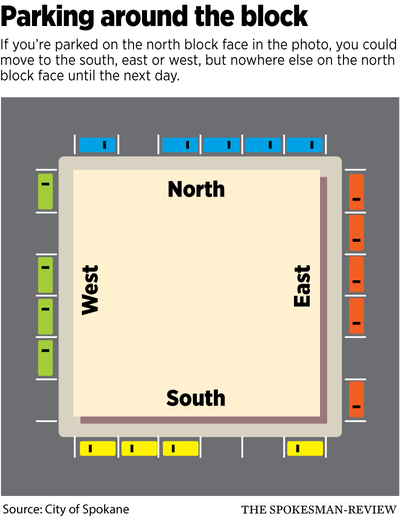 Parking tickets of up to $30 are in store for downtown Spokane visitors starting this summer if they don't pay closer attention to when and where they park.
The City Council last year unanimously approved license plate reading technology to help enforce parking laws. Among them: ticketing motorists who feed meters beyond the maximum posted time. Also, the technology will help meter readers ticket people who fail to move their cars off the block after the time has expired. Both are violations of the city's existing parking rules but rarely enforced.
City Councilman Breean Beggs, said stricter parking enforcement is an effort to discourage all-day parkers from tying up metered spaces that would otherwise be available to downtown business customers.
"We're just getting more and more people downtown, a lot of whom are spending their work day almost squatting at meters," said Elisabeth Hooker, marketing and marketing and programming manager for the downtown group. "We're trying to discourage that."
By law, parkers are restricted to periods lasting between 30 minutes and all-day at certain meters. Most of the downtown's 3,000 meters are limited to two hours. Adding additional time by feeding the meter beyond those limits is already a $10 violation under a city law passed in December 2014. Those using the city's pay-by-phone service, which was recently reinstated after a brief hiatus caused by unpaid revenue from a previous vendor, may buy through a smartphone app a one-time, 15 minute extension beyond the limit without a penalty.
Parkers are required to move their vehicles to the other side of the street or around the corner after the time limit has expired to avoid another violation under city code that could net a fine of up to $30. It is illegal to park longer than the posted limit on a given day on the same "block face," a term referring to each section of a square block. It would be cheaper for a motorist to just let his or her meter expire. That violation carries a fine of $15.
The city is outfitting its full-size parking enforcement vehicles with license plate readers that are able to detect if a vehicle has spent longer than the limit on a particular block face, said Julie Happy, spokeswoman for the city's Neighborhood and Business Services division.
Motorists who do not stay for the maximum allotted time on a block may return later in the day without penalty, Happy said. If you've used up your time and return to that block later in the day, however, you could face a fine under the new system.
The resolution that passed the City Council in October called for "a thorough education campaign" before stricter enforcement of the laws on the books. Happy said the city has produced an online video explaining the changes and will advertise them in print. Those in violation of the law during a grace period will receive notification from parking services officers they would be fined when enforcement takes effect July 1.
The two-month notification should be enough time to let motorists know enforcement is changing, Beggs said. The laws have been on the books for more than two years and a study conducted by the parking advisory board showed that those violating existing laws was a small group of the 10,000-plus vehicles that travel downtown on a given day, the councilman said.
"We passed this policy to help downtown businesses and customers, to make life easier for both," Beggs said.
The city wants to urge those using on-street parking for longer than two hours to move to off-street surface lots and garages. Those options are often more expensive than metered parking, however, prompting many motorists to risk being ticketed rather than move to a lot or garage.
Beggs said beefing up enforcement should change that behavior, as it becomes more certain scofflaws will receive citations. If it works, the city won't have to raise rates as part of the recommendations that will be made at the end of the year to revise the city's parking plan, also part of the resolution passed by the council last year, Beggs said.
"We are really blessed to have affordable parking in our downtown core, that's fair to everyone," said Hooker of the Downtown Spokane Partnership.
Beggs already has asked to include $50,000 in next year's city budget to implement the changes to the city's parking policy that are recommended by the advisory committee, which includes business owners, city officials, representatives of the Downtown Spokane Partnership and other interests. The City Council would have to sign off on any requested changes, Beggs said.
Local journalism is essential.
Give directly to The Spokesman-Review's Northwest Passages community forums series -- which helps to offset the costs of several reporter and editor positions at the newspaper -- by using the easy options below. Gifts processed in this system are not tax deductible, but are predominately used to help meet the local financial requirements needed to receive national matching-grant funds.
Subscribe now to get breaking news alerts in your email inbox
Get breaking news delivered to your inbox as it happens.
---