A&E > Books
Local author Erin Pringle highlights the beauty, awkwardness of grief in new short story collection
Wed., May 3, 2017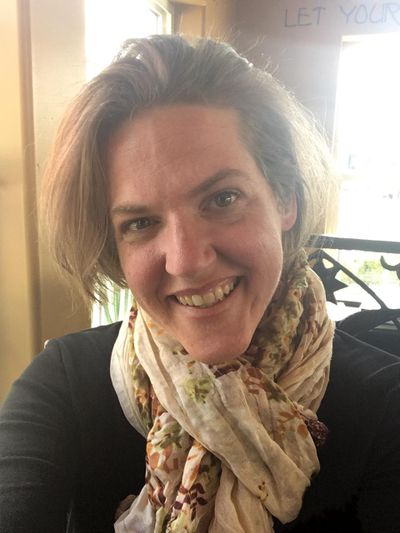 In her latest collection of stories, "The Whole World At Once," local author Erin Pringle highlights the beauty and awkwardness of grief and loss, things we often sweep under the rug. The stories in this collection were seven years in the making and were completed thanks in part to a fellowship Pringle received from Artist Trust in 2012.
Pringle recently spoke about how the Midwest, childhood and Ingmar Bergman's films influenced her writing. She will read from "The Whole World At Once" at Auntie's Bookstore on Friday as part of First Friday.
Q. Did growing up in Illinois or living in Spokane influence the settings of the stories?
A. Absolutely. I grew up in rural Illinois, a town of 3,000. The first 22 years of my life I was in the Midwest. … When I started working on this book, I was in the middle of grieving my best friend and then a few years later, I lost my sister … I was trying to write an elegy to the Midwest and it was going to be called "Midwest in Memoriam."…
I was trying to exorcise the Midwest. I was trying to get rid of it, the grief of it and the beauty of it … I was trying to be done with it and trying to make something beautiful out of all my experiences growing up in a lonely place that was falling apart.
Q. Many of the stories in this collection focus on loss and grief. Did losing your best friend and sister influence the stories?
A. Yeah, absolutely … What I've tried to do is take the experience of losing someone to death … (and see) how does death affect your memory or your memory of the person or your identity …
In many ways, I write to the ghost of my former self when I was a little girl. What stories does she need to read that would help her with what's going to happen?
… Have you seen any Ingmar Bergman films? The way he sees the world is very much the way I see the world … In his films, he would use the same group of actors for almost every film so when you watch them, the people's faces are the same but now they're different people. I think that feels very accurate about the experience of living. When we go on Facebook, we see the same pictures of people celebrating birthdays. The people are different but the experiences that we're sharing are very similar. In some ways, I was trying to create that too by not naming characters.
What I like about his films is he allows things to be raw and awkward. I grew up on musicals … They're great films and I love them, but their endings are always the world is fixed in the end. That was such a dissonance with my experience of growing up. Disney was not my experience growing up, and I always thought I wasn't doing something right, like I was waiting for life to begin, when it was going to match these beautiful visions that I was seeing …
We're so awkward and strange. We don't do things like a certain genre of movie. So that's another thing I was trying to do in the stories was to allow people to behave as awkwardly as they do in real life and for that to be OK.
Q. Quite a few stories also feature children as protagonists. Does that go back to you wanting to write stories for your younger self?
A. Yeah, I think so … My whole childhood is very vivid. But also, I have a deep interest in children's literature … At least in my experience, it's not often that we talk about our childhoods with people or what that experience was like. The adults tend to stay on the adult side of their books, and the children tend to read adult books and children's books. But where is the place that we're going to talk about childhood? I grew up with children who were not having good lives, and we didn't talk about it but we were experiencing it together.
I understand what that was like and that we need to talk about it and that there needs to be a place where that's OK.
Q. What do you hope people take from the collection?
A. … The takeaway from the collection is, I hope, an affirmation of experience that yes, we are experiencing grief and if you haven't experienced it, let's experience it together. These memories that I'm creating, these artful, vivid images, let them be your memories now too. Maybe they'll help you and maybe they won't, but loss exists and it's awkward and the people around you are awkward and you're awkward and that's fine and it's beautiful at the same time. To affirm that what we're doing here, it hurts and it's also beautiful and it can be both and that's fine. Just trying to hold as many people as I can and say "That's fine."
Local journalism is essential.
Give directly to The Spokesman-Review's Northwest Passages community forums series -- which helps to offset the costs of several reporter and editor positions at the newspaper -- by using the easy options below. Gifts processed in this system are not tax deductible, but are predominately used to help meet the local financial requirements needed to receive national matching-grant funds.
Subscribe to the Spokane7 email newsletter
Get the day's top entertainment headlines delivered to your inbox every morning.
---