Sports > Outdoors
Climbing duo completes five-day first ascent of Mount Huntington's south ridge
Thu., May 4, 2017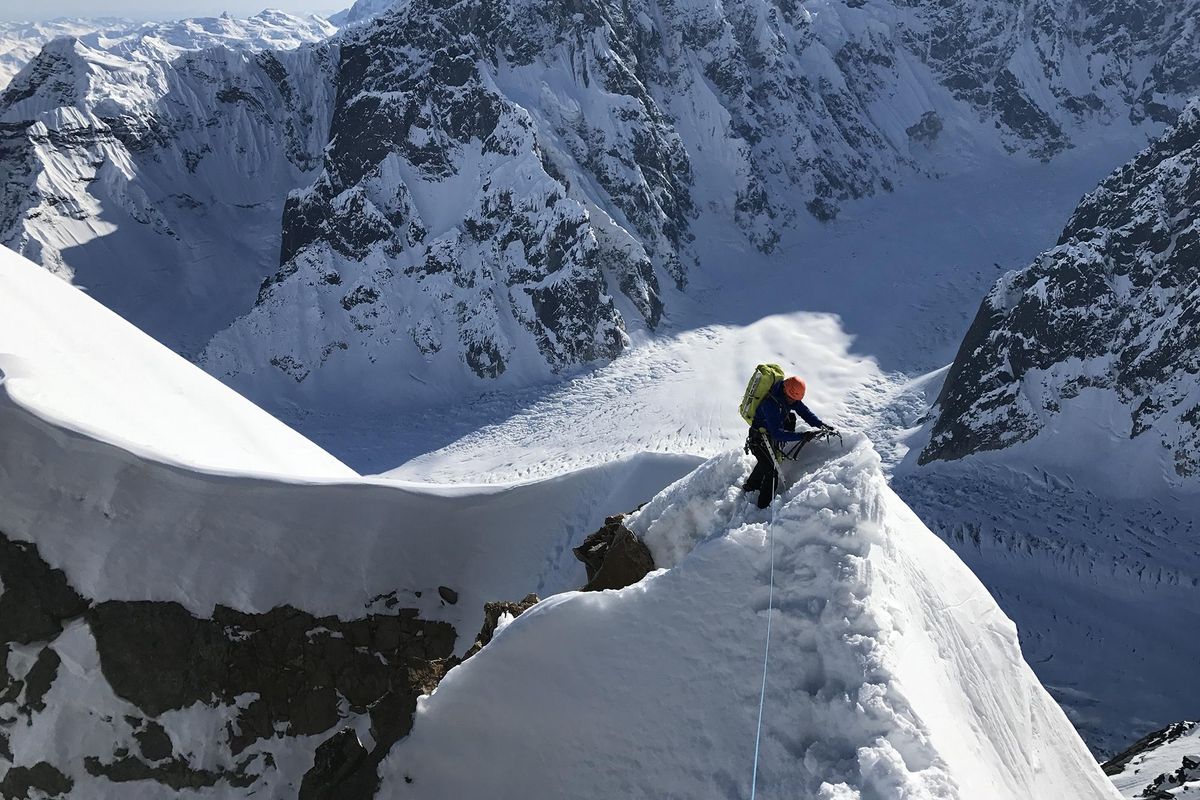 Clint Helander ascends the second in a series of peaks during the five-day first ascent of the Gauntlet Ridge Route on Alaska's Mount Huntington with partner Jess Roskelley. (JESS ROSKELLEY PHOTO)
Jess Roskelley describes a recent five-day first ascent of a gnarly south ridge route to the summit of Alaska's Mount Huntington as a race for his life.
"It's the commitment and the length of the commitment that separates this from all of my other climbs," he said Wednesday, back at his home in Spokane.
If one of the Alaska Range's notorious snowstorms had moved in while he and his partner were on the saw-blade route to the 12,240-foot summit, the chances of getting off the ridge safely would have been slim, he said.
Roskelley, 34, had accepted an invitation from Anchorage climber Clint Helander, 31, to make a two-man attempt on the Gauntlet Ridge Route on Huntington, which is 8 miles southeast of Denali. A Japanese climbing team tried and failed to negotiate the route in 1978.
Alaska Dispatch News reported this week that Roskelley and Helander had "notched a startling first in the Alaska Range" with their April 19-23 ascent.
A 1980 story in the American Alpine Journal said the 9,000 feet of the complete south ridge route is "not so much a ridge as five separate serrated peaks, each increasingly higher. To climb the entire ridge was enticing, but it would be terribly difficult."
Contacted by Alaska Dispatch News by phone at his base on Denali, National Park Service climbing ranger Mark Westman tipped his hat to the duo: "To put the whole thing together in one climb is very impressive."
For Roskelley, the climb was a matter of spontaneous connection.
"There are two types of alpine climbers," he said. "The ones who sit and think and dream, plan and obsess over certain projects. And then there are the ones those guys call up because they need a good partner who's ready to go. I'm one of those guys. Clint had scoped this out. He called me in early April and I'm, 'Yeah, let's do it.' "
First, though, Helander wanted Roskelley to study photos he'd made of the route to see what he was getting into.
Roskelley showed them to his father, John Roskelley, who was one of the world's premier mountaineers in the 1970s and 80s.
"Dad said, 'Damn, that looks pretty dangerous.'
"That was obvious. If it were to snow, there would be no way to descend off the sides to either the horrible glaciers on the east side or the huge gullies of sluffing snow."
He pondered the final decision for days. While Helander was out scouting the mountain, Roskelley was dropping gear in a bag in a corner an item at a time in between home and yard projects.
"When I got the call from Clint, I was ready to go," he said, noting that he called his climbing sponsor, Adidas for travel money. "I booked a flight and hauled ass," he said.
A pilot friend of Helander's flew the climbers in a ski plane from Anchorage to the Tokositna Glacier the next morning.
"It's known as the "Toke-n-sit-there" Glacier because that's all the weather usually allows," Roskelley said. But the way was clear for them. Shortly after noon they had stashed supplies at 8,200 feet and snowshoed down into a huge crevasse field known as Death Valley.
When darkness made it impossible to find their way through the icy labyrinth, they made their first camp on a small island of firm glacier ice.
"We went heavy on food, as light as possible but carrying more than normal because of the commitment of the climb," he said. "We had to have five dinners. Our packs weighed 40-45 pounds with two ropes, tent and minimal gear including a couple of pickets and a shovel."
Helander carried serious camera gear; Roskelley relied on his iPhone 7 for photos, entertainment in a storm and occasional communication to the outside world.
"I was able to make some calls from the top of the ridge, but I've learned to shut off my phone and climb," he said. "If you call people, then they expect it. Then if they don't get a call, they get worried and panic."
He also carried a DeLorme inReach satellite locator device that can send text messages and GPS coordinates.
"If things really go to hell, it has that big SOS button for a dire emergency," he said. "I haven't used it yet, but I won't count it out."
The next day, they ascended onto the first of the ridge's five peaks. "Some of the traverses were pretty nuts," he said.
Traversing – moving horizontally across mountain terrain – along steep slopes of mixed ice, rock and snow, over granite bulges and under cornices is more dangerous that vertical ascents, he said. A mistake can result in long, sweeping falls before the rope comes taut.
Once they'd rappelled off the first peak into a gunsight notch in the serrated ridge, there was no going back, he said. At that point, he said the only reasonable way to safety was a few more days ahead and down the other side of the peak.
"The climb became a race to get up and over Huntington before weather or conditions changed."
In a Facebook post after the climb, Helander said that for the next three days they climbed over each of the remaining three towers, including Idiot Peak at 10,700 feet. "The cruxes were many, but Jess and I climbed with an inexorable fervor that neither of us is likely to experience again…
"The very nature of the serrated ridge required dozens of rappels only to immediately climb to a similar elevation and then down climb and traverse for menial lateral gain."
Roskelley and Helander put in 12-hour days, sometimes crawling into sleeping bags at midnight after digging a notch for their tent in the snow a step or two from hundreds of vertical feet of thin air.
"We were super tired at the end of each day, but the climbing itself was awesome," Roskelley said.
"I've climbed from Alaska to Patagonia and I'd never bivvied out seven nights in row. The climb itself took us five days, and then the storm we'd been dreading hit us on the summit of Huntington, where we had to bivvy another two days before we could get off.
"It was cold and just awful when we summited. Even though Clint had been on Huntington and made that descent before, we were having trouble finding the way. We were tired; I knew I'd get frostbite or make a mistake."
Helander had been having the same thoughts.
"We still had some snack food and bullion soup, so we decided to wait out the storm. When it finally cleared enough for us to see and move after 30-some hours, we made the descent to safer terrain in four hours."
Roskelley said the gravity of the achievement is starting to hit him this week as he returns to yard work and the welding jobs that make his living.
"Huntington is an iconic mountain in climbing," he said. "To join the ranks of climbers like Lionel Terray is a big honor." Terray was the French mountaineer who led the first ascent of Huntington in 1964.
Roskelley, who's logged other first ascents in Alaska, made his first splash on the international climbing scene in 2003 when he scaled Mount Everest with his dad and briefly held the title of the youngest American to climb the world's highest peak. He'd been nurtured in the sport from childhood by one of the world's premier mountaineers.
Helander, on the other hand, left home from Omak, Washington, at 18 years old hoping to escape a tense relationship with his mother and to start finding his own way through life, according to one of his website posts. When he came to Alaska a year later to attend college, a chance encounter with a new group of friends exposed him to the outdoors and groomed his skills for climbing.
"Completing the first ascent of Mount Huntington's biggest line will forever remain a milestone achievement in our lives," Helander wrote. "The whole time we felt as if we were running a gauntlet; being beaten down only to rise again and again to face the next unknown barrier on the mountain and in our minds."
"This was the ultimate commitment in my climbing career," Roskelley said. "Climbs in Patagonia were tough, but it would have been fairly simple to rap down out of trouble if things went to hell. Not so on the route we took to Huntington."
"This route is likely the longest technical first ascent done in Alaska in recent history," Helander said.
Local journalism is essential.
Give directly to The Spokesman-Review's Northwest Passages community forums series -- which helps to offset the costs of several reporter and editor positions at the newspaper -- by using the easy options below. Gifts processed in this system are not tax deductible, but are predominately used to help meet the local financial requirements needed to receive national matching-grant funds.
Subscribe to the sports newsletter
Get the day's top sports headlines and breaking news delivered to your inbox by subscribing here.
---