Lisa Brown stepping down as WSU Spokane chancellor, says she's considering congressional run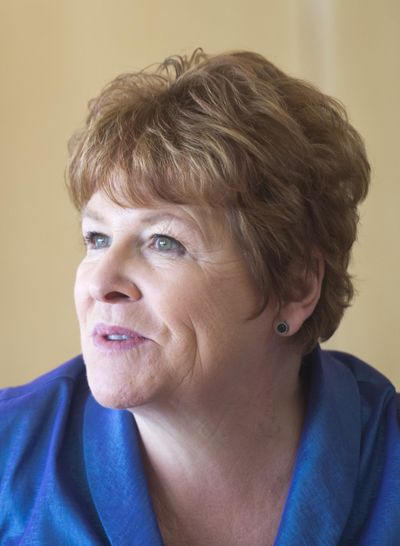 Lisa Brown is stepping down as chancellor of Washington State University's Spokane campus and says she is again considering a run for Congress.
Brown has spent the past four years leading the Spokane campus and was instrumental in the formation of a medical school there. She previously served for 20 years in the Legislature, the last eight as the Democratic majority leader in the Senate.
She said Thursday she will leave WSU in August.
"That will give me time to look at options," she said. "I think running for Congress is a possibility."
Brown said she was considering a run for Republican Cathy McMorris Rodgers' seat in the House in December, when it appeared that the congresswoman would be tapped to serve as Interior secretary under President Donald Trump.
Spokane City Council President Ben Stuckart has also announced his candidacy for McMorris Rodgers' seat. He was in Washington, D.C., on Thursday for a slate of meetings, including one with the Democratic Congressional Campaign Committee.
Stuckart said he had spoken with Brown about her possible candidacy in recent months, and offered praise for her work in the Legislature. He welcomed the competition even though another high-profile Democrat could siphon away precious votes in Eastern Washington's conservative-leaning 5th District.
"Cathy's not doing a good job representing her constituents, and I think it's good to see so much interest in her seat," Stuckart said.
Working with late WSU President Elson Floyd, Brown played a key role in bringing the medical school to Spokane. As a state legislator, she helped secure funding for two medical buildings on the Spokane campus.
More recently, Brown helped initiate a partnership with local health providers for the Spokane Teaching Health Clinic, which has significantly increased its number of local medical residencies.
In a news release, WSU President Kirk Schulz lauded Brown for her "profound impact" on the university.
The state's second public medical school received preliminary accreditation last October. The inaugural class of 60 medical students will begin studies in August.
"There are points in time that just feel like natural transitions, and this feels like one of them," Brown said. "I'm certainly going to miss this campus. The students make it fun. There's a great team here."
Dr. Daryll DeWald, the current dean of WSU's College of Arts and Sciences, will succeed Brown as chancellor starting Sept. 1. The news release described him as "an accomplished life sciences researcher with more than a decade of experience in higher education administration."
Before joining WSU in 2011, DeWald headed the biology department at Utah State University. He has published research in cellular biology.
"I am honored to be joining WSU Spokane and the Spokane community, and to have the opportunity to continue Chancellor Brown's excellent work," he said in the news release.
---