News > Spokane
Sheriff's deputy, Spokane Valley Fire Department revive 2-year-old who fell into a backyard pond
UPDATED: Fri., May 5, 2017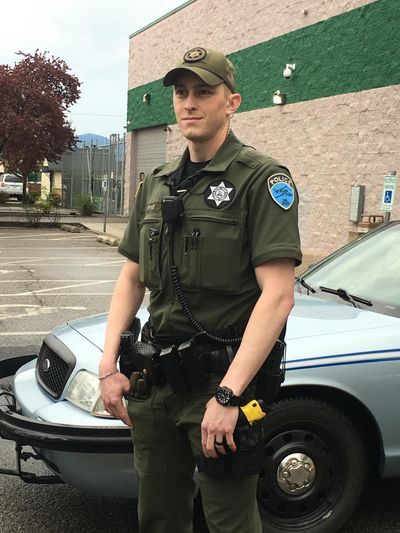 A Spokane County sheriff's deputy and Spokane Valley Fire Department personnel successfully revived a 2-year-old girl who fell in a backyard pond Thursday night and nearly drowned.
The call for help came in around 7:45 p.m. and Deputy Samuel Turner was first to arrive at the home, located in the 11100 block of East 10th Avenue.
"I was only a mile away from there," Turner said.
The toddler's father had begun CPR when the deputy reached the scene. Turner took over and was able to expel water from the girl's lungs. He continued his lifesaving efforts until fire crews arrived.
"I was thinking, 'Lord, help me save this baby girl. Don't let her die on my watch,' " Turner said.
Turner said his extensive training in first aid kicked in, and everything went smoothly. "It's tough, it really is, because most of us have families and children," he said. "It wasn't so much a challenge in the moment. Our emotions are set aside."
The girl had a pulse and was breathing on her own by the time she was taken to a local hospital. Someone had been in the backyard with the 2-year-old, and she was left unsupervised for only a couple of minutes, the sheriff's office said.
Taylor said the emotions brought up by a tough call come after a shift or when there's down time. But he said he got to see the positive results of his actions before he went back to patrolling the streets of Spokane Valley.
"We don't get to see that a whole lot," he said. "In this instance, we actually got to see the fruits of our efforts."
The toddler was listed in serious condition at a local hospital Friday morning.
Local journalism is essential.
Give directly to The Spokesman-Review's Northwest Passages community forums series -- which helps to offset the costs of several reporter and editor positions at the newspaper -- by using the easy options below. Gifts processed in this system are not tax deductible, but are predominately used to help meet the local financial requirements needed to receive national matching-grant funds.
Subscribe to the Coronavirus newsletter
Get the day's latest Coronavirus news delivered to your inbox by subscribing to our newsletter.
---