News > Spokane
From packed to pristine: the work of cleaning up after Bloomsday
May 7, 2017 Updated Sun., May 7, 2017 at 7:30 p.m.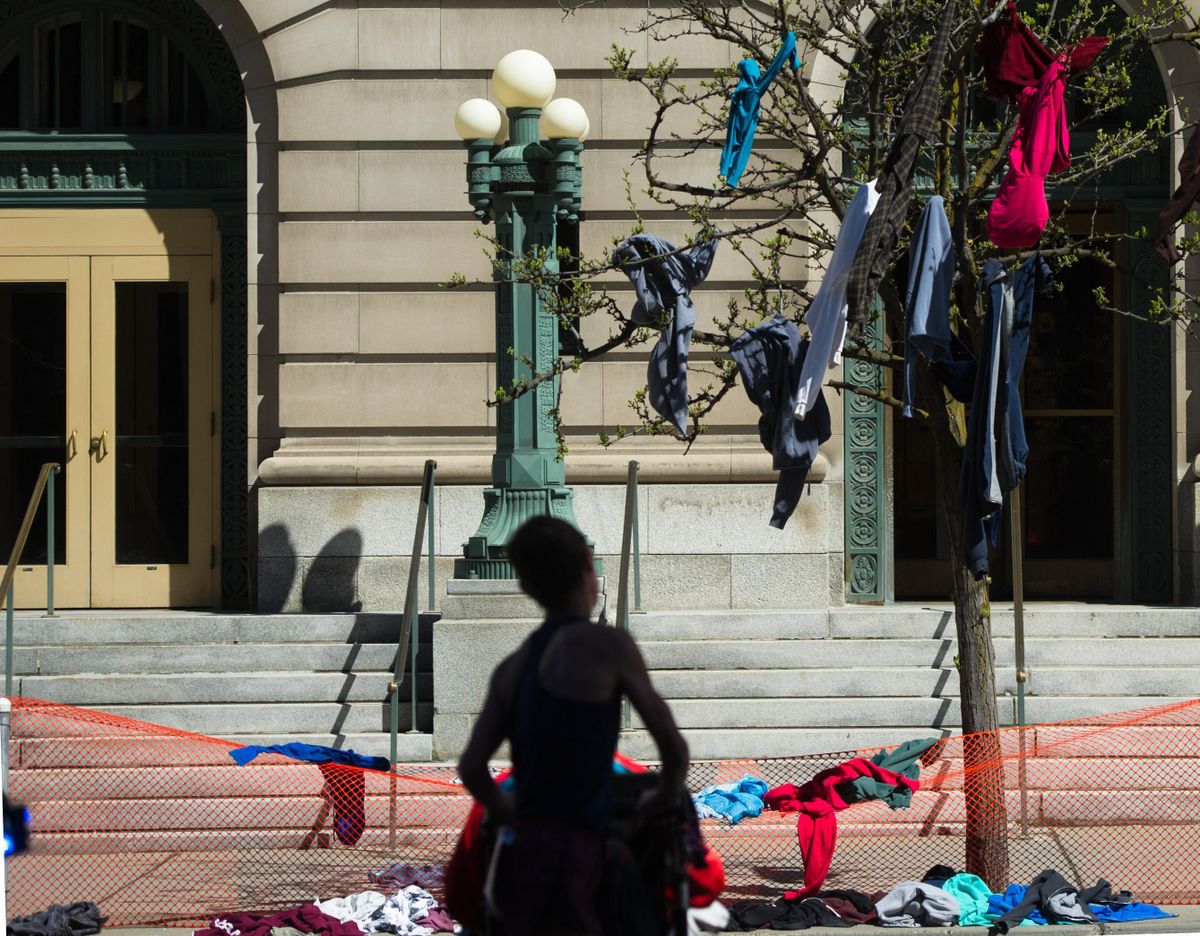 Sweatshirts and warmups hang from trees near the start of Bloomsday 2017 on Sunday, May 7, 2017, in Spokane. (Tyler Tjomsland / The Spokesman-Review)
First it was, then it wasn't.
As the last wave of Bloomsday runners and walkers – or Bloomies, as the moniker goes – slowly crossed the finish line after the 7 1/2-mile jaunt through Spokane's hillier neighborhoods, Bloomsday 2017 officially came to a close.
But for those tasked with cleaning up afterward, it was only the beginning. When the last starting pistol shot rang out at about 10:30 a.m. Sunday, droves of contractors, police officers and inmates from Geiger Corrections Center descended on Riverside Avenue, where just hours before tens of thousands of people had lined up.
"Let me tell you, it's pretty incredible," course director Al Odenthal said. "It's a lot of work for a few hours. Then it's done."
Each year, crews are tasked with removing several hundred yards of fencing and barriers, about 300 bags covering parking meters downtown and dozens of port-a-potties from the race route. They have to sweep and clear the thousands of paper water cups Bloomies discard along the way, where they're promptly flattened by endless steps.
And then there's the mountain of clothes discarded at the race's beginning, where they're flung into nearby trees, hung on fences or just thrown to the wayside along the race route – as is tradition.
"The homeless population downtown comes down and picks through whatever they might like to take," Odenthal said. "This is sort of a new wardrobe sort of day for them."
Jesse Rodriguez and his friend, while not homeless, came downtown to street-shop through the discarded clothing because they both "needed a pair of sweatpants." Rodriguez, who's staying at an apartment on the South Hill, admitted he's been down on his luck and having a tough time.
Things like this help, he said.
"I got a little," the 62-year-old said, motioning towards his canvas tote bag. "It's a good deal."
Zac Krell and Rachael Pentico, also not homeless, have a tradition of picking through the clothing before it's hauled away by Geiger inmates, washed and donated to local shelters.
"One person's trash is another person's treasure," Krell said while stuffing his large, black trash bag. "It's cheaper than going thrift shopping."
While the couple picked out new running gear, winter attire – or just "next year's outfit completely," as Krell put it – inmates decked in orange vests worked their way toward them, pulling the piles of hanging clothes out of trees with long PVC pipes, while others threw them into large, metal trailers.
"We're not all hardened criminals," said one inmate, who was not cleared to talk to the media by corrections officers. "Plus, we like doing this."
By 11 a.m., most of the fencing and gates lining Riverside Avenue were removed. By 11:30, the port-a-potties were hauled away, though the smell hung around faintly. At noon, the trees downtown were no longer sporting bright, colorful leaves of cotton and polyester.
By 1 p.m., Riverside was watered and swept, and cars were driving along like normal. The rest of the course received similar treatment shortly after, as the last of the runners trickled into the post-race activities along Main Avenue.
Altogether, it took just a few hours before Spokane got to looking like normal again.
But for Odenthal, who's charged with coordinating the effort between the Spokane Police Department, Street Department and Geiger each year, it's a 24-hour effort every first Sunday of May.
"Yeah, and I'm getting a little old for this stuff," he said behind a chuckle. "Been doing this for about 25 to 30 years."
Local journalism is essential.
Give directly to The Spokesman-Review's Northwest Passages community forums series -- which helps to offset the costs of several reporter and editor positions at the newspaper -- by using the easy options below. Gifts processed in this system are not tax deductible, but are predominately used to help meet the local financial requirements needed to receive national matching-grant funds.
Subscribe now to get breaking news alerts in your email inbox
Get breaking news delivered to your inbox as it happens.
---