News > Spokane
The music of Bloomsday: Along the course, bands compete to spur runners on
May 7, 2017 Updated Sun., May 7, 2017 at 10:25 p.m.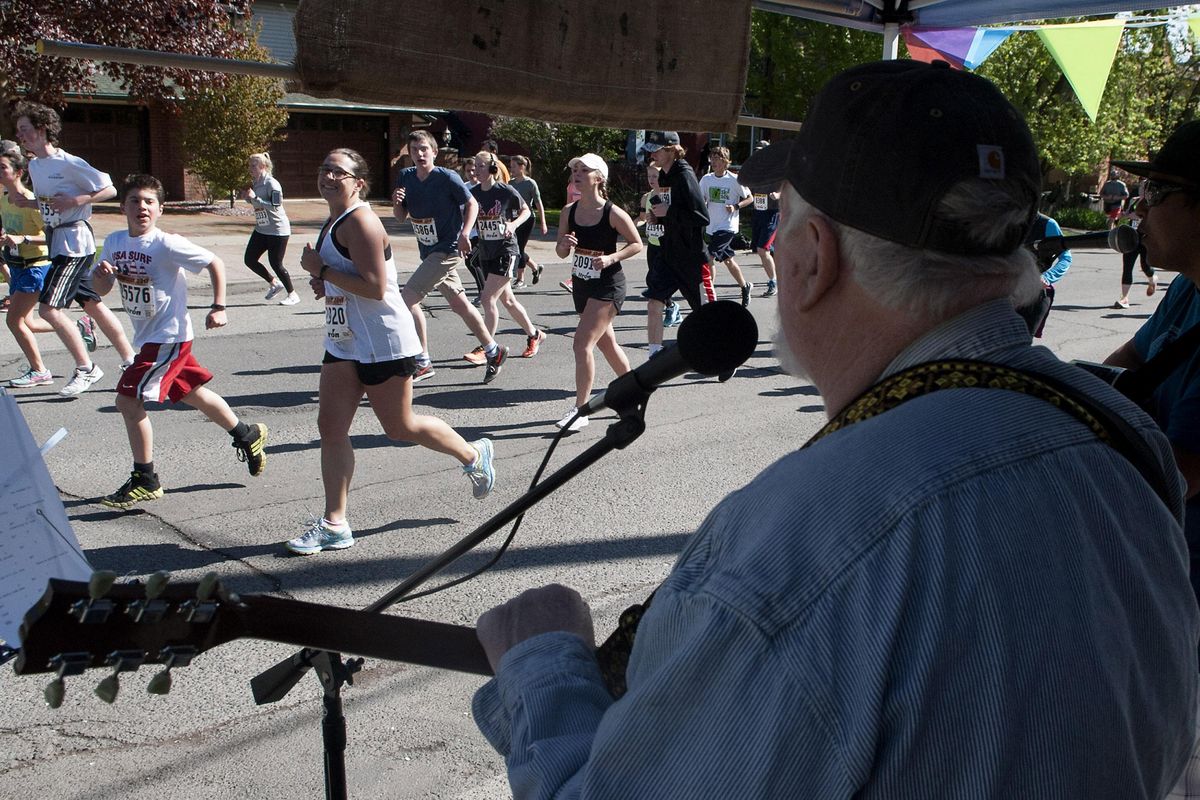 Terry Lewis, left, and Junior Lacuesta of the band JUTE play for runners during Bloomsday on Sunday, May 7, 2017, in Spokane. (Kathy Plonka / The Spokesman-Review)
This may not be Philadelphia, and you may not have felt like Sylvester Stallone in his fighting prime when you made the second-to-last turn on to Broadway Avenue this Bloomsday. But when you heard the "Rocky" theme song, followed shortly thereafter by the theme from "Chariots of Fire," you knew you were on the homestretch.
Those are Bloomsday's theme songs, but they weren't the only tunes playing Sunday – not by a long stretch. Along the course, bands of every genre set up stages to encourage runners and share their music.
Altogether, 27 musical ensembles participated in Sunday's Bloomsday, and there were many random performers, too. Runners have the option of voting for their favorite band after the race – a kind of Battle of the Bloomsday Bands.
For about 10 years, the Cathedral of Our Lady of Lourdes choir has serenaded runners from the top of the cathedral's ornate steps. This year was no different.
"We kind of have a set repertoire," said Janice Mancke, a choir member for 18 years. "Easy, energetic, to keep the runners going."
As each wave of runners came jogging down Riverside Avenue, Mancke and crew started up the set list, which included Siyahamba – a popular South African hymn.
"Siyahamb' ekukhanyen' kwenkhos," the choir sang as church bells rang loudly above them. "Siyahamba, siyahamba, oh."
Along Broadway Avenue, the band Itt's Cuzzen played classic and progressive rock covers as runners buckled down and focused on the finish line.
The Messianic Jewish folk and faith group Shaliach Band played lively klezmer music intertwined with hymns and traditional Jewish songs. Dressed in traditional formal black suits and white shirts, the band stood out among spandex-clad runners and flip-flop-wearing spectators, but the music was well received.
"I don't think I've heard anything like that before, but I like it," said one woman, who didn't give her name. "There really is something for everyone."
The Spokesman-Review
In front of Salem Lutheran Church, the Neema Gospel Youth Choir and La Patience Africa Band played high-energy Congolese music, in support of World Relief – this year's Bloomsday charity.
"It is a huge deal that we are the charity this year," said Jackson Lino of World Relief Spokane. "It means so much. It means that Spokane recognizes refugees."
World Relief sold books and T-shirts that read "I run with refugees" as La Patience played.
"It means that you travel next to someone who's seeking refuge in America," Lino said. "That you stand with the vulnerable."
As Bloomsday's official charity, World Relief will receive donations from runners who gave when they registered.
"It's amazing, we are honored," Lino said.
At the very heart of West Central, near the corner of Lindeke Street and Boone Avenue, Dale Wills sets up loud, live metal music during every Bloomsday.
The Spokesman-Review
This year five bands, including Perfect Destruction and Hinderism, played to loud cheers from runners who sang along to the chorus "Run, run, run, run, run!"
Wills, who lives nearby, said he's done it for 10 years.
"Why? Because we love that Spokane does this," Wills said, gesturing to the runners. "We want to share our music with people here. This is all love, peace and respect."
Local journalism is essential.
Give directly to The Spokesman-Review's Northwest Passages community forums series -- which helps to offset the costs of several reporter and editor positions at the newspaper -- by using the easy options below. Gifts processed in this system are not tax deductible, but are predominately used to help meet the local financial requirements needed to receive national matching-grant funds.
Subscribe now to get breaking news alerts in your email inbox
Get breaking news delivered to your inbox as it happens.
---