News > Spokane
Running for a shirt – this year's teal Bloomsday finisher tee is popular
May 7, 2017 Updated Sun., May 7, 2017 at 8:22 p.m.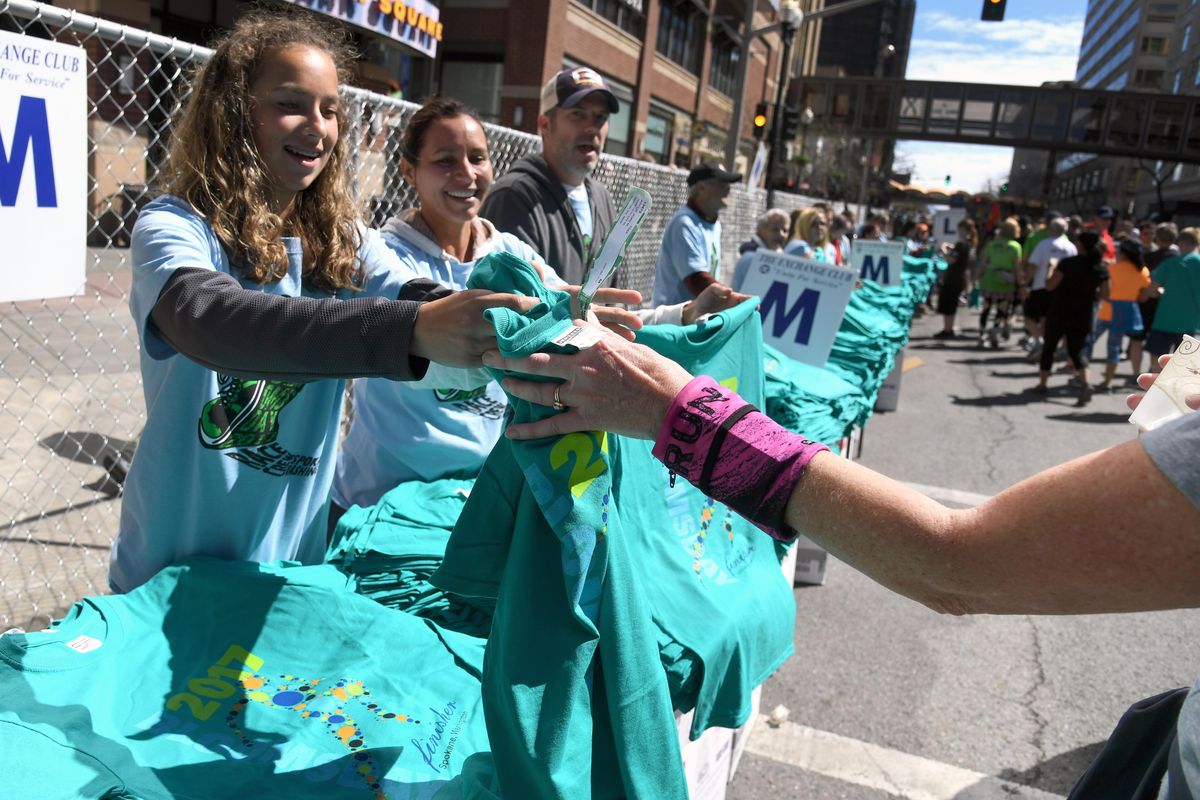 Kenzie Gaines, 15, and her mother Natalie hand out Bloomsday T-shirts to finishers on Main Avenue during Bloomsday 2017, Sunday, May 7, 2017, in Spokane. (Colin Mulvany / The Spokesman-Review)
At 9 a.m. sharp, volunteers in the T-shirt distribution area on Main Avenue cracked open big, white cardboard boxes holding Spokane's best-kept secret: the Bloomsday finisher shirt.
Some years, the shirt isn't so popular – a squished water cup design some years ago didn't fly so well, and finishers were divided on last year's purplish 40th-anniversary tee, which ran out early – but this year's teal shirt got great reviews from most.
Moses Lake High School junior Spencer Kimbro, 16, was one of the first to get a shirt when he finished the wheelchair division after what he said was a great race.
"Bloomsday is the only road race I do," Kimbro said. "And I like this shirt. It's really cool."
Jayce Lazuhrcatt, 30, was resting on a bench along Broadway Avenue while the rest of the race went by. He sported the shirt proudly.
"I've lived here all my life, but this was my first Bloomsday," Lazuhrcatt said. "I love the shirt. I will totally wear it."
He said he'd looked over previous Bloomsday T-shirts to try to determine if there was a pattern to which colors are chosen.
"Blue seemed to be the theme," Lazuhrcatt said. "This looks mostly blue to me."
Other than the shirt, his favorite part of his first Bloomsday was the ice pops, he said.
"There were a lot of Otter Pops out there – I really liked that," Lazuhrcatt said. "I will definitely run again."
Downtown at the T-shirt distribution, Barrett Weadick was searching for a size bigger. He said he was roped into running Bloomsday while visiting family here.
"I'm from Illinois. I just sort of said yes to doing it," Weadick said.
He said his dad grew up in Spokane and he'd heard a lot about the race but had never run one before.
"It's a really cool shirt this year," Weadick said. "I love it."
Local journalism is essential.
Give directly to The Spokesman-Review's Northwest Passages community forums series -- which helps to offset the costs of several reporter and editor positions at the newspaper -- by using the easy options below. Gifts processed in this system are not tax deductible, but are predominately used to help meet the local financial requirements needed to receive national matching-grant funds.
Subscribe now to get breaking news alerts in your email inbox
Get breaking news delivered to your inbox as it happens.
---