News > Spokane
Spokane mom has knee replacement at 40, joining part of fastest-growing demographic for surgery
Sun., May 7, 2017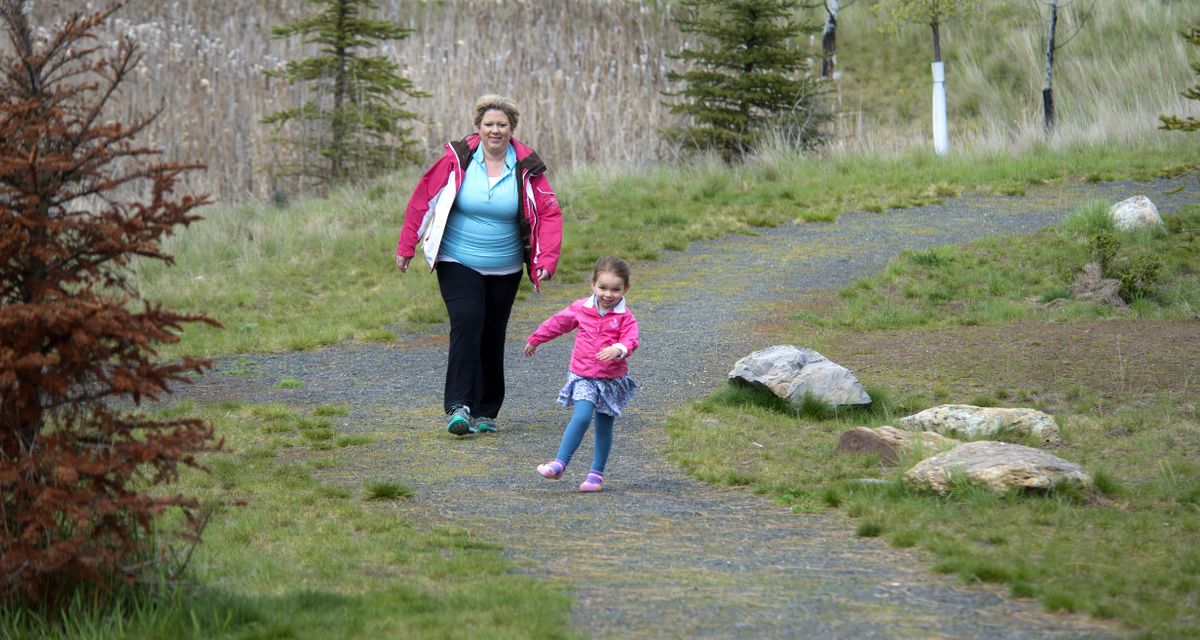 Carrie Day and her daughter, Chloe, 3, stroll through the Brown Mountain Regional Stormwater Facility. Carrie, age 40, has had both knees replaced since January. (Dan Pelle / The Spokesman-Review)
Carrie Day was a busy mom with a young daughter, but advanced arthritis in her knees made her feel like an old woman.
Each eight-hour shift on her feet left the ultrasound technician exhausted. At home, Day dreaded going down the 14 steps to the lower level of her house, where her 3-year-old daughter slept.
After years of chronic pain, the Spokane resident had two total knee replacements this year. Day is 40 years old, part of the fastest growing demographic for knee replacements.
More than 600,000 U.S. residents have a total knee replacement each year. By 2030, those numbers are projected to shoot up past 3 million, according to American Academy of Orthopaedic Surgeons. People younger than 65 represent the fastest growing group of patients.
At local hospitals, knee replacements have become one of the most common surgeries. Following national trends, those hospitals are seeing a surge in younger patients.
"That's not because we're targeting them with marketing," said Dr. Jonathan Linthicum, co-medical director of Kootenai Health's total joint replacement unit. The unit performed more than 300 total knee replacements last year.
Many of Linthicum's younger patients injured their knees skiing or playing team sports, he said. Some have had previous surgeries.
"They're beginning to have a hard time getting around," he said. "They're coming in and asking what's next."
Holly Payne conducts pre-operative classes for people scheduled for total knee replacements at Valley Hospital, which performs more than 400 of the surgeries each year.
"Twenty years ago, the median age in the class was over 80," said Payne, a registered nurse. "If you were 50, they wouldn't even look at you."
Now, it's not uncommon to see younger people in the class, she said.
Getting a knee replaced in your 30s, 40s or 50s increases the chance of future surgery. That was a factor Day considered carefully before she decided it was time. She had the surgery on her left knee Jan. 4, and on her right knee on March 1.
"You just start to experience this chronic pain, and nothing is working anymore," Day said. "Everything starts to spiral out of control."
'It affects how you feel as a wife and a mother'
The origin of Day's arthritis remains something of a mystery. No one else in her family has knee problems.
She had knee surgery as an eighth-grader and as a high school sophomore for issues that may have been triggered by a skiing accident. She's also struggled with her weight throughout her life, which contributed to the arthritis, she said.
By her late 30s, Day was experiencing daily knee pain. She woke up two hours earlier to get her morning tasks done and arrive at work on time.
"For the first 20 or 30 minutes after I got up, it was just hard to walk," she said. "Everyday chores were hard, and you don't go out and do the things you used to do."
Getting out of cars and restaurant booths was especially difficult.
"I felt like an old person," Day said. "I was so stiff I could barely walk. Sometimes I would just stand there for 30 seconds, looking around like I was checking out things around the restaurant."
Her knee pain also affected her ability to exercise, which she knew was essential for controlling her weight and reducing the stress on her knees.
Her husband, Jimm, was sympathetic and supportive. But Day regretted shifting tasks to him and cutting family outings short because she was in pain. She also worried about not being able to chase after Chloe, her energetic daughter.
"You start to feel bad about yourself," she said. "It affects how you feel as a wife and a mother."
When Day consulted an orthopedic surgeon in the Tri-Cities, he told her she couldn't get a knee replacement before she turned 50. After Day and her husband moved back to Spokane, she got a second opinion from Dr. Jonathan Keeve at Northwest Orthopedic Specialists.
At the initial appointment, "Dr. Keeve told me I probably wasn't ready for a knee replacement," Day said. "But he said, 'When it starts affecting your daily life, I can do it.' "
A 'fantastic structure'
The knee is the body's largest joint. It's a complex hinge connecting the thigh bones to the lower leg bones, and it allows us to walk, run, squat and jump.
Each step distributes between four and eight times an individual's body weight over different parts of the knee. Despite the heavy loads, the knee joint is designed to move almost without friction.
"It's a fantastic structure and it is incredibly resilient," Keeve said.
The ends of the bones are covered with nerveless cartilage. Between the bones is a layer of rubbery meniscus that acts like a shock absorber during movement. Slippery synovial fluid keeps the joint lubricated. The knee cap helps protect the joint.
But when the cartilage wears down, nerves in the bone are exposed. That's when knee pain begins.
Julie Kuhlmann forged her identity from sports. The Liberty Lake resident was a volleyball player in high school and continued to play in tournaments as an adult.
As she hit her late 30s, one of Kuhlmann's knees began giving her trouble. Going downstairs was painful and her knee occasionally buckled without warning. Kuhlmann had a series of surgeries but resisted getting a total knee replacement.
"I still wanted to play volleyball," she said. "I knew that once I had it done, volleyball wouldn't be on the list of approved activities."
Her husband, Johnny, finally convinced her it was time for knee replacement.
"I kept pushing her to have it done," he said. "She went in almost yearly for these (knee) tuneups, but she still was in too much pain to play."
He also noticed how tired his wife was from walking and climbing stairs in her work as a Realtor. Kuhlmann had a total knee replacement in 2014. She was 45.
She plays tennis now and coaches her 12-year-old daughter's volleyball team.
"She lost about six to eight years of activity," Johnny said of his wife. "It's almost like she's making up for lost time."
Keeve, who is her doctor, cautions her to limit high-impact activities, warning Kuhlmann she could need surgery again within a decade if she's too hard on the new joint.
A second knee surgery is more difficult, and often the joint doesn't perform as well as the first knee replacement, Keeve said.
To Kuhlmann, that's a calculated risk. "My whole mentality is that maybe there will be a new one that will last longer and allow more activity," she said.
'It was definitely worth it'
Given her age, Day also knows that she could be facing a second knee surgery. But since the life expectancy of artificial knees has increased, she hopes to get at least 20 years out of her new knees.
She's still moving carefully, but she's happy with her new joints.
"I finally did my first mile the other day, and I have a big walk I'm working up to," Day said. "The No. 1 thing I have to do is get the weight off. That will increase the longevity of the knee replacement."
Jimm, her husband, is excited about planning outings with a pain-free spouse.
"Going to a concert, or a Seahawks game or a boat show. Those are relatively simple things that most people don't twice think about," he said.
"It's definitely worth it," Day said of her new knees. "I feel like it's the best thing I've ever done for myself and my family."
Local journalism is essential.
Give directly to The Spokesman-Review's Northwest Passages community forums series -- which helps to offset the costs of several reporter and editor positions at the newspaper -- by using the easy options below. Gifts processed in this system are not tax deductible, but are predominately used to help meet the local financial requirements needed to receive national matching-grant funds.
Subscribe now to get breaking news alerts in your email inbox
Get breaking news delivered to your inbox as it happens.
---