News > ID Government
Trump renominates Idaho Judge Nye for long-vacant federal judgeship
May 8, 2017 Updated Mon., May 8, 2017 at 11:30 p.m.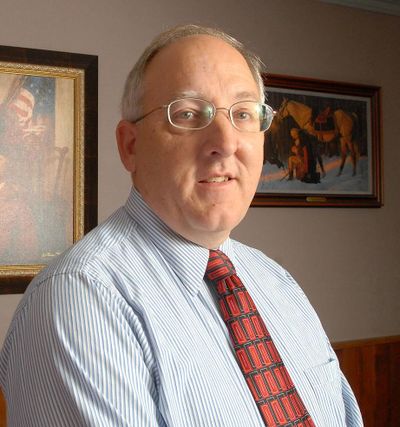 President Donald Trump on Monday renominated Judge David Nye to fill Idaho's long-vacant second U.S. District judge position.
Nye was among 10 judicial nominees Trump named Monday; he's one of two on the list who already was nominated for the post by former President Barack Obama, and received unanimous support in the Senate Judiciary Committee after a hearing. But amid partisan squabbling, the nominations never came up for a vote in the full Senate.
Meanwhile, Idaho has been down to just one active federal district judge since longtime Judge Edward Lodge took senior status in July 2015. The federal court system has declared a judicial emergency in Idaho due to the shortage of judges, and visiting judges have been brought in from other states to hear cases.
Carl Tobias, a law professor at the University of Richmond who closely tracks judicial nominations, called it a "good sign" that the two renominations are on Trump's first slate of multiple judicial nominees; the other is Scott Palk, an official at the University of Oklahoma College of Law who's being renominated to the federal district court in Oklahoma City.
However, he noted that the remainder of the list consists of five federal appellate court nominees, two of those from Trump's original list of potential U.S. Supreme Court nominees that he unveiled during the presidential campaign; two new nominees for U.S. District Court judgeships; and one for the U.S. Court of Federal Claims.
"The disturbing thing today is I didn't see any sense of prioritization," Tobias said. "The 10, they weren't all emergencies like Idaho. So that troubles me a little bit."
Idaho Sens. Mike Crapo and Jim Risch welcomed the nomination. "I thank the president for moving quickly to renominate Judge Nye," Crapo said. "His unanimous approval by the Judiciary Committee last year demonstrates Judge Nye's eminent qualifications of strong credentials and service to the legal community. … I will be working with my colleagues to move Judge Nye's confirmation and hope that he will be confirmed quickly."
Risch said, "Today's announcement is a win for Idahoans and our state's judicial system. Judge Nye is a sound and principled jurist who has my full confidence."
Crapo this year joined the Senate Judiciary Committee, in part to help shepherd the long-stalled nomination, and also to push for Idaho to get a third federal district judgeship.
Crapo and Risch negotiated with the Obama administration for a year and a half before settling on Nye as a nominee acceptable to both Obama, a Democrat, and the two Idaho senators, both Republicans. The long process included considering and rejecting dozens of other possible nominees.
Nye, 58, has been an Idaho 6th District judge since 2007; prior to that, he practiced law in Pocatello for 20 years, specializing in medical malpractice and insurance law. He holds both bachelor's and law degrees from Brigham Young University.
Nye's nomination now once again awaits Senate approval.
Local journalism is essential.
Give directly to The Spokesman-Review's Northwest Passages community forums series -- which helps to offset the costs of several reporter and editor positions at the newspaper -- by using the easy options below. Gifts processed in this system are not tax deductible, but are predominately used to help meet the local financial requirements needed to receive national matching-grant funds.
Subscribe now to get breaking news alerts in your email inbox
Get breaking news delivered to your inbox as it happens.
---