News > Spokane
Clarksville: A Jeep heard around the world and the man tasked with restoring it
Tue., May 9, 2017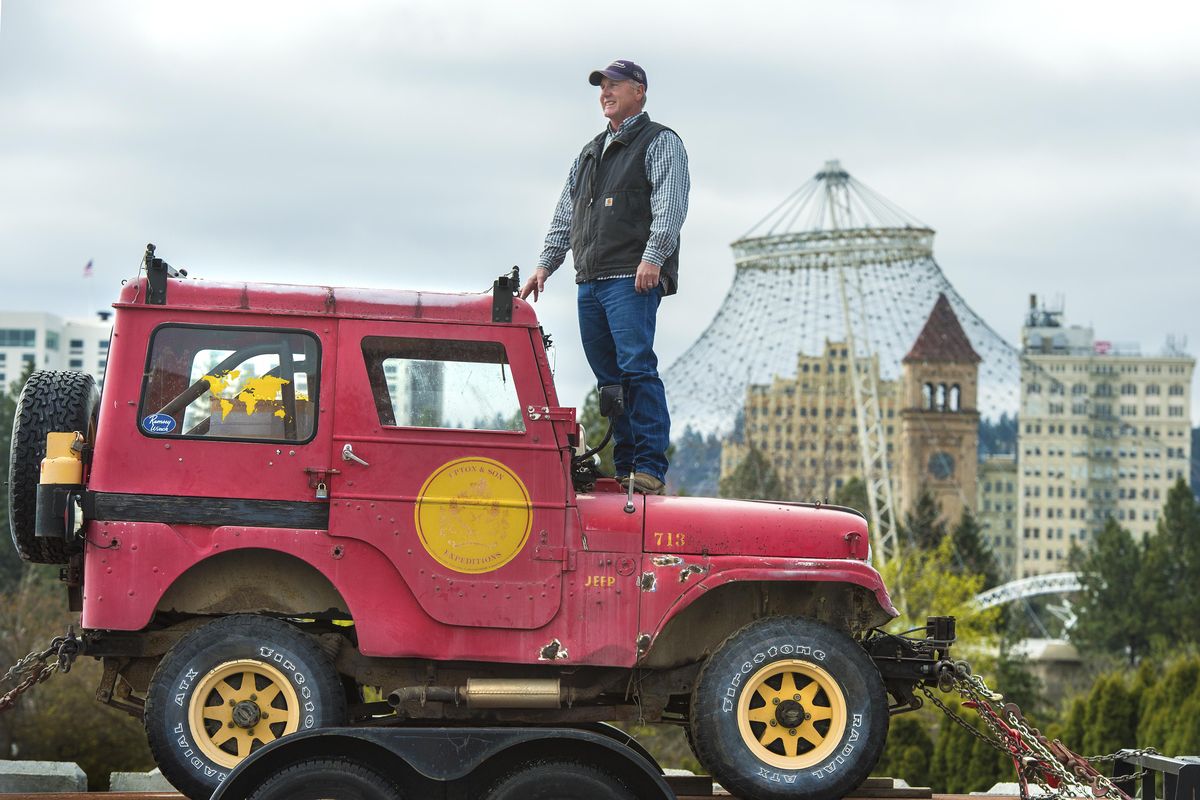 Laurence Upton, of Yakima, is restoring his Uncle Loren's 1966 Kaiser-Jeep CJ-5 that traveled the globe and even made the Guinness Book of Records for crossing the infamous Darien Gap of Panama. Laurence trailered the rig to Spokane on April 21, 2017. (Dan Pelle / The Spokesman-Review)
The centerpiece of the greatest adventure story you've never heard rolled into Spokane on a recent clear Friday morning.
The Jeep, a once-red 1966 CJ-5, now faded into the dusty rose color of an over-washed bandanna, sat perched on a flatbed trailer that Laurence Upton borrowed from a neighbor in order to haul it here from Yakima and show it to me.
Laurence is on a mission. Part one of his four-part plan is to have the aged Jeep restored as a tribute to the American explorer who owns it – Loren Upton, Laurence's 82-year-old uncle.
But "I'm a cowboy, not a car guy," said Laurence, who has started a GoFundMe page to solicit donations for the makeover.
A former Spokane resident, Laurence supervises Teamsters at Hanford and raises "a few cows and horses" with his wife, Lora, on their acreage.
I've written a lot of automotive stories over the years, but the Jeep is nobody's idea of glamor on wheels.
Dinged and dented by untold abuse, modified by numerous unorthodox welds and oddball fittings, this beat-to-hell stocky little workhorse wouldn't turn the noggins of any motor-heads I know.
Not unless they knew the story, that is.
Then they'd realize they were looking at something truly special: "The Sand Ship Discovery," the Jeep that made the Guinness Book of Records (1992) for being the first land vehicle to conquer Panama's treacherous, all-but-impassable Darien Gap.
A few words on the Darien Gap.
Dubbed "the most dangerous (absence of a) road" on one website, the Darien Gap is a tangled mass of jungle, bandits, swamps, canyons and corrupt officials that connects the two Americas, North and South.
Or, as the site continues: "You might have wondered if it's possible to drive between North and South America – for surely there must be a road between these two continents!
"Well, as it turns out, there is absolutely NO ROAD connecting them, and all travel advisories clearly say 'Don't Go,' even if you feel somewhat suicidal."
Like all the great adventurers he admires, Loren Upton – a strapping 6-foot-4 ex-builder of bridges and former U.S. Marine – is not one to let a little thing called conventional wisdom or caution tell him what he can or cannot do.
"My understanding is if you quit, you lose," he said during a telephone interview.
Loren lives in Salmon, Idaho. With him is Patty, his beloved wife and the woman who traveled with him when he conquered the Darien Gap.
That 125-mile trip took 741 grueling days to complete.
While you're mulling the math over, consider this:
The Darien Gap was but a microscopic slice of the diminutive Jeep's "Roads' End to Roads' End" saga.
Loren (with Patty joining him in Panama) drove the Jeep he named after one of Capt. James Cook's ships, from the farthest road north in Prudhoe Bay, Alaska, to the farthest road south in Punta Arenas, Chile.
Then they hauled the Jeep by boat to the tip of South Africa, where they began the next leg of the journey, soldiering ever northward to finish outside the Sletness lighthouse in Gamvik, Norway.
This modern-day odyssey began on June 15, 1984, and ended appropriately (for a Marine in a Teddy Roosevelt-style campaign hat) on the Fourth of July 1989.
Odometer reading: 55,300 miles.
Please. Don't even begin to ask why.
To Loren, the Victorian era of exploration (1837 to a few years past Queen Victoria's death in 1901) resonates within him. As a boy, he immersed himself in books about explorers like Ernest Shackleton, Robert Peary and Percy Fawcett.
"Those poor bastards (explorers) – they didn't know where they were going," explained Loren.
"There's a difference in knowing you can be saved.
"There's a world of difference between having all these safety nets."
Nephew Laurence chuckled when I asked him to explain his uncle.
"Born 100 years too late," he said quickly, adding that he thought Loren "hatched" the idea of his world road trip "for a long time," perhaps back when he was doing heavy construction work in Saudi Arabia.
The nephew may not admit it, but he shares more than just a family connection with his uncle.
Laurence spent 40 days hacking his way through the jungle, helping Loren cross the Darien Gap.
He was working in a Spokane lumberyard, just a year out of the Army, when opportunity called.
"My mom told me that my uncle was on some sort of a Jeep expedition in Panama and did I want to go help," he said. "I was 22 years old and probably a little crazier than I should have been."
He laughed.
"I didn't have a clue what I was getting into."
Inching their way through such intense jungle involved blazing a Jeep-sized road via machetes and winches and cables and every engineering trick that Loren could muster.
Laurence left at the onset of the rainy season, figuring if he stayed any longer he'd wind up "married to some chief's daughter."
When I was young, my father used to take me to the old Coliseum to watch travelogues of people climbing mountains and fools hunting for Bigfoot.
But nothing I ever saw compares to what Loren and Patty accomplished in a jury-rigged Jeep.
And that isn't even the craziest thing.
The craziest thing is that this was Loren's fourth attempt at his Roads' End to Roads' End obsession.
No kidding. The first venture took place in 1975. It ended in the Gap with mechanical failure and murder.
While Loren was away searching for a replacement axle, Larre Starkey, a man who had joined the expedition, stayed behind with Loren's '72 Ford F-250 truck and was shot to death, most likely by bandits.
The murder, which was never solved, ended the quest.
Loren's second assault began two years later, this time in a spanking-new American Motors CJ-7 Jeep.
He and his teammates successfully crossed the Darien although 12 miles of the trip saw the Jeep lashed to dugout canoes in order to float through a swamp.
That didn't count in Loren's mind as a genuine "all-land" crossing. Not that the technicality would soon matter. High in the Andean mountains of Ecuador, the Jeep veered off a constricted road and tumbled 300 feet before landing in a pile of American Motors rubble.
Loren was mercifully thrown free.
The third attempt ended again in the Darien Gap, this time due to a Colombian park official who demanded an unreasonable payoff. Loren left, abandoning his new 1979 Jeep CJ-5 in the deep jungle.
Then came 1984, with victory to follow after some 4,500 miles through Africa, the Middle East, Europe …
"We ended up having to go through some parts of Africa that nobody in their right mind would've gone through," recalled Patty.
Loren added, "You are talking to the lady, the catalyst that made it work. This old man was too stupid to quit. If it wasn't for Patty, I'd probably still be stuck there."
She laughed. "I was the only one who could pack the Jeep."
Ah, the Jeep.
On a trip last summer to Salmon, Laurence saw the famed Sand Ship deteriorating with age. The sight spawned an idea with four parts.
Restore the Jeep.
Finish the trip.
Locate a suitable museum or place to display the Sand Ship Discovery.
Find an author to write a book about the Sand Ship Discovery.
Um, I'm guessing you might have a question about point No. 2?
At the time Loren and Patty made the trip, tensions were high in the Middle East.
Nothing new there, of course. But the point was that Jordan wouldn't let anyone into the country who'd previously been in Israel.
As a result, the two had to turn back, arrange for some altered documents in Israel, and then take a ferry ride into Jordan.
The bottom line is that Loren wound up a mile and change short of his goal.
Really.
According to Patty, it's now possible to drive from Israel into Jordan. Sometime next year, she wants to get Loren and Laurence and the Jeep back to Israel and finish what was started.
"I do have a vested interest in this," said Laurence, referring to his time building trails. "But I'm doing this for my uncle, not for me."
Local journalism is essential.
Give directly to The Spokesman-Review's Northwest Passages community forums series -- which helps to offset the costs of several reporter and editor positions at the newspaper -- by using the easy options below. Gifts processed in this system are not tax deductible, but are predominately used to help meet the local financial requirements needed to receive national matching-grant funds.
Subscribe now to get breaking news alerts in your email inbox
Get breaking news delivered to your inbox as it happens.
---