Comey firing 'deeply troubling,' special prosecutor needed, Washington senators say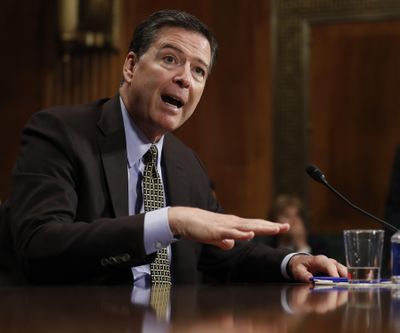 Sen. Patty Murray, Washington's senior Democrat in Congress, called FBI Director James Comey's firing "deeply troubling" and questioned its timing.
In the middle of the investigation into President Trump's campaign, he removed the person responsible for getting the public answers, Murray said.
"It is abundantly clear that we need a special prosecutor to get to work immediately to get a full grasp of the Trump campaign's ties to Russia so the public finally knows what happened, who was involved and why," she said in a statement released by her staff. "The importance of moving this investigation outside the administration's reach cannot be overstated."
Sen. Maria Cantwell, D-Wash., said members of Congress will continue to investigate but the country needs a special prosecutor to get answers and demand accountability. People want to know if Comey's firing was a result of someone getting close to information that incriminates people in the administation.
"My constituents want answers about who knew about the Russian interference," Cantwell said.
Some Republican members of the congressional delegations of Washington and Idaho had relatively brief reactions to news of Comey's firing.
Rep. Cathy McMorris Rodgers believes "the president must have confidence in those who work for him. Ultimately he decides who works in the administration," said Molly Drenkard, a spokeswoman for the Spokane Republican.
Sen. Mike Crapo, Idaho's senior Republican in Congress, didn't comment on the surprise firing but looked ahead to the replacement: "As the president moves forward in nominating a new director, I encourage him to select an individual dedicated to ensuring equal justice under the law for everyone."
A spokeswoman for Sen. Jim Risch, R-Idaho, said he wouldn't have a comment Tuesday night about the developing news.
"He will review the facts and all relevant information available to him this evening," Kaylin Minton, Risch's communication director, said. A statement would be issued Wednesday "if one is needed."
---