Gonzaga's national climbing champ says fingers, focus took her to the top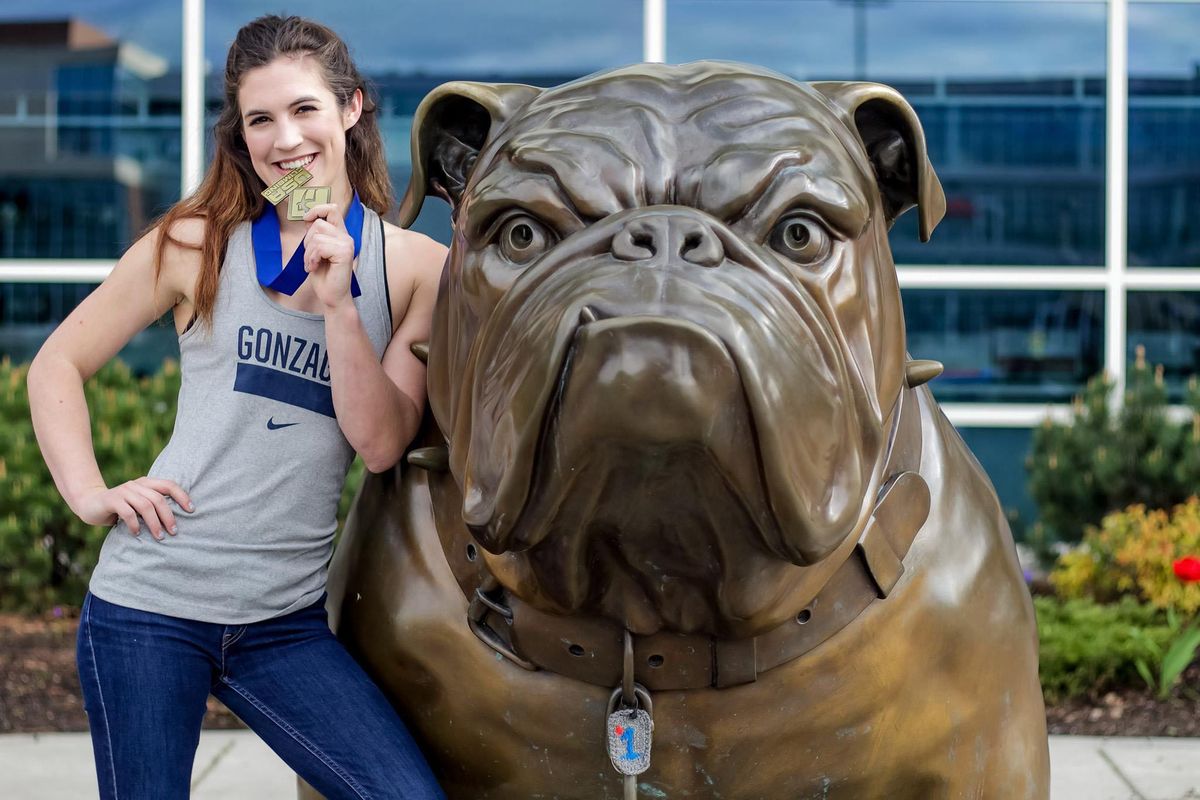 A Gonzaga University student who grew up thinking she wasn't athletic has won the women's sport climbing division of the USA Climbing Collegiate National Championships.
Hannah Tolson, of Scottsdale, Arizona, took the gold after two days of competition by out-scoring Kerry Scott of North Carolina. The event was held April 28-29 at Mesa Rim Climbing & Fitness in San Diego.
The irony of a Zag beating a Tarheel in a national championship wasn't lost on the Gonzaga University News Service, which announced Tolson's victory in a release that began, "Less than a month after the Gonzaga (men's) basketball team's historic season ended within a hairsbreadth of capturing the national championship in a loss to North Carolina…"
"I have actually been competing against (Scott) for many years, so I know what a talented climber she is," Tolson said.
A middle school requirement to take up an active sport prompted Tolson to give gym climbing a try eight years ago.
"I was never an athlete," she said back in Spokane during a study break this week. "I could not run, and still can't, really. The first year in middle school, I tried archery, but that didn't stick. The second year I tried climbing. It came really naturally to me.
"I've always been passionate and competitive but I didn't know how to harness it. Climbing hit me as beautiful – complicated and challenging both mentally and technically and it brought me a lot of joy."
Being a wimpy non-athlete in the beginning was an asset to her development as a sport climber, she said. The events pit climbers against a wall in a vertical chess game of strategic moves to reach to the top.
"I wasn't strong but I was mentally tough," she said. "I had to rely on being crafty at first since I didn't have root power. I couldn't even do a pull-up. Starting off that way helped me be a more technically sound climber."
If she has a physical gift for the sport, she says it's strong fingers to grasp holds sometimes little more than nubbins as she crawls spider-like up walls and overhangs. "In that respect, I think it's simply genetics," she said.
"There's no definitive body that's best for climbing. I'm 5-foot-7 and 115 pounds. Like most climbers, my body is on the small side. Taller climbers have some advantages reaching holds while a shorter climber might have an easier time being flexible and getting a heel up in her face for a move."
Tolson progressed rapidly as an Arizona teenager and launched into youth competition circuits that earned her tickets to 10 national championships, where she placed as high as third place and a berth to world competition in the Pan Am Games.
At 19, she's a seasoned competitor, a college junior in math on a rigorous GU scholastic track toward medical school.
"I've had to sacrifice a bit in regard to social life and a traditional college lifestyle," she said.
She devotes approximately 20 hours a week to the gym for training, but if there's a conflict with a class, test or project, she said school is her top priority.
"I have a great support system holding me accountable for both studies and climbing," she said.
Her training focuses on strength, endurance and climbing technique. "Spokane's tallest wall is 35 feet at Wild Walls," she said. "So I climb it, come down and immediately climb it again. The competition walls are 60 feet."
Sport climbing will debut in the Olympics during the 2020 Summer Games in Tokyo, but so far, climbing isn't an NCAA sport. The collegiate championships were sanctioned by USA Climbing, the national governing body for competition climbing.
Tolson had to organize a school-sanctioned climbing club at Gonzaga in order to be eligible to compete.
"There's a pretty big climbing community at GU, but nothing was really organized, Tolson said. "It took about a month and a half to get the approval that came through about two weeks before the nationals."
She hopes her success helps attract attention to climbing at the school that will lead to funding. "Gonzaga is long overdue for a club," she said. "I have about 45 names of students interested in being part of one. Some of the other schools at nationals had more than 30 kids in San Diego, and that was just their traveling teams.
Tolson thought she was fully prepared for the nationals until two days before the competition when her mom called.
"She asked if I was going to wear anything that said Gonzaga while climbing in the competition. I hadn't thought about it. I have T-shirts I wear to the Kennel for the basketball games, but they're all decorated with glitter and stuff. I didn't want to go spend $35 for a shirt. I'm too conservative with my money."
But when her mom offered to pay for the shopping spree, she headed to the Zag Shop and bought a jersey. "I was proud to represent GU," she said.
The collegiate championships – which included men's and women's divisions in bouldering, sport and speed climbing – involved roughly 470 collegiate athletes. Tolson said the finals boil down to skill and nerves.
"They set up a hard route – 5.12-plus (rating) for females. It's difficult enough that a lot of the athletes will come off before they reach the top. And climbers don't get to see the route before they climb.
"I was the leader going into the finals so I climbed last out of 20 girls. When they brought me out and sat me in a chair facing away, I could hear the crowd screaming and going nuts. I knew that (Scott) had made it to the top of the wall."
The route had 45 holds worth one point each. Tolson said she walked to the base of the climb knowing she had to get every hold and to the top of the wall to win."
The pressure was on.
She defied gravity, picking moves on the go and clipping her belay rope into protection in a seamless flow as she advanced upward.
"I usually get a moment of clarity during difficult climbs," she said. "At that point, it becomes clear to me either that I can do it or that I'm coming off.
"I was three holds from the top when had that moment. I thought, 'Omygod, I'm going to do this and win!' "
Gone was the game face, she said: "I knew I had it. I made the last three moves grinning."
---