At Gonzaga commencement, speaker Sherman Alexie tells graduates: Remember your promises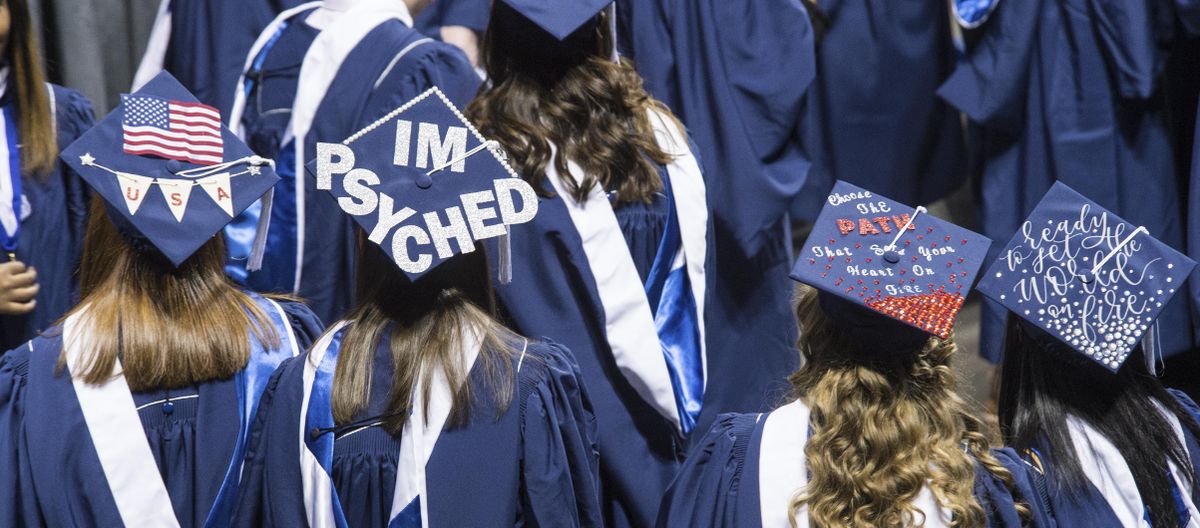 When Sherman Alexie was a teenager entering high school, he moved to the small town of Reardan west of Spokane, along U.S. Highway 2.
"For months nobody talked to me," he told Gonzaga University students and their families in a packed Spokane Arena. "I felt alone and isolated. I heard racial slurs. I was bullied verbally. But the thing I had, that crosses all boundaries and barriers, especially at a place like Gonzaga, was I had a jump shot."
Alexie, a renowned Native American novelist, poet and filmmaker who grew up on the Spokane Indian Reservation, gave the keynote address for this year's Gonzaga undergraduate commencement ceremony Sunday morning.
For about a half-hour, he talked about his life, growing up as a Native American in Spokane – or the "whiteyest white place in the history of white places" – and the promise made to him by the friends he made in the town of Reardan.
"They said, 'You work hard, stranger, and you will graduate. You work hard, stranger, and we'll help you get to the next rung on the ladder,' " he said. "That town made me promises and it kept them."
It was a point Alexie came back to again and again: making and keeping promises. But as is Alexie's signature speech-giving style, his seemingly off-the-cuff approach – sans any cue cards or notes – dipped in and out of humorous anecdotes, and featured a heavy dose of political messaging.
He spent much of his speech telling stories. He told one of the time when, at 5 months old, he underwent lifesaving surgery by an unlikely team of surgeons at Providence Sacred Heart Medical Center: an Iranian Muslim and a "white guy" from Montana.
"A first-generation Iranian Muslim pediatric neurologist saved the life of a (poor) reservation boy," he said. "Ain't that America."
He also told the story of coming to Gonzaga as a freshman and noticing everyone looked different than he did, but being accepted anyway.
"Driving through Spokane, Gonzaga was some foreboding castle," he said. "I thought Dracula lived there. My mom said, 'No, just Jesuits.' "
But it was the theme of promises that took center stage. Just as the town, his friends and family continue to keep and make promises, he told the thousands of students in blue garbs and hats that "all these ideas – government, public, private – all these promises that have been made to generations, to Native Americans, all these promises are being threatened."
"The government is threatening not to cover the health care of poor people like I was," he said. "Would I get that brain surgery now? Would that first-generation Iranian-Muslim surgeon have even been in the country, let alone in Spokane? Would that small, white Montana surgeon (be) his partner in this era? How would I have been greeted as a commie bastard liberal at Gonzaga as a freshman?"
When his speech touched on today's political climate, the packed arena crowd became so still and quiet that not a single sound could be heard other than his booming voice.
"I almost canceled this speech. Because of the number of death threats and insults I am getting in this country now, simply because I am a brown-skinned liberal," he said, fighting back tears. "So ask yourself, graduates, and families and friends: Do you want to be the person suspicious of strangers? Do you want to be the person who turns away strangers from your front door?"
His words must have struck a chord, because as he finished and turned away from the podium, the crowd erupted into applause and stood, clapping for half a minute before taking their seats.
"I believe in this county," he said before the ovation. "I still believe in it and I still believe in you. Be the people and graduates who always welcome strangers at your front door."
---