City of Spokane serves up eviction notice to Blessings Under the Bridge homeless feeding program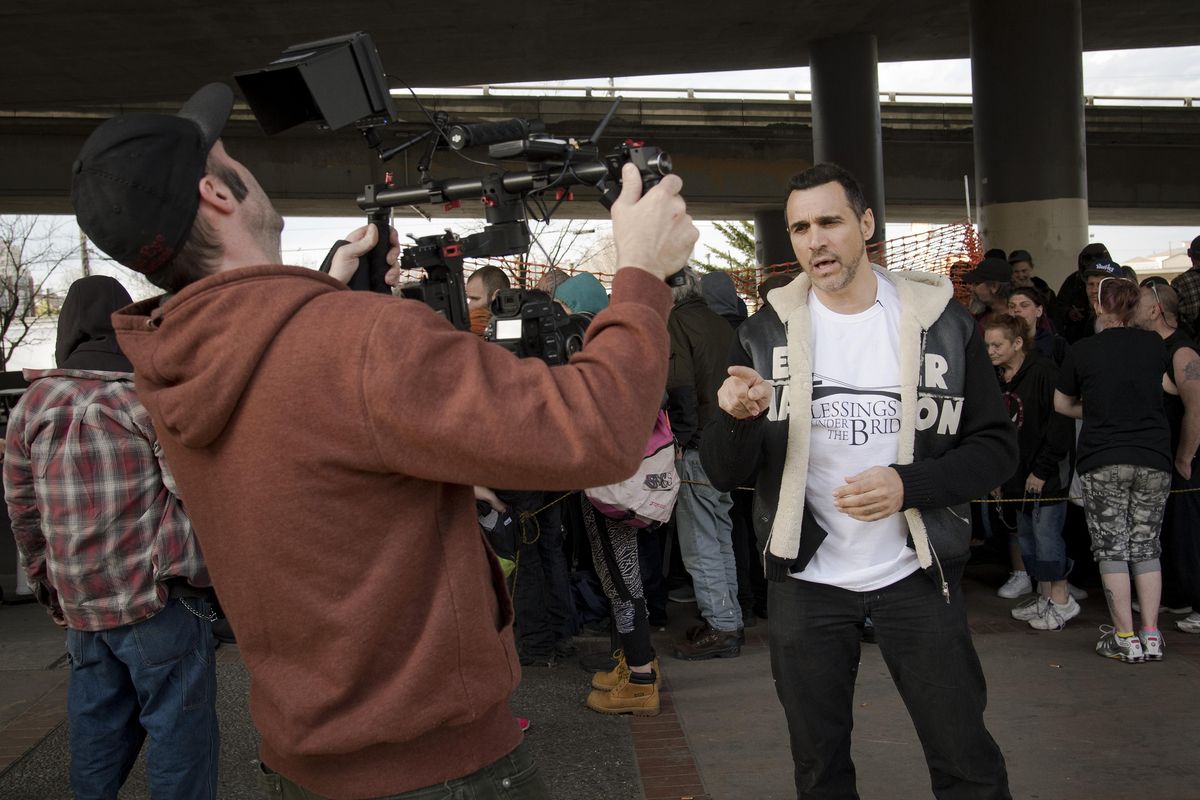 Blessings Under the Bridge – the nonprofit organization that provides free meals under the Interstate 90 bridge every Wednesday evening – has been told by the city of Spokane to find a new location within 120 days.
"We are being evicted," said Jessica Kovac, founder and CEO of Blessings Under the Bridge, standing under the freeway Monday afternoon. "But we don't want to move. We are not 'Blessings by the Bridge' or 'Blessings Down the Road' – we are staying here."
Blessings is in its 10th year and has served more than 100,000 meals to homeless and low-income people. Blessings does not ask for ID or proof of address, and the program makes no effort to do anything other than feed people a meal.
Kovac estimates that the organization has poured $3 million into feeding the hungry in Spokane.
"Not everyone we feed is homeless," said Mike Kovac, Jessica's husband and co-founder of Blessings. "Some are poor and hungry. They ask for extras for lunch the next day."
Blessings has attracted a lot of national media attention. In April, Lifetime TV was here to produce a show hosted by movie star Adrian Paul. Kovac has been on the "Rachael Ray Show" and in People Magazine. She's done a TEDx talk and gained support from Microsoft, which just donated eight computers so clients at Blessings can have internet access.
"We have gotten Spokane a lot of attention for something good," Kovac said. "And people seem to forget that we are providing a service for the city."
But nearby businesses, including Spokane Eye Clinic, have complained about the program. And according to Jonathan Mallahan, director of Community and Neighborhood Services for the city of Spokane, so has Lewis and Clark High School.
"People have what they feel are threatening experiences with people they perceive as homeless," Mallahan said. "Blessings does create an expectation that it's OK for people to hang around there all week long."
On Monday afternoon, six or seven small groups of people were huddled in makeshift camps under the freeway.
The eviction letter signed by Mallahan said the main reason for the city's action is that Blessings has grown too large for the location and that neighbors are complaining "about litter, loitering and concerns over public safety."
But Jessica Kovac said Blessings is being unfairly blamed for trash left behind by other organizations.
"We pick up after ourselves and haul the trash away. We don't leave anything behind," Kovac said. "We take pictures when we are done packing up."
About 10 other organizations piggyback on Blessings and hand out food, clothing and other necessities at the same location on the corner of Fourth Avenue and McClellan Street.
No one responded to calls asking for comment on Monday, and Mallahan said the city only reached out to Blessings.
The area beneath the freeway belongs to the Washington state Department of Transportation, but is managed by the city of Spokane, Mallahan said.
In the letter, Callahan suggests Blessings work with Catholic Charities and perhaps find a new location by the House of Charity, on Pacific Avenue.
"I don't know why the city would push us into the arms of Catholic Charities," Kovac said.
In April, Rob McCann, director of the House of Charity, said he is in desperate need of funding to keep the shelter open 24 hours a day.
McCann said the acute lack of funding could force another 200 people, who've spent the night in the House of Charity's common area, back out in the street.
"I feel like the city roped us in with Catholic Charities to justify giving them money," Jessica Kovac said.
Downtown Spokane Partnership President Mark Richard said he's not sure what the right solution is, but he agrees that the current location doesn't work.
"I don't know a single parent who'd be OK with having them right across the street from a high school," Richard said.
It's the third location for Blessings, which was in a parking lot farther east until 2015. The city asked Blessings to move so that parking lot could be turned into a fenced parking area for Spokane Eye Clinic.
Now Blessings is immediately north of the clinic.
CEO of Spokane Eye Clinic Jan Simpson told KXLY-TV that Blessings draws homeless people to the area, and if the organization wasn't there perhaps the homeless would seek services somewhere else.
"The homeless are not going away just because we go away," Jessica Kovac said.
The city is in the middle of a major road construction project nearby at Division Street and Interstate 90, an area often referred to as the gateway of the city.
"I'm not sure it's a good idea to have Blessings right there at the gateway to our city," Richard said. He doesn't support the House of Charities location either. "There are too many people milling around there as it is."
Mallahan said working with House of Charities is the best solution and that road construction near the House of Charity will alleviate sidewalk crowding and jaywalking.
McCann, director of the House of Charity, did not return a call asking for comment.
"We've received a massive amount of community support today," Jessica Kovac said. "Our donors and volunteers have been incredibly supportive."
A meeting between Blessings, the city of Spokane and Catholic Charities was scheduled for Tuesday morning.
Mallahan maintained that the city is committed to solving homelessness and that the eviction is not about the city trying to hide the homeless.
"That's not it," Mallahan said. "This is about asking if this is the best way we can deliver a service."
---