Airway Heights residents warned not to drink tap water amid chemical contamination findings from Fairchild AFB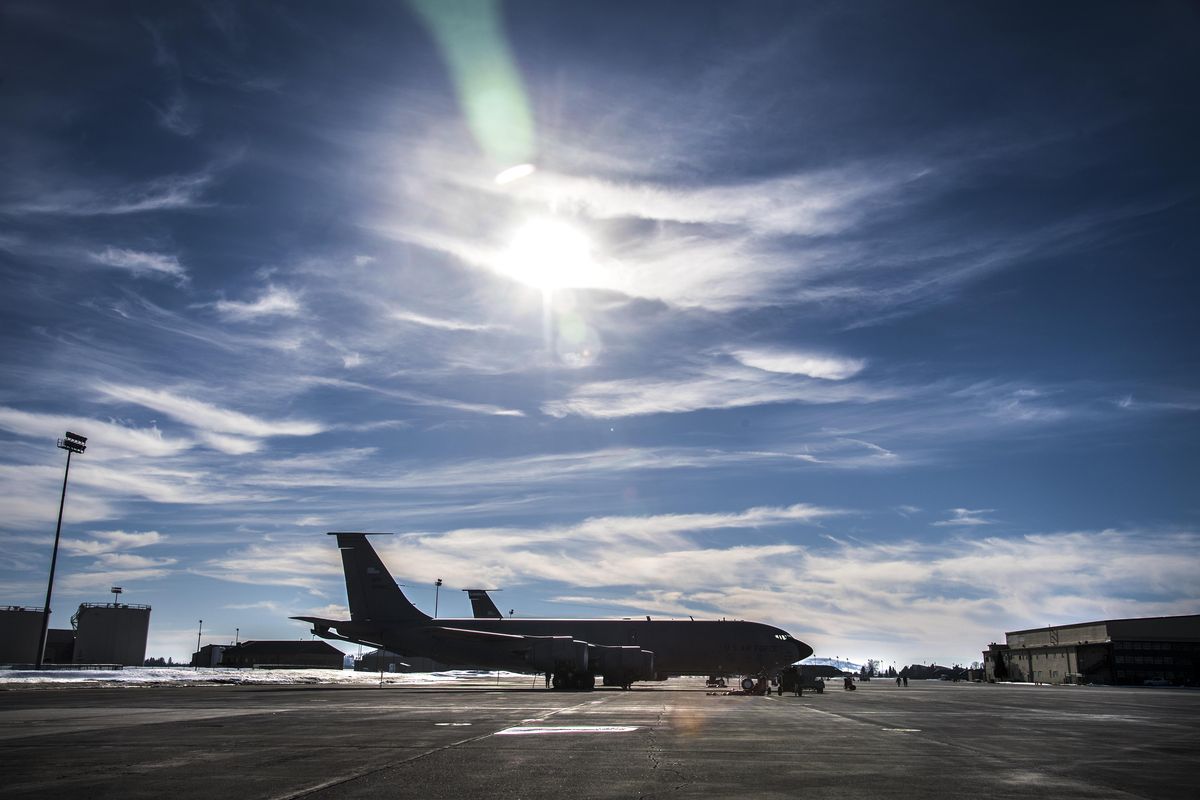 Airway Heights residents lined up by the hundreds Tuesday night to receive bottled water after city officials advised residents not to drink or cook with water from city pipes, as it is likely contaminated with chemical runoff from Fairchild Air Force Base.
But the tap water "is safe for activities where water will not be ingested, such as bathing, doing laundry and washing dishes," the city and the Air Force said in a joint statement Tuesday evening. They said the warning was issued "out of an abundance of caution."
Crowds began arriving near the Yokes grocery store in Airway Heights on Tuesday night as word spread about the water advisory. Nate Whannell, deputy fire chief for Airway Heights, said firefighters handed out more than 300, 35-bottle packs of water by about 9:15 p.m. Crowds were orderly, and police were on hand to direct traffic.
The crews will bring more bottled water to the site to give away to residents starting at 7 a.m. Wednesday, Whannell said.
The perfluorinated chemicals, known by the acronyms PFOS and PFOA, previously were found in a number of private residential wells east of Fairchild. The chemicals are believed to have come from a fire-extinguishing foam the Air Force used from 1970 until last year on a fire-training site as well as two locations where aircraft have crashed.
The U.S. Environmental Protection Agency identified the chemicals as a health risk last year, and the Pentagon launched a nationwide effort to find and mitigate contamination.
Fairchild officials said last week they had expanded their search farther east and south of the base; the chemicals had been detected at concerning levels in at least 17 wells. Officials began testing groundwater on the base in February, and off the base in early April.
In the statement, Air Force Col. Ryan Samuelson said that "we cannot know the extent to which any past base activities contributed to the PFOS/PFOA concentrations in this area."
In a phone call, Airway Heights Mayor Kevin Ritchey said base officials tested four city wells and found contamination in three of them, all in the area of West 21st Avenue and South Lawson Street.
Ritchey said he was surprised to learn of the results Tuesday afternoon.
The city plans to stop pumping water from the affected wells and link its system with the city of Spokane's, as it often does in the summer months to meet increased demand, Ritchey said. The city also has begun a flushing routine that should reduce chemical concentrations to safe levels within three or four days.
"The problem is the test results take about a week, so we're talking seven to 10 days to be completely sure" the contamination is reduced, Ritchey said.
The EPA says most people have low levels of the chemicals in their bloodstreams because of exposure from consumer products. But a growing body of research suggests high concentrations are linked with health defects in lab animals, including low birth weight, high cholesterol, delayed puberty and poor responses to vaccination.
Some residents were upset, and others seemed to take the water advisory in stride.
"I'm frustrated," Sharay Davis said as she waited in line to collect water. "This shouldn't have happened. It's kind of ridiculous."
Travis Baldwin said he's lived near the base his entire life and is not worried.
"I'm healthy," he said.
The Air Force said the EPA's recommendations are based on "cumulative lifetime exposure from water ingestion, not from skin contact or breathing water vapor."
Officials are looking for alternative water sources and may install filtration systems on the affected wells.
"We care about the health and well-being of our families, neighbors and community partners, and we understand those impacted, or potentially impacted, by this emerging issue have legitimate concerns," Samuelson said in the statement.
---