News > Spokane
Coeur d'Alene woman trapped in Mexican hospital for two weeks describes 'horrible' experience
May 16, 2017 Updated Tue., May 16, 2017 at 3:33 p.m.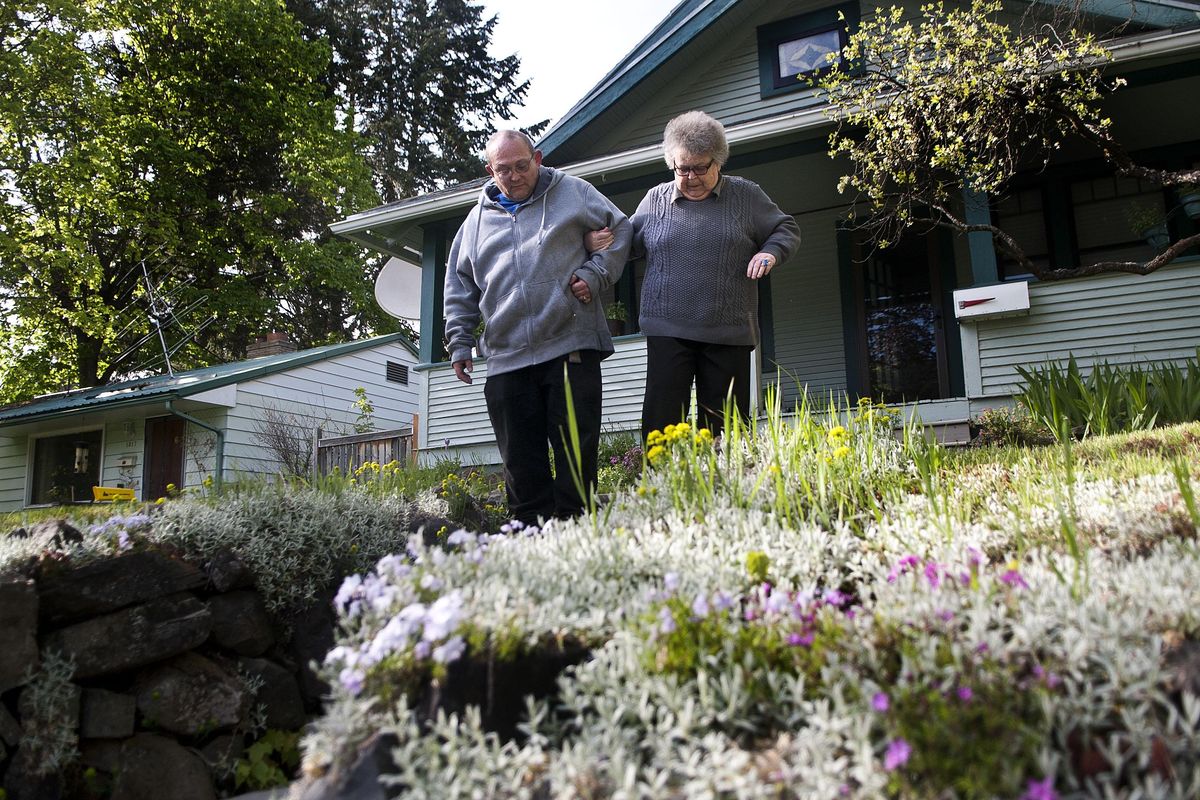 Vikki Moormann walks with help from her son Ryen Moormann from his home to hers in Coeur d'Alene on Monday, May 15, 2017. Vikki was held against her will in a hospital in Mexico. (Kathy Plonka / The Spokesman-Review)
When Vikki Moormann returned to her Coeur d'Alene home following a 12-day trip to Mexico on Saturday, the first thing she did – other than sleep – was enjoy a nice bowl of Honey Nut Cheerios.
Not because she was particularly hungry, but because they reminded her of home.
"I'll tell you, I'm never going back," she said of her trip to Nuevo Vallarta, a picturesque coastal town along Mexico's Pacific rim, where she's owned a time-share for more than 20 years. "It was the most horrible experience of my life."
The 70-year-old retired Coeur d'Alene High School English teacher suffered a diabetic episode and was held captive in a private Mexican hospital against her will until until she could come up with tens of thousands of dollars to pay her medical bills.
It was a situation out of a movie, her son Ryen Moormann explained Monday in his home next to his mother's – something that doesn't happen "in real life." He almost couldn't believe it was happening and it was hard for people to believe him.
But when he posted a video on Facebook a week ago of a conversation he had with a hospital employee, who told him he had to come up with $35,000 before he could see his mother again, the story quickly felt all too real. And before he knew it, the story went global, getting picked up by Fox News and the Daily Mail and getting shared by thousands.
Hundreds of people reached out in support, including Idaho Sen. Mike Crapo and U.S. Rep. Raul Labrador. They were all trying to help bring his mother home.
"People were sharing it," Ryen said. "They just couldn't believe it."
Trapped in paradise
When Moormann purchased a time-share with a beautiful view of the Bahia De Banderas bay 20 years ago with her husband, Donald, she never thought she would one day be trapped in the nearby San Javier Riviera Nayarit hospital.
But on May 4 that's what happened.
Moormann began to feel nauseated on the fourth day of her vacation with her sister-in-law and friend Patty Rossmiller, of Colfax. So she went to the hospital and was diagnosed with diabetic ketoacidosis, a complication of diabetes that can cause flu-like symptoms.
What happened next is unclear. According to Moormann, she was quickly treated and then just sat there for days on end, waiting for the OK to leave. But according to her son Ryen, who was alerted to his mother's condition by a frantic Rossmiller, she was in a coma – either medically induced or otherwise – but he didn't know what was wrong with her.
"The hospital called my wife, and they said, 'she sleep, sleep, no wake up,' " he said, saying the language barrier contributed to a large portion of the early confusion. "I finally got a hold of the doctor and I explained to him that she doesn't want to be a vegetable. And he said, 'It's OK, she's going to be fine.' You're kidding me? She's gonna be fine?"
He said the doctors told him she would be out within five days, that they just wanted to monitor to make sure she would be OK.
"At this point they didn't say anything about the bill," he said.
But then on May 8, when it was time for Moormann to leave the hospital, she said armed guards dressed in white button-ups and black slacks with rifles slung over their shoulders blocked her from leaving the front door.
"I couldn't believe it," she said. "I'd never been treated like that before."
She said they took her up to a room, where she sat on a hospital bed for days, waiting to leave, the time-share and all of her luggage within view of her hospital room.
"I was so frustrated. I just didn't know what to do," she said. "I talked to Ryen almost every night on the hospital phone. I kept telling him, 'I've gotta get outta here. I've gotta get outta here.' It was the most horrible experience of my life."
Hospital bill or ransom?
While Moormann waited in her hospital room, 2,500 miles away Ryen frantically rushed to get his mother home.
The price for her stay was apparently over $30,000, according to bills sent from the hospital and the recorded phone call. And before she could leave, it had to be paid in full, Moormann said.
Not knowing what to do, Ryen called everyone he could think of: his local politicians; Blue Cross of Idaho; his mother's insurance company; and the U.S. State Department. But the hospital wouldn't budge.
In the recorded video, the voice of a woman who appears to work at the hospital tells Ryen: "The bill has to be paid before the patient can leave."
"But she's accruing a higher bill as she's there," Ryen says.
The hospital worker responds: "Yeah, well she has to stay in the hospital because the bill has not been paid. As the soon as the bill be paid, if the patient wants to leave, or by her own decision, it's up to her."
Ryen said he contacted U.S. consulates who told him the hospital couldn't keep Moormann against her will. But when they tried to leave a second time, the local police were called and threatened to arrest Rossmiller, her sister-in-law, if they didn't stay put.
Moormann said after the story got out and news stories started popping up, a lady came to her room and questioned her version of the narrative.
"I don't know what her position was, but she came to my room, and she said, 'Why would your son lie?' " Moormann said. "I said, 'He didn't lie.' And she said, 'He said you were detained by guards.' I thought, 'Well what do you call men with guns?' "
Finally, after pressure from politicians and the State Department, Ryen said, the hospital relented, and would let her leave if he paid $5,000 toward the bill on top of the $1,000 Moormann had paid in cash, in addition to the thousands charged to her credit card.
After payment went through, hospital officials chauffeured her to the airport on Friday. And even though she missed her original return flight on Wednesday, Delta Air Lines pushed her ticket back and she didn't have to purchase another one to return home.
"I burst into tears," she said. "I was so thankful to be on my way home."
Now that she's home, Moormann said she is still slowly regaining her strength and sense of dignity. They still don't know what the final bill from the hospital will be, or how they'll pay it, but they're just glad it's over, Ryen said.
"Yeah, she's grounded for a while," Ryen added.
Local journalism is essential.
Give directly to The Spokesman-Review's Northwest Passages community forums series -- which helps to offset the costs of several reporter and editor positions at the newspaper -- by using the easy options below. Gifts processed in this system are not tax deductible, but are predominately used to help meet the local financial requirements needed to receive national matching-grant funds.
Subscribe now to get breaking news alerts in your email inbox
Get breaking news delivered to your inbox as it happens.
---