Decades of warnings behind chemical contaminating water in Airway Heights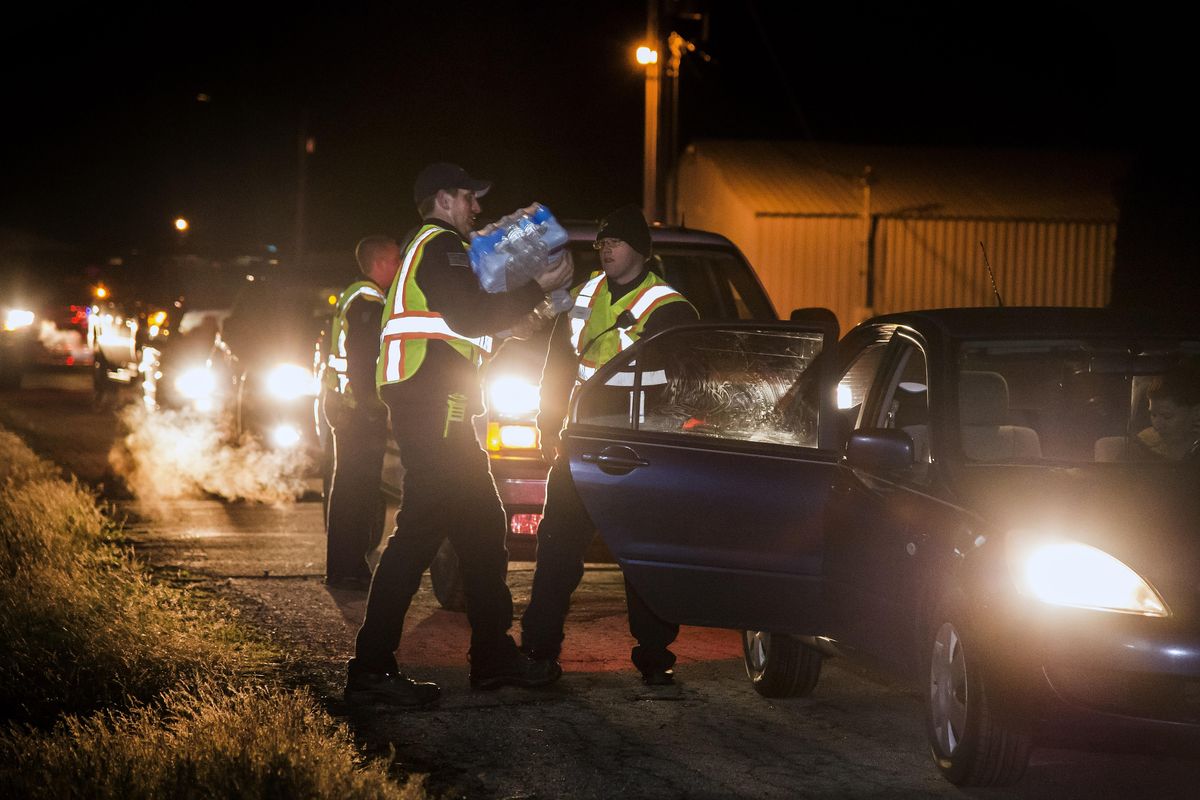 Air Force and public health officials have repeatedly described the chemicals contaminating water in Airway Heights as an "emerging issue" – one that's being handled proactively and transparently.
But nowhere in public statements have Fairchild Air Force Base officials mentioned decades of research linking the perfluorinated chemicals with an array of health defects, from high cholesterol to thyroid disease to pregnancy-induced hypertension.
"There's a good amount of science," said Holly Davies, the toxics policy coordinator for the Washington state Department of Ecology. "The first reports of negative health affects were in the 1950s. It's not like it's one paper."
The chemicals were key ingredients in a fire extinguishing foam that Fairchild firefighters used from 1970 until last year on a training site on the eastern edge of the base. Airway Heights residents have likely been drinking contaminated water for decades, but no one knows what impact that may have had on their well-being.
Numerous studies, including many conducted by the Air Force, have linked perfluorinated compounds with health defects in lab animals, and a number of manufacturers voluntarily began phasing out their use in consumer products more than a decade ago. But the chemicals proved extraordinarily effective at dousing fires involving combustible liquids like jet fuel.
"The problem with firefighting is it's really important to put out the fire," Davies said.
It wasn't until last year that the U.S. Environmental Protection Agency recommended limiting concentrations of the chemicals in drinking water to 70 parts per trillion. Mike LaScuola, an environmental health specialist with the Spokane Regional Health District, called that "an extremely stringent standard" designed to protect vulnerable people, even unborn babies.
Lab tests have found higher concentrations in at least 25 wells in Airway Heights, the Air Force has said in written statements. They include 17 private residential wells east of the base, three wells south and east of the base that supplied the city's tap water, and five wells on the base that don't supply drinking water.
On Wednesday, Air Force officials declined, or said they were unable, to disclose various details of the testing process, including the exact location of each well tested and the chemical concentrations observed in those tests. They also declined to give the average or the range of observed levels.
"The levels are all over the place," said 2nd Lt. Katherine Miranda, of Fairchild's public affairs office. "We're trying to decide how best to summarize that information."
Chemicals barely regulated
Fairchild is one of hundreds of American military installations working to find and mitigate contamination from the firefighting foam.
Last month, the Philadelphia Inquirer reported that the Pentagon had spent more than $150 million on the nationwide effort, although the process has been slow and seemingly disjointed, with each branch of the military operating on a different timetable. The process is expected to take years.
The chemicals in question at Fairchild are known by the acronyms PFOS and PFOA. They're part of a class of compounds called perfluoroalkyls. The EPA raised concerns about them, along with polyfluoroalkyl substances, in an updated health advisory last year.
But the agency has not set enforceable limits on those compounds. The 70 parts per trillion in drinking water is essentially a strong recommendation.
Cities have not been required to submit regular reports about the chemicals to the state Department of Health, said Elizabeth Coleman, lead spokeswoman for the department's environmental public health division.
"It's not something we're required to test at this point," Coleman said.
The EPA did conduct a review of 116 water systems throughout the state from 2013 through 2015, with detectable levels of the firefighting chemicals found in at least one well in Issaquah, Washington. Officials there ceased operation of the contaminated well in late 2015 and installed a $1.1 million filtration system about a year ago that has brought levels of the chemicals below recommended federal limits.
The city of Spokane tested for the chemicals in March 2015 and found no trace of them in its tap water, said city spokeswoman Marlene Feist.
Coleman said other contaminants, including lead, copper, nitrates and pesticides, are tested for regularly at the cities and the air base, with results submitted to her agency.
Well samples are tested at a local lab for traces of contaminants. Testing for the firefighting chemicals would require sending samples to one of a few labs with the equipment necessary to detect the microscopic amounts, Coleman said.
Fairchild officials could not immediately provide the name of the private lab that's processing water samples from the area.
Davies, with the state Ecology Department, said the EPA is often "hamstrung" in its ability to regulate various compounds due to pressure from manufacturers.
"We constantly have this tension," she said. "When do we know enough (about a given chemical) to act?"
John Fiske, an attorney with the high-powered Baron & Budd law firm based in Dallas, visited Airway Heights on Wednesday to meet with community members – and search for potential plaintiffs in a case against the company that makes the firefighting foam.
Fiske said there are five main foam manufacturers, including 3M, but Fairchild officials could not immediately say which foams the base has used.
The manufacturers "had superior knowledge about the nature and toxicity of those chemicals" and must instruct users on how to use the foam safely, Fiske said. "It's really those companies who we think should be held responsible."
Air Force ignored problem
In October, the Colorado Springs Gazette published a lengthy investigation showing that the Air Force ignored decades of warnings from its own researchers by continuing to use firefighting foam containing perfluorinated compounds. The newspaper summarized its findings in three points:
Studies by the Air Force, as far back as 1979, demonstrated the chemical was harmful to laboratory animals, causing liver damage, cellular damage and low birth weight of offspring.
The Army Corps of Engineers, considered the military's leading environmental agency, told Fort Carson (in Colorado Springs) to stop using the foam in 1991 and in 1997 told soldiers to treat it as a hazardous material, calling it "harmful to the environment."
The EPA called for a phaseout of the chemical 16 years ago and 10 years ago found the chemical in the foam "likely to be carcinogenic to humans."
Davies, with the state Ecology Department, said the chemicals are "extremely persistent in the environment. We're going to be stuck with them in our water for a long time, and it's very expensive to clean it up."
The compounds tend to remain in an animal's bloodstream once ingested, and they accumulate at higher concentrations as they move up the food chain, she said.
"We see it in water at one level, and then at a higher level in fish, and then at a higher level in the osprey that eat the fish," she said.
The Gazette reported: "The firefighting chemical sticks in the human body like few others. Its half-life, the time it takes the body to part with half of the chemical in the blood, is 5.4 years – 60 times that of lead."
And the chemicals "act differently in different species," Davies said, meaning the health effects vary from one animal to the next. She said differences have even been observed in mice and rats, which typically respond similarly to a given chemical.
The chemicals belong on a "blacklist" of regulated compounds, she said. "This is a list of chemicals that we want to get rid of completely."
Coleman, with the state Health Department, said the chemicals would show up in blood tests, but there is also no established standard for what detectable amount would indicate potential health problems. The test also likely wouldn't be covered by insurance, she said.
LaScuola, with the Spokane Regional Health District, said any health effects from exposure to the chemicals would likely show up in routine physicals. He said the health district is advising local physicians to check for abnormalities in patients' blood, liver and kidneys when they express concerns about exposure.
LaScuola said the Air Force has been proactive in mitigating the compounds.
"This is what we're calling an emerging contaminant," he said. "I know that a lot of that information is really, really fresh."
LaScuola noted that the EPA's drinking water recommendations are based on lifetime exposure. So a bowl of soup made with Airway Heights tap water would have a miniscule effect on one's health, he said.
"I'm not saying you should eat the soup, but in the grand scheme of things, the effects of that are hard to quantify."
The situation now
Fairchild draws drinking water from one well on-base and a well field on the campus of Spokane Falls Community College, according to records provided to the Health Department. The system serves about 3,900 people, according to the department.
Airway Heights draws from four permanent wells, one of which is located off Craig Road, just east of Fairchild's fence line. The system serves about 6,900 people, according to the department.
The city has ceased operations at its three contaminated wells. Airway Heights officials didn't respond to inquiries from The Spokesman-Review on Wednesday, but city manager Albert Tripp told KHQ that a flushing routine would bring the contamination down to safe levels within about 10 days.
Brook Beeler, a spokeswoman for the Ecology Department, said her agency had been asked to find a way to get rid of the contaminated water, which could involve treating it or storing it in a lagoon.
Medical Lake Mayor John Higgins told the TV station testing found no trace of the firefighting compounds in that city's water system.
A Fairchild spokesman said Wednesday that firefighters no longer train at the old site near Rambo and Thorpe roads, and have begun using a different kind of foam. He said training exercises have been moved to another location on base, which has a buried soil liner that catches chemical runoff.
Airway Heights signed an agreement with the city of Spokane in the 1980s to purchase water in the event of emergencies, which was later amended to allow the city to buy water "as needed."
Feist, with the city of Spokane, said the pipe that connects the two municipal water systems has a backflow valve that prevents any contaminated water from Airway Heights getting into Spokane taps. She added that the two systems draw from different aquifers that aren't hydraulically connected.
Staff writer Kip Hill contributed to this report.
---