Sports > EWU football
Former Eastern Washington football star Cooper Kupp quickly impresses Los Angeles Rams
UPDATED: Wed., May 17, 2017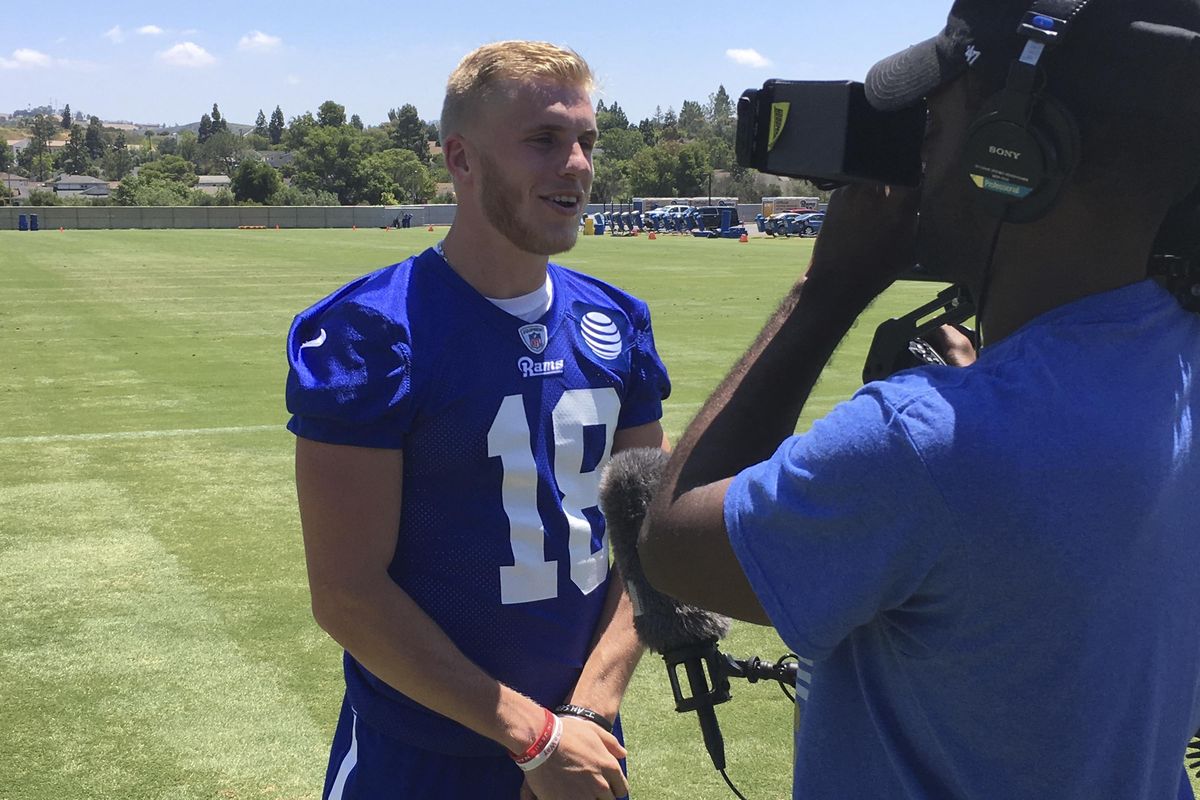 Los Angeles Rams receiver Cooper Kupp, left, participates in an team interview after practice last week. (Greg Beacham / Associated Press)
At every stop, Cooper Kupp has converted the doubters.
From Cheney to Corvallis and now southern California, the too-small, too-slow kid from Yakima has opened eyes – and minds.
The latest revelations came out of last weekend's Los Angeles Rams rookie minicamp, where Kupp impressed enough to fuel speculation that he could be the team's go-to receiver this fall.
That's a relative term for the Rams, who had the worst offense in the NFL last year and have fielded just one 1,000-yard receiver since 2007. But Kupp is definitely in the conversation after a standout minicamp.
"Cooper was a guy that consistently showed up," rookie head coach Sean McVay said of Kupp, who's also in the mix at punt returner.
Kupp, a four-time FCS All-American at Eastern and holder of every major receiving record in FCS history, was knocked by some NFL observers after poor 40-yard time at the NFL Combine in February.
The Rams saw past that and traded up to an early third-round pick that sent Kupp to Los Angeles. Last week's minicamp confirmed the Rams' gut feeling that Kupp was one of the steals of the draft.
"I think the first thing you know about Cooper is he's a pro and you can see that," Rams offensive coordinator Matt LaFleur said on the team website. "He came in here not like most rookies do. … You can tell he works at his craft each and every day. He does a great job."
The opportunity for major playing time is Kupp's for the taking. Fifth-year speedster Tavon Austin was quarterback Jared Goff's top target last year, but he's out for two months following wrist surgery earlier this month.
Austin, 26, was the No. 8 pick overall in the 2013 NFL Draft. He has never had more than 434 yards or four receiving touchdowns in a season.
Moreover, the Rams also lost wideout Kenny Britt and tight end Lance Kendricks to free agency, added former Buffalo wideout Robert Woods.
Kupp thrived last weekend on a diet of shorter pass routes.
"He got a lot of touches and I think it was predicated on the routes that he was running," McVay said of Kupp. "The quarterbacks did a good job finding him. So, he got a lot of touches."
Fellow rookie receiver Josh Reynolds of Texas A&M also showed well, as did fullback Sam Rogers (Virginia Tech) and tight end Gerald Everett (South Alabama).
Now on the verge of playing in the big time, Kupp said he's no small-school chip on his shoulder. Not that there ever was.
"Any time you come out there and you're trying to prove something, you're trying to be something more than what you are. If you're trying to prove something, you've got a weight on your chest," Kupp said.
"I know I'm a great player. So I'm going to come out and just let that show. That should be enough."
Former EWU star Samson Ebukam – a defensive end turned linebacker – also was at the minicamp.
While trying to make an impression, the fourth-round draft pick was also a bit star-struck by new defensive coordinator Wade Phillips.
"He's chill, man," Ebukam said of the former Cowboys head coach. "Like he's just right there trying to get you better. And that's what I like about him."
Meanwhile, former EWU receiver Kendrick Bourne participated in the San Francisco 49es' rookie minicamp on May 5-7. Bourne will be on the team's 90-man roster for a mandatory minicamp June 13-15.
Also, former EWU wideout Shaq Hill is no longer on the Houston Texans' roster after signing a free-agent deal during draft weekend. Hill has not officially been cut.
Local journalism is essential.
Give directly to The Spokesman-Review's Northwest Passages community forums series -- which helps to offset the costs of several reporter and editor positions at the newspaper -- by using the easy options below. Gifts processed in this system are not tax deductible, but are predominately used to help meet the local financial requirements needed to receive national matching-grant funds.
Subscribe to the sports newsletter
Get the day's top sports headlines and breaking news delivered to your inbox by subscribing here.
---