News > Spokane
Airway Heights seeks more emergency water following well contamination discovery
May 18, 2017 Updated Thu., May 18, 2017 at 9:51 p.m.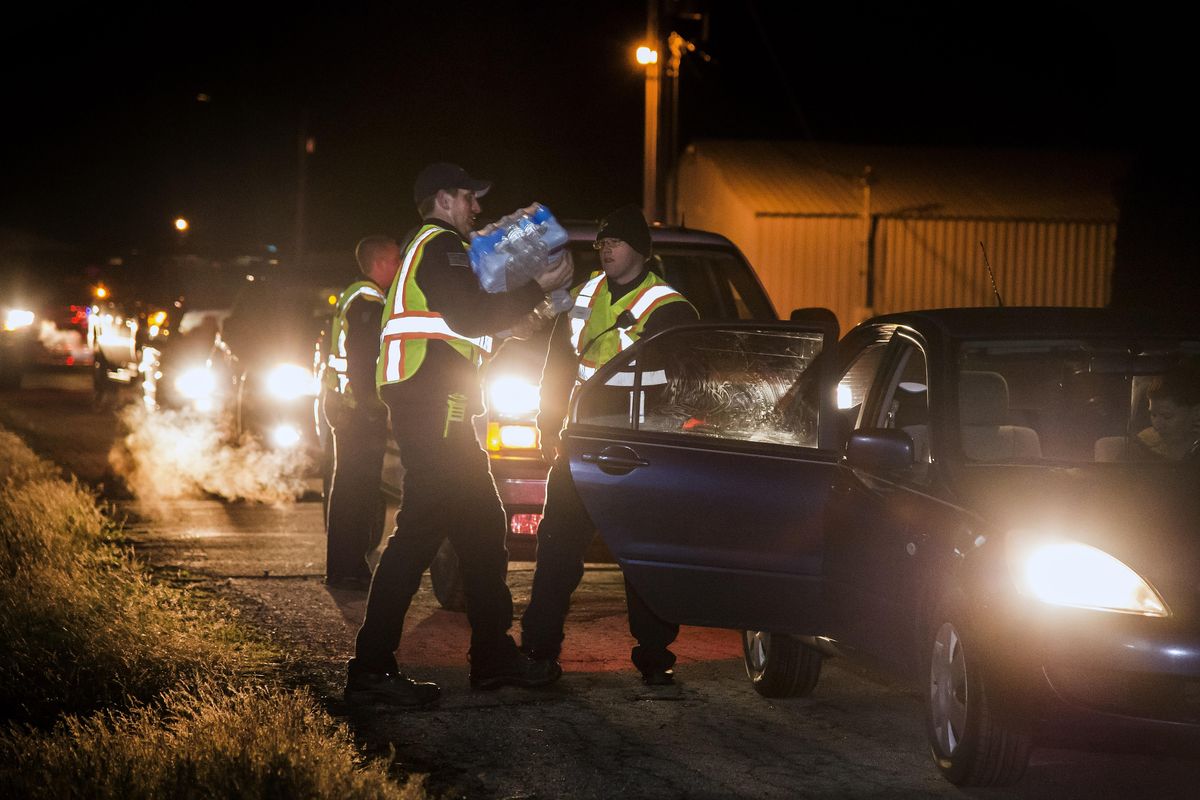 A line of vehicles stretch for blocks as the Airway Heights Fire Department distributes free water to those affected by the cityÕs contamninated water supply. Airway Heights officials are advising residents not to drink or cook with water from city pipes. Colin Mulvany/THE SPOKESMAN-REVIEW (Colin Mulvany / The Spokesman-Review)
Airway Heights is working to bring online another water connection with the city of Spokane following test results showing two of its wells contained elements of the same potentially dangerous chemicals found on neighboring Fairchild Air Force Base.
"We hope to have a working intertie on a temporary basis within the next day or two, hopefully by the end of the day tomorrow," said Kevin Anderson, public works director for Airway Heights.
For the third straight day, residents of the city on the West Plains were advised not to drink tap water following discovery of contaminants in two groundwater wells that are being investigated by the Environmental Protection Agency as potential health hazards. Anderson described the two affected wells – both near the site where two B-52 bombers crashed in 1958 – as "key" to the city's water system.
Those wells have been shut off as Airway Heights works to flush the system, a process that could take up to 10 days as the city works with the Ecology Department to determine a safe way to dispose of potentially contaminated water. The chemicals, which are identified as "emerging contaminants" by the EPA, were present in fire suppression foam used on the air base for decades.
The Washington Department of Corrections announced Thursday evening that it is voluntarily recalling food manufactured by the Airway Heights Corrections Center. The center's food production facility, which distributes to other correctional facilities and external customers, as well as providing food for the center's own inmates, uses water from the Airway Heights supply.
The recall comes out of "an abundance of caution and not in response to any specific threat of illness," according to a memo sent by Jeremy Barclay, communications director at the DOC.
Meanwhile, residents have been receiving packs of water from officials staged behind the Yoke's grocery store.
Thursday morning, more than 20 pallets of Crystal Springs water were delivered to the area. Volunteers stood by as two or three cars came every few minutes to pick up their daily allotment – two gallons per person, or a 24-pack of bottled water.
"It's much slower than yesterday," admitted Leonard Westermeyer, who worked eight hours on Wednesday, most of which was spent telling people there wasn't any water to distribute. "We finally have some time to breathe."
There to help were a handful of students from Upper Columbia Academy north in Spangle.
"They called and asked if we wanted to come and help and we talked to students and they said, 'Let's go,' " said principal John Winslow.
"Yeah," added 17-year-old William Frohne as he squinted to escape the sun beating down on his eyes. "Nice weather."
Airway Heights would buy its water from Spokane per an agreement the cities signed in the 1980s. The agreement requires Airway Heights to pay a premium on water sent into their system by Spokane, but that won't mean an immediate rate increase, officials said.
Rates are established by action of the City Council and would require additional action to change, Anderson said. The costs of a long-term solution, including building a filtration system to treat water in the affected wells, could force the city to pursue that option, he said.
"If we have to pay for it, it's an unbudgeted expense," Anderson said. But the city's priority is getting residents and businesses back on the usual distribution system and end the need for bottled water.
Airway Heights is paying a wholesale rate of $1.17 per 748 gallons of water that is established in Spokane city codes, said Marlene Feist, director of strategic development for the public works and utilities department. Spokane is currently providing between 1,200 and 1,500 gallons per minute through the operating connection. Another connection would add about 1,000 gallons per minute to that total, Feist said.
Claim filed against Air Force for contaminated well
The contamination has also reached private wells on the West Plains, and at least one neighbor of the air base is seeking compensation.
Spokane attorneys Andrew Biviano and Breean Beggs sent a $1 million claim to the Air Force on Thursday on behalf of Millwee Holler-Kanaga, a longtime private well user off Thorpe Road on the base's eastern edge.
Biviano, who outside of his legal practice serves as head of the Spokane County Democratic Party, said Thursday that Holler-Kanaga's well had been tested by Fairchild and she'd received a letter indicating levels of the chemicals were above federal recommendations.
"She's mostly concerned for her kids," Biviano said. Holler-Kanaga's adult children grew up drinking the well water, and medical studies have linked long-term exposure to health defects including high cholesterol and thyroid disease.
Biviano said several of Holler-Kanaga's neighbors also received positive test results with contamination levels much higher than in her well, and that other residents have expressed interest in seeking damages, both for personal injury and for diminished property values.
Beggs, the other attorney representing Holler-Kanaga, is a Spokane City Council member in addition to practicing law.
Airway Heights City Council members said Thursday they'd been fielding calls from concerned residents and praised both city staff and the Air Force for providing constant updates on the situation.
"I'm really happy with the way the staff and Air Force base has been communicating. I was surprised at the efficiency of it," said City Councilman Dave Malet.
"We're working as hard as we can to find short-term and midrange solutions to this," said City Councilman Larry Bowman.
Reporter Jonathan Glover contributed to this article
Local journalism is essential.
Give directly to The Spokesman-Review's Northwest Passages community forums series -- which helps to offset the costs of several reporter and editor positions at the newspaper -- by using the easy options below. Gifts processed in this system are not tax deductible, but are predominately used to help meet the local financial requirements needed to receive national matching-grant funds.
Subscribe now to get breaking news alerts in your email inbox
Get breaking news delivered to your inbox as it happens.
---