A&E > Stage
Civic's 'Kiss Me, Kate' brings director Melody Deatherage back to former role
Thu., May 18, 2017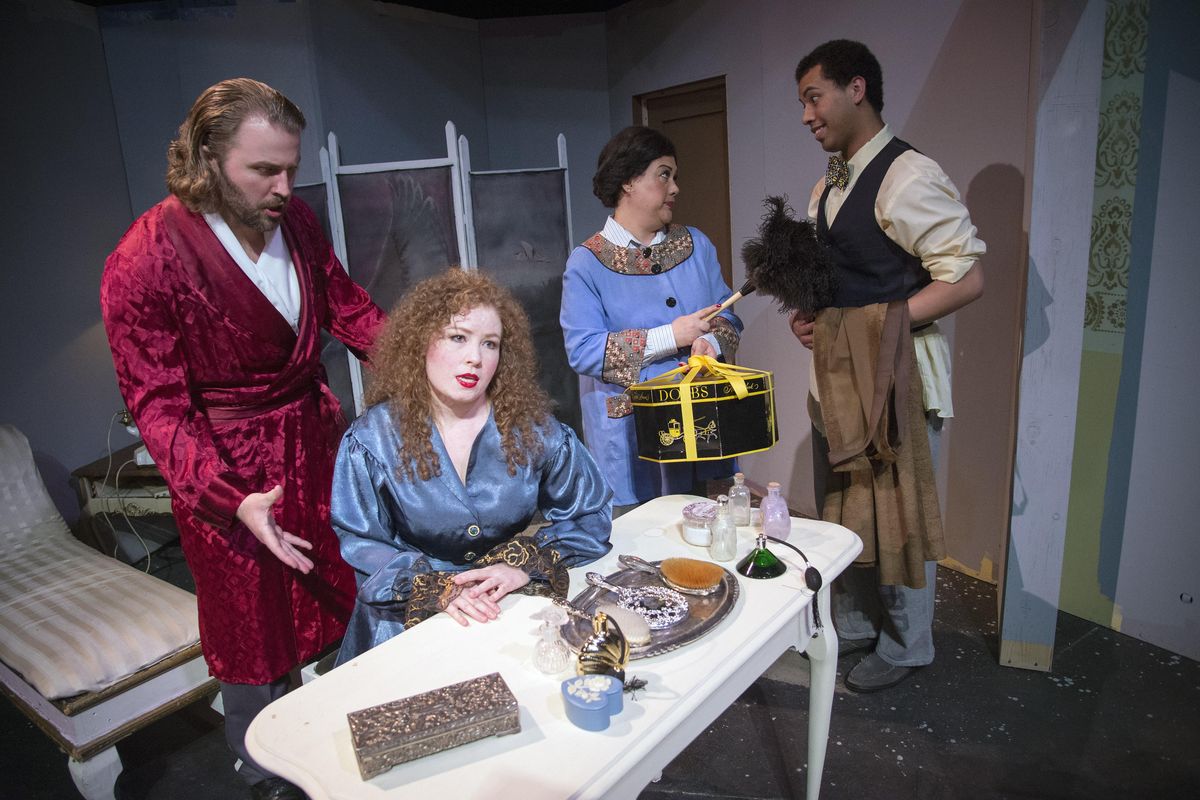 The actors, playing actors, Daniel McKeever as Fred, Tami Knoell as Lilli, Emilia Keener as Hattie and Tre Keough as Paul..Colin Mulvany/THE SPOKESMAN-REVIEW (Colin Mulvany / The Spokesman-Review)
When Tami Knoell steps on stage as Lilli Vanessi/Katharine in Spokane Civic Theatre's production of "Kiss Me, Kate," director Melody Deatherage will know exactly how she feels, as Deatherage played the same character, on the same stage, 35 years ago.
The musical was one of Deatherage's first shows at Civic and her first time working with director Dorothy Darby Smith, who Deatherage said was considered the "grande dame of Spokane theater."
She remembers the role required a lot of work, but that she had a lot of fun, praising Cole Porter's music and Dee Finan's costumes.
"It's a fun show because it's colorful, and it's about romance and love and passion," she said.
Deatherage hopes to bring this same color and passion to "Kiss Me, Kate" when it opens Friday on Spokane Civic Theatre's main stage.
"Kiss Me, Kate," which won the first Tony Award for best musical, is a play within a play, following a Baltimore theater company as it works on a musical version of William Shakespeare's "The Taming of the Shrew."
Director/producer Fred Graham (Daniel McKeever) is starring as Petruchio and has cast his ex-wife Vanessi, a Hollywood star, as Katharine.
"I think he's hoping to rekindle the romance they had," Deatherage said. "But their relationship offstage mirrors that of Kate and Petruchio onstage."
Graham also has a thing for young actress Lois Lane (Hannah Kimball-Fuller), who is playing Kate's sister Bianca.
Both women are already taken though, Vanessi by fiancé General Harrison Howell (Nate Edmons, who also plays a stage hand) and Lane by boyfriend Bill Calhoun (Jonah Taylor), who is also in the production as Lucentio.
Having missed a rehearsal because he was gambling, Calhoun sets off a chain of events that lead to armed gangsters (Jhon Goodwin and Grady O'Shea) coming to the theater and eventually finding themselves onstage.
Love triangle drama within the company also makes its way onstage and threatens to jeopardize the production of "Taming."
"Kiss Me, Kate" also stars Ted Redman (Harry Trevor/Baptista), Tre Keough (Paul/Haberdasher), Emilia Keener (Hattie), Kristen Nauditt (Rosie the Stage Manager), Larry Jones (Pops), Marlee Andrews (Ensemble/Padua Inn Server/Petruchio Servant),Teo Damitio (Ensemble/Nathaniel), Jerrod Galles (Ensemble/Gremio/Featured Dancer/Flynt), Stephanie Gerard (Ensemble/Philomena), Emily Gjovik (Ensemble/Featured Dancer), Duncan Clark Menzies (Ensemble/Hortensio), Lunden Nugen (Ensemble/Sydney/Featured Dancer), Sarah Rogers (Ensemble/Lady of Padua), Easton Townsend (Ensemble/Featured Dancer/Petruchio Servant/Riley) and Kaitlin Webster (Ensemble/Lady of Padua).
The orchestra includes Dave Turner (bass), Denika Kleinmann (cello), Phil Pintor (violin), James Marshall (viola), Taylor Belote (percussion), Andy Plamondon (trumpet), Jesse Flanagan (trumpet), Jennifer Brummett (horn), Bob Francis (trombone), Sheila Schindler (reeds), Merilee Updike (reeds) and Kyle Ross (piano/synth).
"Kiss Me, Kate" opens on the final weekend of Civic's production of "The Taming of the Shrew," the source material for the musical.
Deatherage said she and "Taming" director David Baker have talked a little but have not spent much time discussing their approaches to their respective productions.
"I would say in terms of the approach to the actual 'Taming of the Shrew' portion of our show, 'Kiss Me, Kate,' we've taken a more traditional approach in terms of costuming and interpretation," Deatherage said.
Deatherage is especially excited for people to see the "Taming" costumes as she had a particular vision for them.
"They'll be very traditional in terms of Elizabethan, but in terms of the color palette we've chosen, I'm excited about that," she said.
"Kiss Me, Kate" features singing, dancing, romance, comedy and Shakespeare, and Deatherage credits music director Henry McNulty and choreographer Heidy Cartwright for helping her juggle so many theatrical elements.
It's this variety that makes "Kiss Me, Kate" one of those shows that appeals to both seasoned and casual theater fans.
"There's physical comedy and comedy of wit, and then there's also love and romance that is the throughline," Deatherage said. "And this show, it's about theater people … about them finding their way to each other and being transformed by love and respect and admiration for each other."
Local journalism is essential.
Give directly to The Spokesman-Review's Northwest Passages community forums series -- which helps to offset the costs of several reporter and editor positions at the newspaper -- by using the easy options below. Gifts processed in this system are not tax deductible, but are predominately used to help meet the local financial requirements needed to receive national matching-grant funds.
Subscribe to the Spokane7 email newsletter
Get the day's top entertainment headlines delivered to your inbox every morning.
---