Sports
Grip on Sports: Nothing Cooper Kupp does anymore should come as a surprise
Thu., May 18, 2017 A GRIP ON SPORTS • Honestly, are any of you surprised Cooper Kupp was impressive in his first weekend with the Los Angeles Rams? Read on.
••••••••••
• There are some great aspects about the Inland Northwest that are hidden from the rest of the nation.
It doesn't rain hear nearly as much as people think, though this year is an aberration. It's not just a suburb of Seattle. The ski areas, and the snow, are top notch. And last season, the area was home to one of the best college football receivers in the country.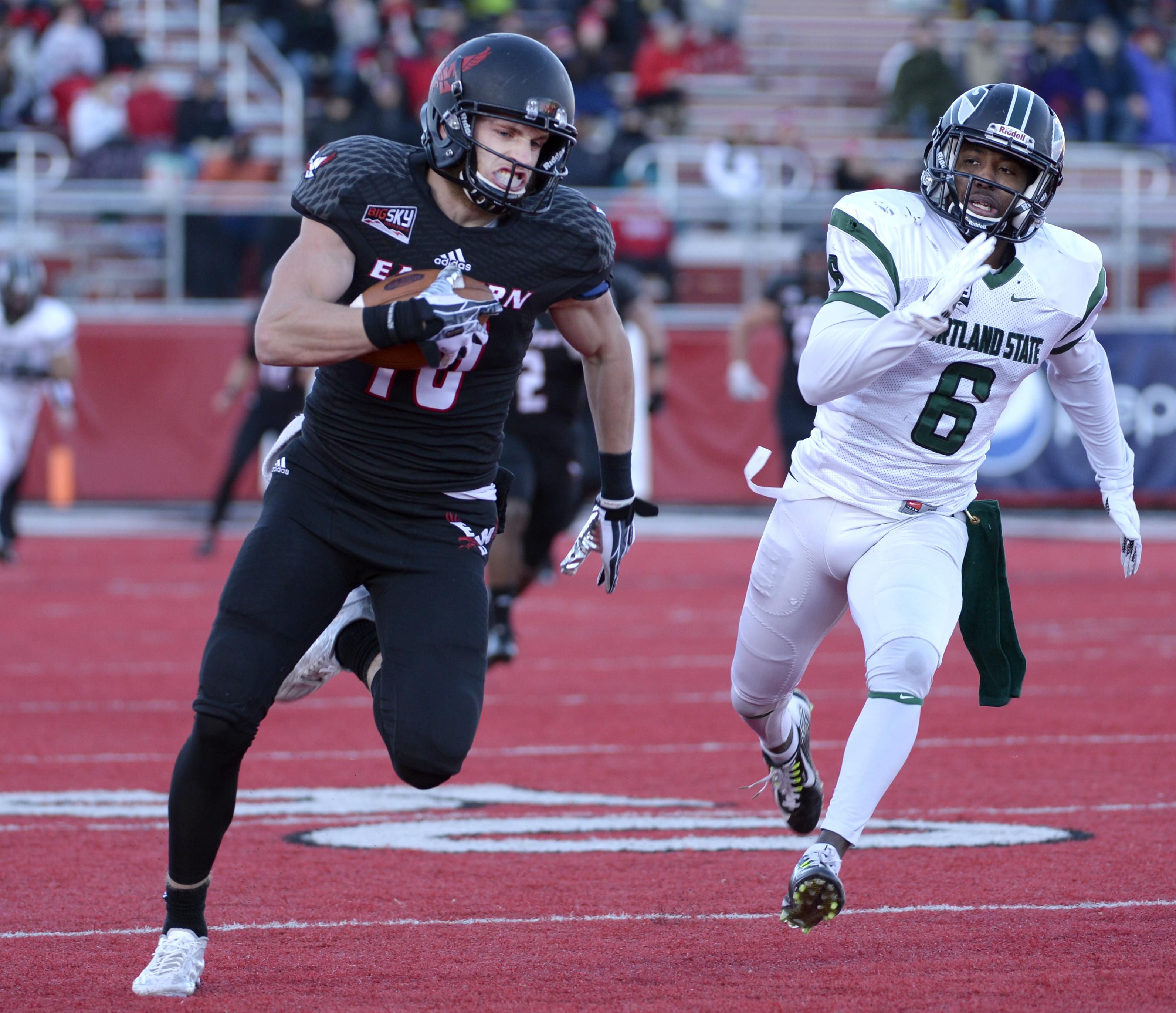 We all knew it. But getting others to understand just how good Kupp was (and is), now that's a job even the local tourist board wouldn't want to take on.
When Kupp went through the NFL draft combine, and did something no one expected, we weren't surprised. Even if what he did, run a pedestrian 40 time, was detrimental to his draft status.
It was just Kupp doing his part to help the Inland Northwest keep its status as a hidden gem.
And when the Rams drafted Kupp in the third round, we weren't surprised. Well, maybe a little. Aren't NFL scouts supposed to know more than anyone else? How could teams have waited so long?
Last weekend Kupp showed the L.A. area what he could do at the Rams' rookie mini-camp. Our Jim Allen summarizes the responses in this story. The Ram folks are impressed, which doesn't come as a surprise to us, does it?
We may not have been surprised, but we are a little angry.
After all, it was the Rams that picked Kupp. An Inland Northwest kid playing for a rival of our Seahawks? That's not right.
But it happened. And for the next decade or so, we are going to have to watch the LOB try to keep Kupp from coming up with big third-down catch after third-down catch.
Luckily, the Rams aren't all that good – the results against Seattle the past couple years notwithstanding. So Kupp can come into CenturyLink and catch a dozen passes from Jared Goff or whatever savior quarterback Los Angeles drafts next and the Hawks can still win.
That seems OK.
But was it too much to ask for a Seattle guy to venture across the mountains last fall and see what Kupp could do? Heck, he had one of his better collegiate games in Husky Stadium a few years back. Why didn't Seattle pay attention then?
Oh, right. He was playing for a Division VII team or something. In the Inland Northwest. Doesn't it rain there all the time?
•••
WSU: The Cougars are in Corvallis this weekend for a series against the nation's No.1 baseball team, Oregon State. … Around the Pac-12 yesterday, the NCAA gave a Stanford basketball star another year of eligibility. … An Arizona football player retired. … Oregon hopes to actually have someone in the NFL draft next season. … Arizona State has some players to watch as well.
Gonzaga: The Bulldogs' NCAA at-large baseball fate may be decided this weekend when they host WCC-leading BYU in a three-game series. Jacob Thorpe has an advance. … What will happen at BYU now that Eric Mika has decided to enter the NBA draft?
EWU: As we said, Jim has a look at Cooper Kupp's first on-field weekend with the Los Angeles Rams.
Empire: Think about this. The Seahawks have a game scheduled in Carolina for a Sunday afternoon. A week or so before the contest, the NFL changes it to Saturday because someone else needs to use the field. Never happen, right? But it does in indoor football. Jim Meehan explains the schedule change in his advance of tonight's Empire game in Colorado.
Preps: It was another busy day in these parts yesterday and will be even busier this weekend. Greg Lee gets us started with this advance of the track meets as well as a feature on Timberlake's Kassidy Hammond. Steve Christilaw chips in with a look at regional meets in Washington. … There were softball playoff games yesterday as well as Whitney Ogden's feature on Northwest Christian pitcher Mattea Nelson (pictured). … We can also pass along a preview of this weekend's baseball action.
Mariners: My dad used to like to talk about some blind squirrel he knew that once found an acorn. For some reason it seems apropos to last night's win. Dave Nichols has the particulars in his Mariners Log. The links are at the bottom of that feature.
Seahawks: You have questions? Bob Condotta has some answers in the Times. … I wonder if anyone would want my brain.
Sounders: Another match, another bad second half. The Sounders gave up three second-half goals and lost 3-0 in Kansas City. … Real Salt Lake won a match.
•••       
• A quick note about the weekend. We will not be here on Saturday morning. Taking the morning off. There's a reason. You'll figure it out, probably on Sunday evening. We will be here tomorrow, however. … But before that, we are on the radio today for a couple hours, filling if for Dennis Patchin on 700 ESPN starting at 3 p.m. You can listen here if you like. Until then …
Local journalism is essential.
Give directly to The Spokesman-Review's Northwest Passages community forums series -- which helps to offset the costs of several reporter and editor positions at the newspaper -- by using the easy options below. Gifts processed in this system are not tax deductible, but are predominately used to help meet the local financial requirements needed to receive national matching-grant funds.
Subscribe to the sports newsletter
Get the day's top sports headlines and breaking news delivered to your inbox by subscribing here.
---