News > Spokane
Not just a drill: Sacred Heart Medical Center simulates transporting patients with Ebola to new special pathogens unit
Thu., May 18, 2017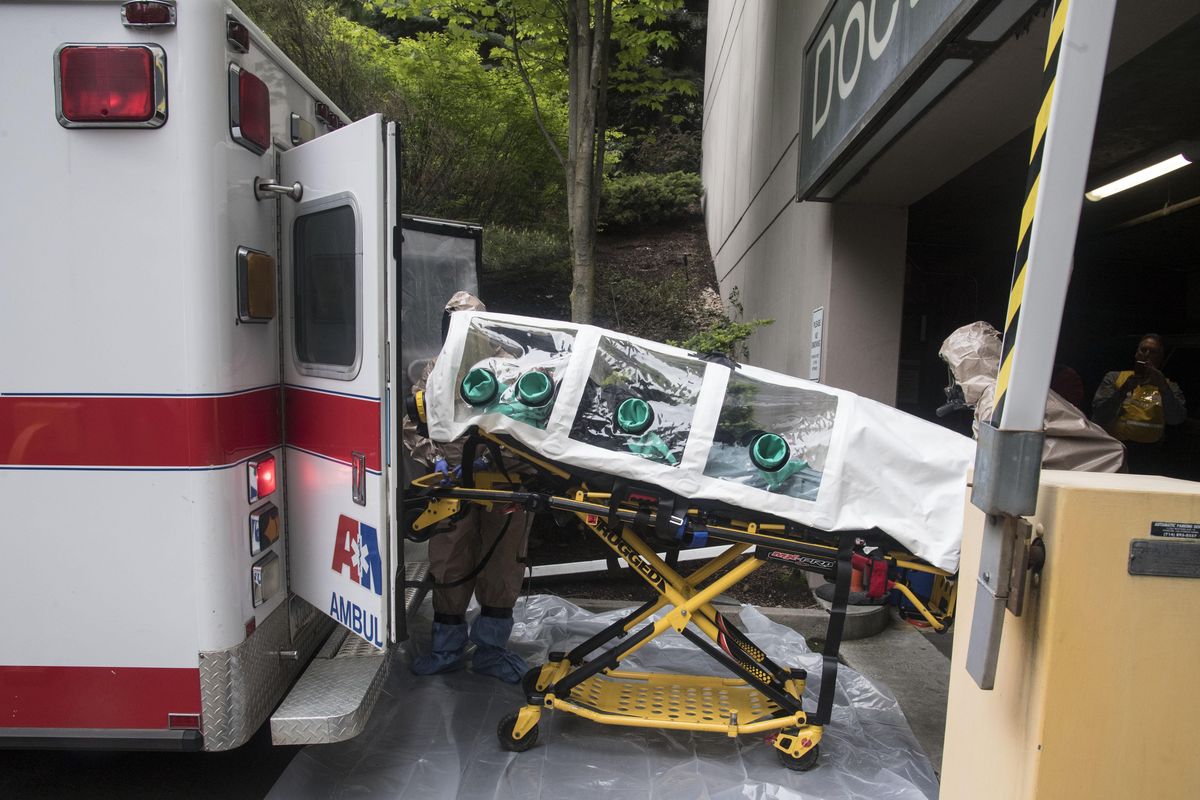 A mock patient suspected of being exposed to Ebola is unloaded from an AMR Ambulance to Providence Sacred Heart Medical Center, May 17, 2017. (Dan Pelle / The Spokesman-Review)
Paramedics wore waterproof suits with respirators as they unloaded a patient at the Sacred Heart Medical Center parking garage Wednesday morning.
The back of the ambulance had been covered in plastic from floor to ceiling, and the patient was zipped into a plastic isolation tube designed to limit the spread of infectious diseases. Firefighters and police officers stood by as paramedics wheeled the stretcher inside.
The crowded hospital parking garage was part of a citywide drill to simulate transporting a patient with Ebola from Spokane International Airport to the hospital's new special pathogens unit, which is equipped to care for patients with highly infectious diseases.
Intensive care unit nurse Nancy Lowrey, who is one of the nurses trained to work on the special pathogens team, volunteered to be a patient. Her coworkers admitted her into the unit and practiced caring for her, drawing a blood sample and transporting it into the unit's special locked lab.
Sacred Heart was the hospital selected for the Washington, Oregon, Alaska and Idaho region and received a $2.1 million grant from the U.S. Department of Health and Human Services to build the unit. Staff can care for two Ebola patients or up to 10 patients with other highly infectious diseases.
Another Ebola outbreak is unlikely, but the unit is designed to care for emerging diseases that might pose similar risks, including Lassa fever, Middle East Respiratory Syndrome and more.
The scenario that played out Wednesday involved a patient who had allegedly been transported to Spokane from Alaska. Hospital staff in Alaska ran a drill Tuesday with their own mock Ebola patient to practice transporting someone from remote Kodiak Island to a Providence hospital in Anchorage for care.
Wednesday's drill started around 7 a.m., where nursing staff met at the hospital and donned protective gear. Lowrey was taken to the airport, then transported back to Sacred Heart around 9 a.m. via an American Medical Response ambulance with a police escort. Paramedics from the airport fire department assisted in getting her off the plane and into the ambulance.
As the drill neared completion, Lowrey, sitting comfortably in one of the unit's Ebola rooms, chatted with other nurses and observers about the care. She said the pod was comfortable, but she'd started to develop a headache.
That led to a discussion about whether patients transported in isolation tubes should be given oxygen by default, even if their medical condition doesn't warrant it.
"This is all brand new stuff," Lowrey said.
Evaluators and observers from the National Ebola Training and Education Center were on hand to watch and debrief with hospital staff after the drill.
Nick Cagliuso, assistant vice president for emergency management at New York City Health and Hospitals, and a NETEC advisor, said the center aims to share best practices between hospitals.
The drill isn't graded or scored, but staff from the special pathogens unit will be able to discuss what went well, hear suggestions from the center and have their best practices taken to other hospitals with similar units. Cagliuso said that preparation guards against patients showing up in the emergency room with unknown diseases.
"Ready or not, patients will present," Cagliuso said. "They can choose to be ready or they can choose to bury their heads in the sand."
Nurses caring for Lowrey were decked out in protective gear, including face shields, helmets and disposable aprons. They said scrubs get soaked through with sweat quickly with so much gear on, but they kept smiles as they communicated between Lowrey's patient room and next door "doffing" room where staff remove protective gear.
Safety procedures are built with redundancy in mind. One nurse helps the others remove their protective equipment, following a detailed procedure that goes through more hand sanitizer and cleaning wipes than most people use during a flu season.
"They know that they're keeping each other safe," said Christa Arguinchona, the assistant nurse manager for the unit.
Local journalism is essential.
Give directly to The Spokesman-Review's Northwest Passages community forums series -- which helps to offset the costs of several reporter and editor positions at the newspaper -- by using the easy options below. Gifts processed in this system are not tax deductible, but are predominately used to help meet the local financial requirements needed to receive national matching-grant funds.
Subscribe now to get breaking news alerts in your email inbox
Get breaking news delivered to your inbox as it happens.
---