Sports > Outdoors
Canada's lesser-known national parks good bet during 150th anniversary
Fri., May 19, 2017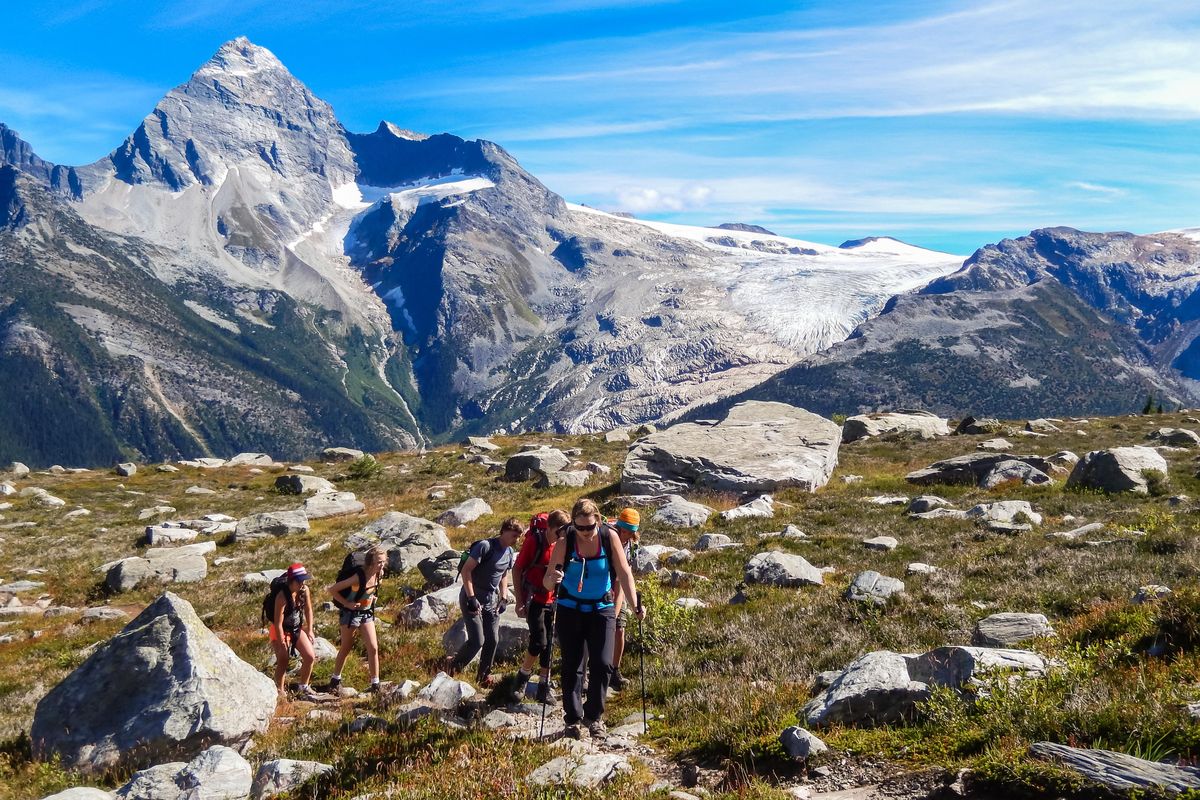 GASP group hiking Abbot Ridge trail in Glacier National Park. (Alice Weber / Alice Weber photo)
It's Canada's turn to celebrate its national parks.
As part of Canada 150 – the country's sesquicentennial – admission is free in all national parks. For Americans, a car-camping trip to explore the parks north of the border looks like a great deal, especially when you add in the favorable exchange rate.
From Spokane, seven great Canadian national parks are within a day's drive. Chances are, you already know about two of them: Jasper and Banff national parks are beautiful and extremely popular. These two tourism behemoths receive the most annual visitors among the national parks in Western Canada.
Looking beyond Jasper and Banff, five lesser-known national parks are just as worth exploring. From west to east, let's start the tour.
Mount Revelstoke
This wintertime powder skiing destination has the largest vertical rise in North America at 5,620 feet. Come summer, you can explore Mount Revelstoke National Park as the snow gives way to wildflowers and the world's only temperate inland rainforest. That's right – the lower mountain is a rainforest and has giant cedar trees that you would normally see along the Pacific Coast, thanks to all the moisture Revelstoke receives.
From Spokane, it's aprroximately a seven-hour drive to Revelstoke, a picturesque historic railroad town. Besides ample accommodations, you'll find lots of good restaurants and tourist-friendly facilities.
Camping: Mount Revelstoke has no drive-up campgrounds at this time, although one is being built and will open in 2019. In-park camping is available at nearby Glacier National Park. Commercial camping options abound in the Revelstoke area, and two provincial park campgrounds are nearby at Martha Creek and Blanket Creek.
Activities: Road cyclists, get ready for a challenge. The Meadows to the Sky Parkway is a world-class grinder, ascending 4,500 feet to a summit that affords views of the surrounding valley and the Selkirk Mountains.
The parkway also offers top-of-the-mountain access to motorists. It's the only road you can drive to a high-alpine setting in any of the national parks in Western Canada.
If you choose to explore on foot, the lower mountain is a lush rainforest, with trails winding among the giant cedars. The upper mountain has many lovely alpine trails. Late July and early August is peak wildflower season.
Glacier
Like the American version, Canada's Glacier National Park is wild, rustic and scenic.
From Revelstoke, it's roughly 45 minutes east on the Trans-Canada Highway to Rogers Pass (4,364 feet) in the heart of the park.
There, you'll be standing in the location that linked a nation by rail in 1885. Learn about that rail history at Rogers Pass National Historic Site.
The park is also the North American birthplace of mountaineering, with several climbs accessible off of Rogers Pass.
Camping: Three front-country campgrounds are available at Rogers Pass, all first-come, first-served. All are fairly rustic, with no showers or laundry facilities and only a few sites can accommodate RVs. That said, if you want to score a campsite in a national park, your chances are pretty good here.
Activities: Train buffs should check out the Rogers Pass Discovery Center, a replica of a historic railway snowshed. When Canadian Pacific Railway originally constructed its route, nearly four miles of snowsheds were built. It proved to be impossible to maintain, and CPR rerouted the rails to a tunnel beneath the pass in 1916. The abandoned rail lines, and some structures remain, available to explore on all-access interpretive walks.
For day-hikers, Glacier National Park is a dream destination. After the rail link was completed, Swiss guides were hired to construct trails into the mountains around Rogers Pass and many of those historic routes remain.
Yoho
You're in the Canadian Rockies now, where everything is a little grander. You're also likely to see more tourists who flock to Yoho National Park after visiting nearby Jasper and Banff national parks in Alberta.
Yoho is an hour's drive east from Rogers Pass. It offers superb hiking opportunities and has two of Canada's most beautiful waterfalls. The park's towering rock walls and turquoise-hued high-mountain lakes grab your attention and won't let you look away.
Two notable accommodations take advantage of all this beauty. Emerald Lake Lodge, and Lake O'Hara Lodge sit in spectacular basins and will cost you a bundle, but these splurges are worth considering in such a beautiful area.
Camping: Four first-come, first-served front-country campgrounds are found in the park, and competition can be keen to score sites. Arrive early during high season. Kicking Horse Campground is the biggest and has the most amenities, with showers, flush toilets, RV sites and interpretive programs.
Activities: Yoho is a land of dramatic water features. Takakkaw Falls plunges 1,260 feet off a cliff face. Wapta Falls, 490 feet wide, crashes down 98 feet on the Kicking Horse River.
The aptly named Emerald Lake is gorgeous, with access to many day hikes, and it also offers options for paddling. The reservation-only Lake O'Hara trails also offer incredible views, but you'll need to book in advance.
In all, you'll find nearly 250 miles of trails in Yoho that explore some of the most beautiful scenery in the Canadian Rockies.
Kootenay
Just to the south of Yoho in British Columbia is Kootenay National Park, about an hour's drive away. It too, offers great hiking opportunities. But after all that mountain walking, consider soaking your weary bones in one of British Columbia's nicest hot springs.
Camping: Three front-country campgrounds are available, and if you're looking for something to sleep in that feels like a cabin, you'll find that too.
You may reserve sites at Redstreak, near Radium Hot Springs. Also at Redstreak, you can reserve "oTENTiks," which are essentially basic cabins with tent walls that have mattresses and sitting areas. Two other more rustic campgrounds operate in Kootenay on a first-come, first-served basis.
Activities: Check out the Burgess Shale Fossils in a guided hike to the Stanley Glacier area. There, you can marvel at one of North America's most significant fossil finds.
But let's face it, those feet and legs are tired after all your vacation hiking. Slip into the healing waters of Radium Hot Springs for a restorative soak.
Waterton Lakes
Your final stop on this parks tour is Waterton Lakes National Park, about six hours away from Spokane. Canada's fourth oldest national park (formed in 1895) sits in southwest Alberta, tied to its American cousin Glacier National Park to the south. While much smaller than Glacier, Waterton offers plenty of things to see and do.
The cute lakefront townsite of Waterton is within the park boundaries, and has many restaurants and commercial accommodations, including the venerable landmark Prince of Wales Hotel. Most activity revolves around the lake, and water sports take hold in summer months.
Camping: Waterton has three front-country campgrounds. The Townsite Campground is the only one that takes reservations; the others are first-come, first-served.
Activities: Canoeing, kayaking and stand-up paddle-boarding are great ways to explore the lake during the warm summer months. Rentals are available in town.
The hiking is great too, with a wide variety of excellent trails. Among them is the 10.8-mile roundtrip Crypt Lake Trail, ranked as one of the most beautiful in Canada, ascending 2,300 vertical feet past four waterfalls to a high-mountain basin. A commercial tour boat takes hikers to the trailhead, then picks them up several hours later.
John Nelson is a freelance outdoors writer based in Seattle. Read his blog at SkiZer.org.
Local journalism is essential.
Give directly to The Spokesman-Review's Northwest Passages community forums series -- which helps to offset the costs of several reporter and editor positions at the newspaper -- by using the easy options below. Gifts processed in this system are not tax deductible, but are predominately used to help meet the local financial requirements needed to receive national matching-grant funds.
Subscribe to the sports newsletter
Get the day's top sports headlines and breaking news delivered to your inbox by subscribing here.
---