News > Spokane
Daughter of suspended police officer arrested in kidnapping case
May 19, 2017 Updated Fri., May 19, 2017 at 9:47 p.m.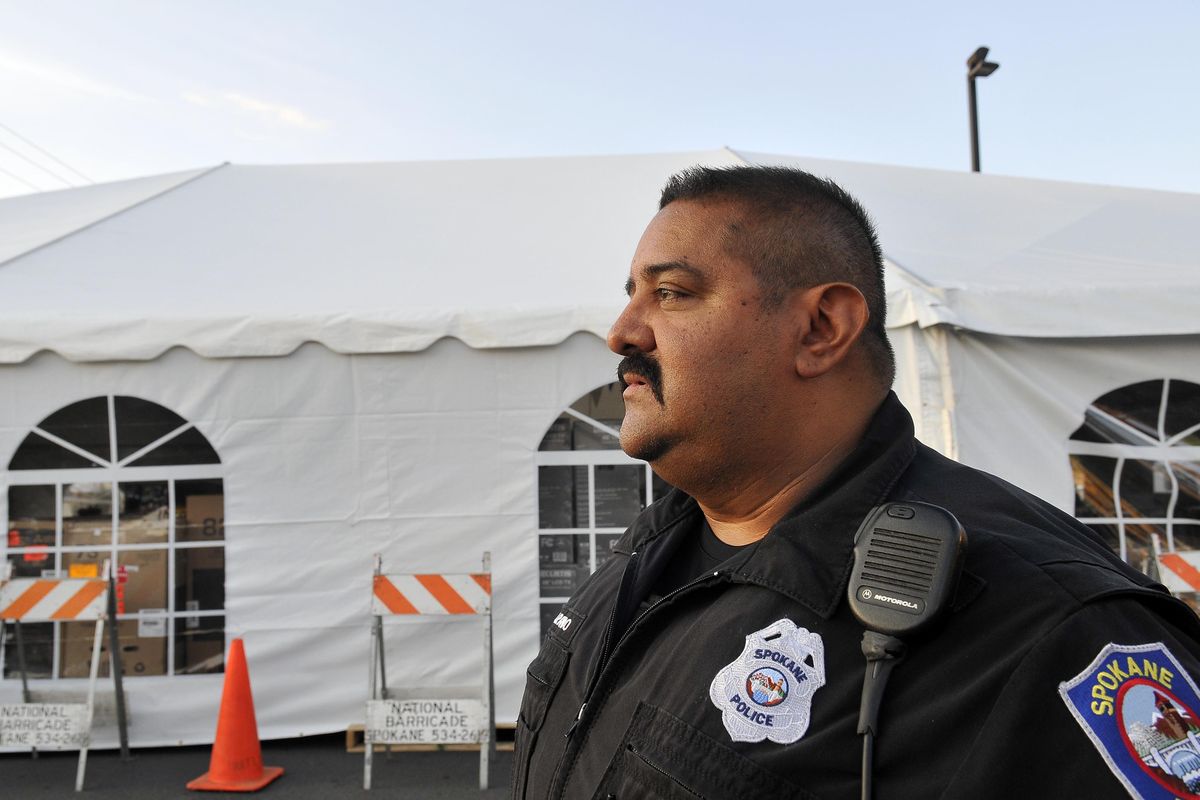 FILE – John Arredondo, a veteran officer of the Spokane Police Department, watches over a tent full of flatscreen televisions set up for a sale at the north Spokane Huppin's store on Sept. 15, 2011. (Jesse Tinsley / The Spokesman-Review)
The daughter of a Spokane police officer was arrested on Friday, a day after her father, 18-year veteran Officer John Arredondo, was placed on administrative leave in connection with the case.
Ashley B. Arredondo, 31, was booked into Spokane County Jail Friday afternoon on one count of first-degree kidnapping and one count of second-degree assault with a deadly weapon. Her bond was set at $500,000.
Two men – Jamar Sharif Dickerson, 33, and Sherard Wayne Henderson, 44 – were arrested Thursday on first-degree kidnapping charges. Both were ordered held Friday in Spokane County Jail on $500,000 bond each.
According to court records, the female victim of the alleged kidnapping told police she was at home on East Courtland Avenue when a man she knows as "Rags" and Dickerson forced her out of the home and into a black Range Rover where Ashley Arredondo and another woman, Alexia Arredondo, were waiting. It was not known what relationship, if any, Alexia has to the other Arredondos.
The victim was driven to an apartment at 7025 N. Atlantic St. by way of a home improvement store parking lot.
The victim told police she was pulled by her hair into the apartment and struck several times with a metal cooking pan.
The victim alleged that Ashley Arredondo stabbed her in the upper arm with a knife.
A witness said the man identified as Rags restrained a female assailant from stabbing her further.
The victim's roommate told police that Dickerson and Henderson accused the victim of taking $50,000 in cash that belonged to them, according to the court record. The victim told police they accused her of taking drugs from them.
In a press release issued late Thursday, police said a family member, a man involved in the incident and the female victim showed up at Officer Arredondo's home an hour after the kidnapping and that the officer subsequently returned to the home.
Spokane Police Chief Craig Meidl said Officer Arredondo was in his patrol car and that the officer took the victim to the hospital, also in his patrol car, and that she was the only one with him on the trip.
Meidl said she was treated at Providence Holy Family Hospital.
Police said the victim suffered cuts, bruises and abrasions, according to court documents.
"At this point, I do not know the extent of the officer's involvement in the investigation," Meidl said, referring to Arredondo.
Meidl declined to say how the Arredondos are related when he met with the media Friday, but the sheriff's office later confirmed Ashley Arrendondo's relationship to her father.
Officer Arredondo has been placed on administrative leave pending first a criminal investigation and then an internal investigation, Meidl said.
The criminal case was turned over to the Spokane County Sheriff's Office to investigate.
Arredondo had been contacted by one of the two relatives, who had gone to the officer's home with the victim and a man involved in the case, Meidl said.
Only the victim went with the officer to the hospital in the patrol car, he said.
Whether that was a violation of police standards is part of a future internal affairs investigation, Meidl said.
Federal court records show that Ashley Arredondo was convicted in 2014 in a large pharmaceutical painkiller distribution operation, which involved 62 defendants.
Henderson and Dickerson both have criminal convictions in Spokane County: Henderson for riot in 2005 and Dickerson for harassment and firearms possession in 2006.
Henderson also had a drug case dismissed in 2005.
Local journalism is essential.
Give directly to The Spokesman-Review's Northwest Passages community forums series -- which helps to offset the costs of several reporter and editor positions at the newspaper -- by using the easy options below. Gifts processed in this system are not tax deductible, but are predominately used to help meet the local financial requirements needed to receive national matching-grant funds.
Subscribe now to get breaking news alerts in your email inbox
Get breaking news delivered to your inbox as it happens.
---