News > Pacific NW
Deep in the red: Sanders stumps for Democrat Rob Quist in Montana
May 20, 2017 Updated Sat., May 20, 2017 at 8:08 p.m.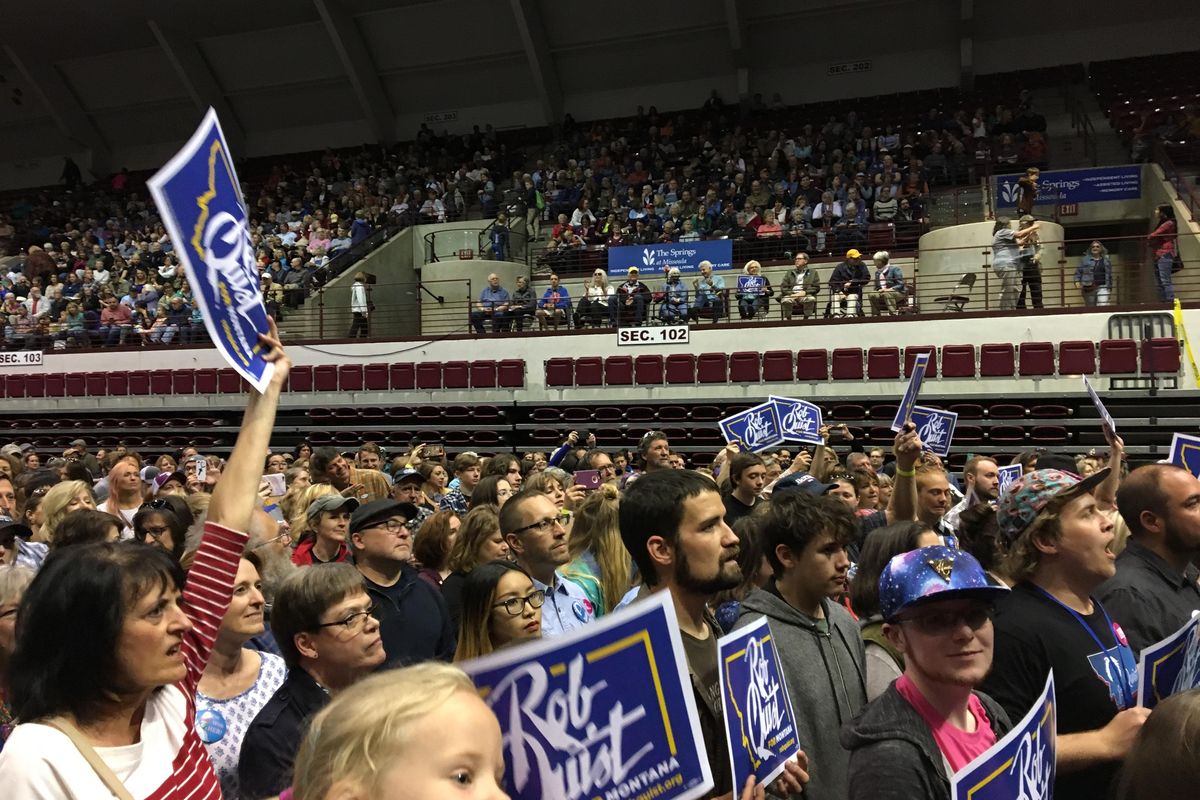 The crowd inside the University of Montana's Adams Center. (Alison Boggs / The Spokesman-Review)
Calling the campaign a harbinger of things to come, Vermont Sen. Bernie Sanders stumped Saturday for Democrat Rob Quist, who seeks to wrest Montana's only congressional seat from Republican control.
"I don't want to make you nervous, but the eyes of this country are on Montana this week," Sanders told an estimated 3,500 people gathered inside the University of Montana's Adams Center in Missoula.
"If you can do it in Montana, we can do it all across this country," Sanders said. "We can create a political revolution that restores power to the working class, not just the billionaire class. That's what this campaign is about."
The Montana seat became open after President Donald Trump named former-Rep. Ryan Zinke to head the Department of Interior. Quist's main opponent is Republican Greg Gianforte, a Bozeman engineer and entrepreneur who in 2011 sold his software company for $1.5 billion.
Voting is already well underway: Absentee ballots were mailed April 28, and voting ends Thursday.
Quist, a longtime Montana musician and poet, said he's visited 49 of Montana's 56 counties in the past few months. When he first began campaigning, he said, the No. 1 issue he heard raised was access to public lands. But in recent weeks, the focus has shifted to health care.
Both Sanders and Quist decried the House's recent passage of the American Health Care Act, saying it will boot 24 million people off insurance, 70,000 of them in Montana.
Calling the American Health Care Act "disastrous," and "one of the ugliest, most dangerous, most un-American" bills ever passed in Congress, Sanders said he and Quist would work together to create a Medicare for all, single-payer health care system to ensure universal coverage.
"Now is the time to make sure we have an economy that works for all of us. Now is the time to make sure we have a health care system that works for all of us," Sanders said.
"Now is not the time to give up. Now is the time to fight back."
"It's about the fact that everybody's important. Everybody deserves to have a shot at everything," said Abby Lucarz, 49, of Missoula. Lucarz and her two children, Dorothy Rose, 20, and Ryder, 16, were first in line outside the Adams Center at 5 a.m. Saturday.
By the time the doors opened at 10 a.m., about 500 people had joined the line, some sporting T-shirts that read: "Proud to be a Democrat," "We Should All Be Feminists," and "Resist," with a picture of Smokey the Bear holding up a fist in protest.
Volunteers for the Quist campaign worked the line to determine whether people had voted. After the event, buses arrived to transport people to an election center for voting. Other volunteers went canvassing in Missoula neighborhoods.
Many people reminisced about Quist's history as a founding member of the famed Montana bluegrass band, the Mission Mountain Wood Band (M2WB). They shared memories of the University of Montana's Aber Day Keggers in the early 1970s, when the band played with the likes of Bonnie Raitt, Earl Scruggs and Jimmy Buffett.
Originally from Cut Bank, Montana, the 69-year-old Quist hails from a ranching family and currently lives on a ranch in the Flathead Valley with his wife, Bonni. They have two grown children, Halladay and Guthrie, also musicians, who performed with their band to warm up the crowd Saturday.
"I've known him since I was 14," Kalispell resident Beth Robinson said of Quist. Robinson's brother, Terry, was another of the Mission Mountain Wood Band's original members. Quist, she said, is "genuine, kind to a fault, positive, uplifting."
Andy Hill of Missoula remembered a night years ago when Quist played a benefit concert for Hill's father, who had serious health care issues and no insurance. Quist was struggling with health care issues of his own at the time, but rested all day, performed at the concert, then went back to bed, Hill said.
"That's Rob," Hill said. "Rob's been a friend of my family's all my life."
Quist said this election is "a fight for the soul of Montana." Wealthy outsiders look upon the state's beautiful rivers, mountains and valleys and think, "That'd be good to own," he said.
"Real Montanans," however, see that as an attack on their way of life, he said. The transfer of public lands to private ownership, he said, is "nothing more than theft against our children and grandchildren."
Quist also touted his support for women's reproductive rights, his opposition to the effort to defund Planned Parenthood and his desire to "exclude no one" based on race, religion, ethnicity or sexual orientation.
Local journalism is essential.
Give directly to The Spokesman-Review's Northwest Passages community forums series -- which helps to offset the costs of several reporter and editor positions at the newspaper -- by using the easy options below. Gifts processed in this system are not tax deductible, but are predominately used to help meet the local financial requirements needed to receive national matching-grant funds.
Subscribe now to get breaking news alerts in your email inbox
Get breaking news delivered to your inbox as it happens.
---