State golf: Jack Plaster, Gonzaga Prep boys take home 4A second-place trophies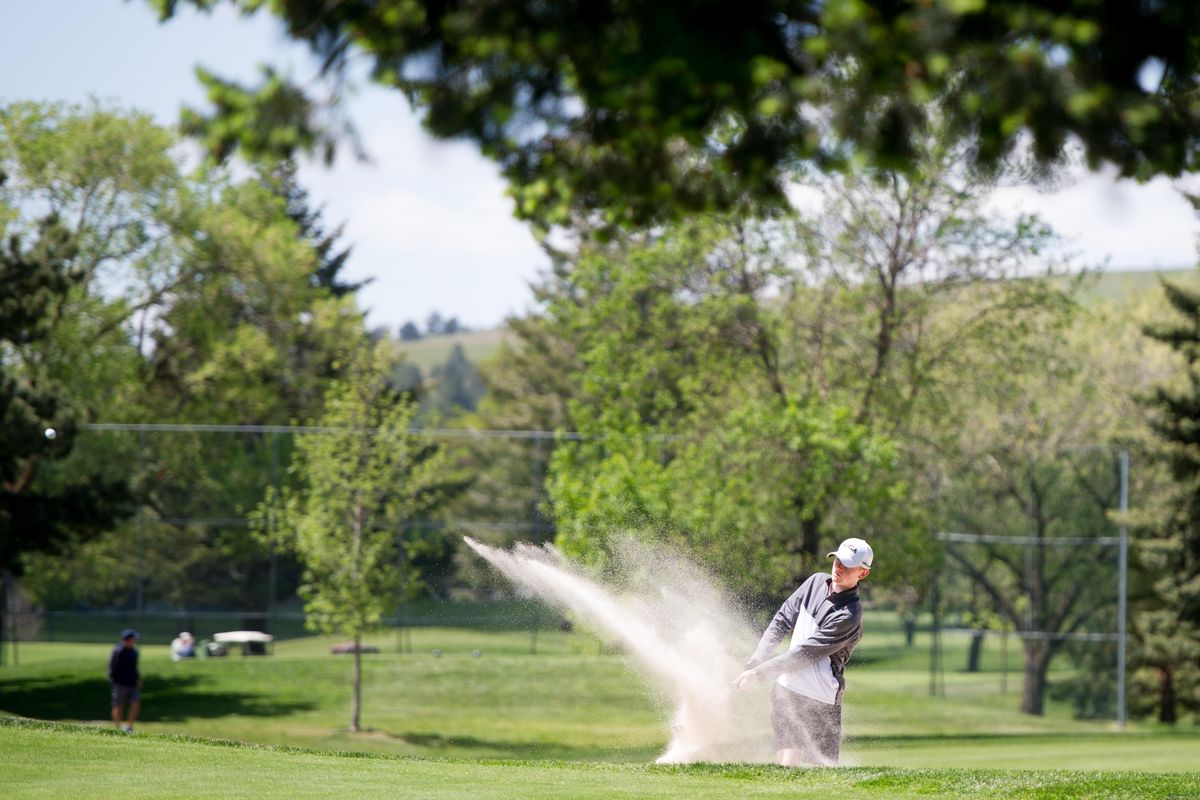 Golfers typically can recall every shot during their round and every number on their scorecard – good, bad or indifferent.
Gonzaga Prep's Jack Plaster hit shots that fell into all three categories, but he had the wherewithal to finish strongly and put a down-and-up round into perspective.
Plaster rebounded from a rugged start with six birdies on the last 11 holes at Liberty Lake, but he came up just short in pursuit of the individual State 4A title.
Bellarmine Prep's Joe Highsmith tacked up his second consecutive 3-under-par 67 in windy conditions Wednesday to win by three shots over Plaster (70-137). G-Prep also finished second in the team race as Bellarmine Prep won its third consecutive championship.
"Joe is a great player," said Plaster, who was 5 over after six holes before launching an impressive comeback. "That's why I'm upset, but I'm not mad because I didn't beat myself. He went out and shot a 67. He did what he needed to do to win."
While Plaster struggled early, Highsmith was dialed in and built a big lead. Plaster made it interesting with birdies on Nos. 8, 9, 12, 14, 15 and 17.
Plaster's drive on No. 14 found the adjacent 13th fairway, but he knocked his approach to 12 feet and made the putt. On 15, Plaster hit a punch shot under tree limbs into the bank in front of the green and the ball trickled within 10 feet for another improbable birdie.
"I had nothing to lose," Plaster said, "so I just figured I'd go attack on the back nine and that's what I did."
Plaster cut Highsmith's lead to two but gave one shot back with a three-putt on No. 16. The Bellarmine Prep junior was rock-solid throughout.
"He's as good a ball-striker as I've ever seen for a high school kid and I've seen a lot of them over the years," Lions coach Steve George said. "That's what makes it so hard to catch Joe. He's such a good ball-striker. It was fun watching those two."
It should be fun to watch both programs for the next few years. G-Prep will return a strong crew and has more talent in the pipeline. Bellarmine Prep loses three players that contributed to the three-peat but figures to remain strong.
"That was the message to the guys, that we have another chance next year," Bullpups coach Dennis Dougherty said.
Plaster's younger brother, Nate, shot a 74 to share third place with Max Turnquist of West Valley (Yakima). Plaster rebounded from a double bogey on the par-5 12th with birdies on 13 and 14.
"I just played terrible," the freshman said. "I knew I had no chance in the individual, so I was trying to make birdies so we could have a chance for the team (title)."
Mead's Nick Muxlow (76-151) finished tied for 23rd.
4A girls
Bellarmine Prep cruised to its eight straight title. Davis' Cassie Kim (71-141) rolled to the individual title by six shots at MeadowWood.
G-Prep's Hannah Rieckers shot her second straight 78 to take 15th. Lewis and Clark's Skylar Kersten matched her first-day score of 80 and tied for 19th.
3A boys
Mt. Spokane sophomore Gunnar Knutson shot a 77 at Columbia Point in Richland, finishing tied for 15th. Shadle Park's Sam Pauly closed with a 75 to climb into a tie for 24th. Teammate Mitchell Weipert (80-154) tied for 27th.
Fort Vancouver's Spencer Tibbits (68-137) repeated as state champion and Redmond won the team title.
3A girls
Mt. Spokane senior Megan Billeter (81-160) finished seventh, her highest placing in four state trips. Rogers' Emma Torres (88-177) tied for 20th and Mt. Spokane's Katie Maher (92-183) tied for 27th.
Central Kitsap's Brittany Kwon shot a 77, 11 shots higher than Tuesday, but still won by four shots at Canyon Lakes in Kennewick. Mercer Island won a close team race by five points over Interlake.
2A boys
Othello's Patrick Azevedo (76-149) edged Chase McIntosh of Liberty (Issaquah) by two shots at Qualchan for the championship. Liberty won the title.
Clarkston's Travis Hansen (78-159) tied for 16th. Pullman freshman Dane Bednar (80-163) tied for 23rd.
2A girls
Ephrata's Kenedee Peters shot 1-under 72 at Indian Canyon to earn her second straight state title. Clarkston senior Grace Frazier (89-162) finished seventh.
The team title went to East Valley (Yakima).
1A boys
Freeman senior Ryan Maine carded a 72 at Sun Willows in Pasco and finished one stroke behind Cle Elum-Roslyn's Nick Baker (71-141) and Hoquiam's John Sand (72-141).
Baker defeated Sand in a playoff to win his third consecutive title. Colville's Griffen Reggear (80-152) tied for ninth.
Cle Elum-Roslyn won the team title. Freeman placed sixth.
1A/2B/1B girls
Davenport's Kaysa Panke repeated as state champion, firing a 79 at Horn Rapids in Richland for a 15-stroke victory.
South Whidbey (61 points) edged St. George's (56.5) for the title. Lakeside (Nine Mile Falls), led by Molly Connolley (90-179, tied for 12th), finished third.
Wilbur-Creston's Alicia Johnson (88-171) tied for sixth. Taylor Mitchell of St. George's (87-173) was ninth.
2B/1B boys
Ilwaco's Blake Kukula shot a 70 at Horn Rapids to capture the state championship by seven shots over Tekoa-Rosalia's Dawson Strobel.
Chance Weitze (80-155, fourth), Bennet Gray (84-166, 11th) and Augie Allenbach (88-177, 13th) helped Colfax claim the title.
Defending champion Palmer Guhlke of Davenport placed fifth.
---