Boo-ya! Meet Spokane's Casey Booey, creator of Booey's Gourmet sauces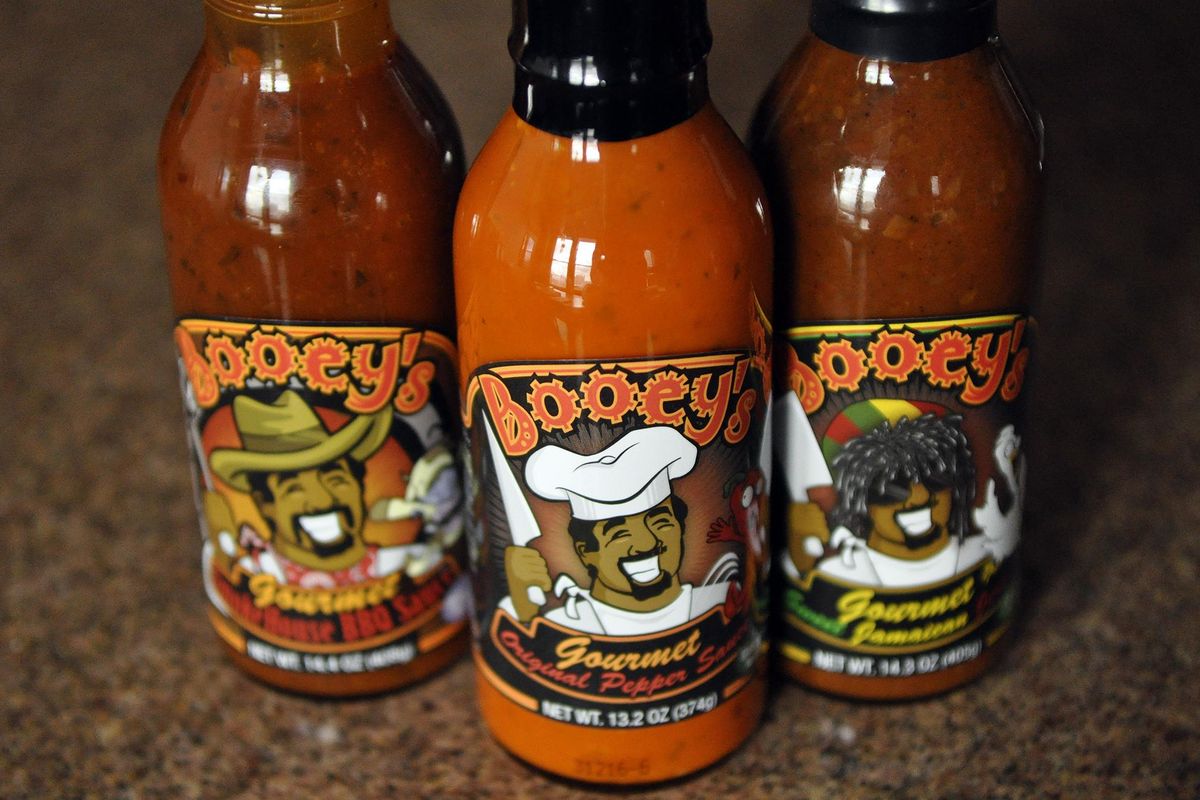 Pappa Booey figured he could do better.
So he started experimenting. With garlic, butter and salt. Chili peppers, celery, smoked paprika.
He was after heat, but more than that he wanted balance. It took about three years or so to find it. Family members and friends served as quality control, testing small batches that he made from scratch at home.
"I worked really hard to find ingredients to round it out and give it a smooth finish," he said.
Pappa Booey – father of four, creator of Booey's Gourmet sauces and longtime Spokane resident – is Casey Booey III. The portrait on the label is meant to loosely resemble him – albeit in the days when his hair was darker.
After decades of making hot sauce at home, Booey commercially launched his gourmet sauce company in 2013. Today, he has three flavors on the market – Original Pepper Sauce, Sweet Jamaican Jerk Sauce and Smokehouse BBQ Sauce – with more recipes in the works.
He's hoping the small-batch sauce company – which arose from his passion and gave way to perhaps a slightly obsessive hobby – will provide a fun retirement job. Meantime, Booey's Gourmet sauces are available at a handful of local eateries – The Yards Bruncheon in Kendall Yards keeps bottles of it on tables – as well as a smattering of local retailers, such as Yoke's Fresh Markets, Main Market Co-op and De Leon Foods.
Booey would like to expand distribution, but – at least these days, while he's working full-time – the sauce company is basically a one-man show.
Nationwide, however, the cast of characters is growing.
Tabasco, Sriracha and Frank's Red Hot might be the best-known brands in the billion-dollar industry. But, more and more, small-batch hot and other sauces are landing in restaurants, grocery stores and specialty markets. In fact, they make up about two-thirds of the market.
Since 2000, the entire hot sauce industry has grown by 150 percent, according to the online news site Quartz. And, more than half – some 56 percent – of U.S. households keep hot sauce on hand, according to the market research group NPD.
The hot sauce industry is, um, on fire.
And Booey's putting his signature sauce on just about everything.
"It's good on eggs. It's good on burritos. It makes killer hot wings," he said. He puts it in chili and jambalaya, pho and ramen. Tacos, too. "It's pretty versatile."
Booey, 56, created his hot sauce in his home kitchen after his first time trying hot wings in Minneapolis circa 1985.
"I really liked the tang, but I thought the tang was too powerful," he said. "I started with what I thought I was tasting. I used butter, garlic and salt."
He gave away samples, asking friends and family members for feedback. When he decided to make it commercially, testing commenced again – this time, trying to get the right combination of dry ingredients and a base sauce to taste like his homemade version.
"Some were really, really tangy. Some were too salty. Some were way too sweet. Some didn't have the viscosity I was looking for," he said.
Booey said his background – his mom is Japanese and his dad is black and Native American – influences his cooking and taste. He learned to love barbecue from his dad. He learned to love Asian flavors from his mom.
He also loves Mexican fare, especially a good mole sauce. But, really, he said, "I love all foods."
Moving around a lot as a kid also influenced his palate. His dad was in the Air Force, and the family moved from California to Kansas, North Dakota and Indiana – and more. The Air Force is what brought the family to the Inland Northwest.
And, after graduating from high school in Medical Lake in 1979, that's where Booey stayed. He's also held the same job, as in-house video director at the Spokane Arena, since 1995.
After creating a hot sauce he was happy with, Booey moved on to other sauces: a sweet Jamaican jerk sauce, a barbecue sauce. Neither took as long to create as the hot sauce. It took him three years to get it just the way he wanted it. Booey recommends it for spicing up pizza, nachos, stir-fries, deviled eggs, Spanish rice, collard or mustard greens, a bloody mary or two – "really, almost anything."
He's planning to expand his product line and release several rubs as well as a soy sauce-based sauce, Dragon's Breath, in late 2017 or early 2018. A mole sauce is also slated for release.
But before anything hits the market, it has to pass the wife-and-kid test. They are his go-to quality control agents. The kids are: Casey IV, 29; Jasmine "Jazzy," 26; Kenji, 22; and McKinley "Mac," 18. His wife, Tami Linane, 53, is a teacher who's working toward a master's degree.
They've "been instrumental in helping me get started," Booey said – especially his children, who would help with direct sales, selling to their friends and their friends' parents.
While he created the recipes at home in Spokane, the sauces are, he said, "made in very small batches" in Lake Oswego, Oregon. The first year of production, he estimated, only about 100 gallons were produced. Last year, he placed three orders.
Business is "growing, but slowly" through word of mouth as well as Facebook and a website. After all, "It's a one-man show."
Bottles sell for $7.99 and can be found at Kitchen Engine and Sonnberg's Market and Deli, among other stores and eateries. So far, Booey's Gourmet sauces aren't available outside of Spokane – "unless you're willing to pay the shipping. That's what's really killing me," he said.
Booey also said he would like to see his sauces be more widely distributed throughout – as well as outside of the – region. Maybe, that's something he'll figure out how to do cost effectively in retirement.
Meantime, he's still experimenting, creating new recipes and adding to his plans. In addition to expanding his offerings and reach, Booey dreams of someday opening his own small soul food restaurant in Spokane.
Rasta Reuben
From Casey Booey of Booey's Gourmet
2-3 grilled chicken breasts, shredded
Booey's Sweet Jamaican Jerk Sauce
Thinly sliced pineapple ring
Dark rye bread
Swiss cheese
Asian pickles (See recipe below)
Toss shredded chicken with Booey's Sweet Jamaican Jerk Sauce. Set aside. Grill pineapple slice. Lay two slices of dark rye bread out in a pan and drizzle jerk sauce on each slice of rye. Next, add Swiss cheese. Pile on the shredded chicken and top with the pickled veggies. Place the pineapple slice on the top and cover with the second piece of toasted rye and enjoy.
Asian pickles
From Casey Booey of Booey's Gourmet
2 Serrano peppers, julienned
1 (3-inch) piece of daikon radish, coarsely shredded
1/2 red onion, thinly sliced
3 thinly sliced green onions
1 cup green cabbage thinly sliced, about 1 1/2- 2 inches in length
2 large carrots cut into 2-inch pieces and thinly shaved
1/2 cup of apple cider vinegar with 4 teaspoons of brown sugar dissolved
1 1/4 cups of white vinegar
Salt, to taste
Combine all ingredients and let pickle overnight in refrigerator.
Smokehouse BBQ Beans
From Casey Booey of Booey's Gourmet
2 pounds dry navy beans
1/2 pound dry pinto beans
4 ham hocks
2-3 pounds smoked rib meat
2 large sweet onions, diced
4 tablespoons diced garlic
2 cups bell peppers, diced
1-2 large jalapeños, sliced into rings about 1/8-inch thick (optional)
2 pounds bacon, diced, and cooked until crispy (optional)
3 1/2 cups brown sugar
1 (15-ounce) can tomato sauce
1 cup of molasses
1⁄4 cup yellow mustard
2 cups apple cider
1-2 cups of Booey's Gourmet SmokeHouse BBQ Sauce, to taste
Salt and black pepper, to taste
Sort through dry beans to remove any stones or hard beans.
Place beans in a large pot, cover with water, heat to a rolling boil, remove from heat and soak for a minimum of 1 hour.
Drain beans, place in a 7-quart Dutch oven.
Meantime, place ham hocks in a pressure cooker and cook for approximately 1 1/2 hours or until they fall apart.
Separate meat from bone and fat, chop coarsely and add to beans. Warm rib meat and drain off fat. Coarsely chop, then add to beans along with onion, garlic, bell pepper and jalapeño and bacon, if using.
Add brown sugar, tomato sauce, molasses, mustard and 1 cup Booey's Gourmet SmokeHouse BBQ Sauce.
Gently stir all ingredients together until well combined. Place cover on Dutch oven. Place in preheated 250-degree oven, bake covered for 5-6 hours. After about 2 1/2 hours check beans for flavor and moisture. Add apple cider, any additional barbecue sauce as needed, and salt and pepper. Stir well.
Return beans, covered, back to oven and, bake another 2 hours, then stir the beans. Beans should be getting creamy. If too much liquid remains remove cover and continue to cook until excess moisture reduced and beans are creamy and tender, another 1/2 hour to 1 1/2 hours.
---