News > Spokane
Vestal: Rep. Matt Shea makes a desperate and silly attempt to shield himself from defamation lawsuit
May 30, 2017 Updated Tue., May 30, 2017 at 10:32 p.m.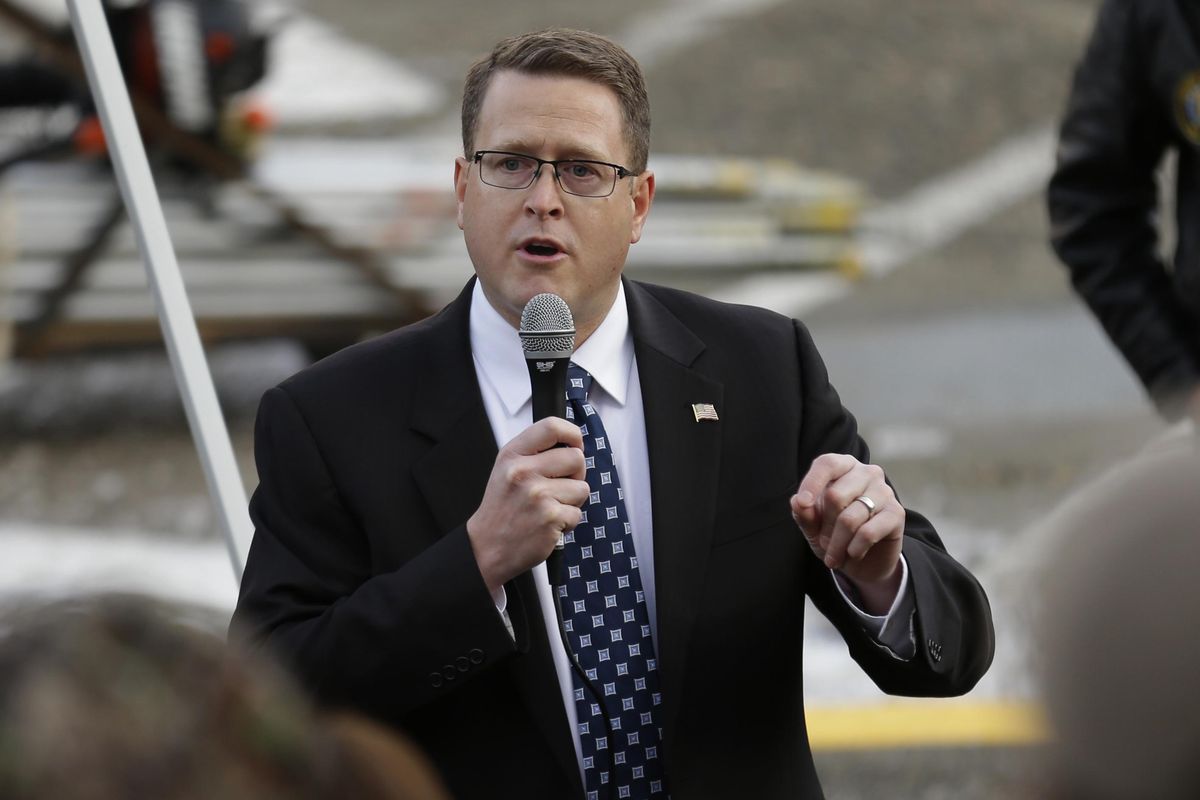 Rep. Matt Shea, R-Spokane, speaks last year at the Capitol in Olympia. An amendment from the state representative stipulates that state money can't be spent for planning or constructing a roundabout on Trent Avenue as part of the Barker Road grade separation project. (Ted S. Warren / AP)
Just curious: What kinds of defamation and libel laws will we have here once we've created the new God-honoring, gun-loving, Eastern Washington state of Liberty?
Will lawmakers be allowed to casually slime people by baselessly claiming that murder weapons "trace back" to them? Will they be able to escape consequences for peddling sloppy lies, so long as they can claim they are busy making laws?
Will that just be considered "constitutional?"
Maybe so, if we are to judge by the manner in which Matt Shea – point guard for Team Bundy and proponent of the silly, hypothetical state of Liberty – is defending himself in a defamation lawsuit. Shea wraps himself crudely and simplistically in the Constitution at all times, but there is something extraordinary in the degree to which he attempts to co-opt "constitutionality" as his defense for claiming a sheriff's deputy was linked to a triple murder.
Rather than defend himself on the merits, Shea argued that the case should be dismissed because it was filed during the legislative session, and as a member of the House of Representatives, he is immune to such interference from the judicial branch during the session.
It's a separation of powers thing, he argued.
A constitutional thing.
Washington's constitution prohibits subjecting lawmakers to "any civil process" while the Legislature is in session. Because the suit was filed during the session, Shea argues in court documents filed by his attorney, Marshall Casey, it was in "direct violation of our Constitution." When Deputy Travis Pendell's lawsuit was served on Shea, it "continued his constitutional violations." Pendell could have filed the suit before or after the Legislature convened, Shea argued, "but instead Mr. Pendell chose to violate the Constitution and tried to interfere with the Legislature."
"Instead of respecting the legislature and our Constitution, Mr. Pendell filed and served right in the middle of a legislative session," Shea's defense brief said, arguing that the resulting burden threatens the entire legislative process.
"This is the exact action that the Constitution was designed to protect against," Shea argued.
In defense of the Constitution, Shea asked a judge to dismiss Pendell's suit.
Spokane County Superior Court Judge Maryanne Moreno slapped down this silly argument last week, allowing the case to proceed once the Legislature finishes not doing its job for another year. At that point, Shea will have to come out from behind the Constitution and take responsibility for the things he said.
The suit stems from a podcast Shea produced last August with this headline: "BOMBSHELLS!!! Sheriff's department complicit in crime?"
He proceeded to talk about the "news I have to break today," referring to two BOMBSHELLS!!! (For the record, I should note that I was the subject of the other bombshell, in which Shea claimed I am a Muslim sympathizer and Communist abettor, based on the fact that I once moderated a panel discussion by local peaceniks. Though this was utter nonsense, I found it delightful to be so honored.)
On his podcast, Shea proceeded to say that "it was reported by a source" that a gun allegedly used by Roy Murry in a triple murder "traces back" to Pendell. This, Shea said, was "substantiating some of the rumors anyway that there is a connection between Ozzie Knezovich, the sheriff's department and Roy Murry."
Shea did not elaborate on these supposed connections, which are the province of one of the most unhinged trolls of Knezovich out there – Scott Maclay, who is also a defendant in the lawsuit. The things Maclay peddles online make Shea's comments pale by comparison, but he's apparently not protected by the Constitution during legislative sessions.
Shea later backed away from the comment. Pendell claims in his suit that Shea and Maclay invaded his privacy, negligently inflicted emotional distress, defamed him, and was "so outrageous in character as to be absolutely intolerable in a civilized society."
Pendell's attorney, Michael Love, cited a fascinating case by comparison in arguing against Shea's attempt to have the case thrown out. In that instance – from this very year – a member of the House of Representatives who is also an attorney was sanctioned for filing factually baseless claims, a so-called CR 11 sanction.
The case involved oral arguments before the Court of Appeals, motions filed by the lawmaker, and a ruling upholding the sanctions against the lawmaker – all carried out while the lawmaker was engaged in the very important, very constitutional business of writing laws in Olympia. In fact, one of the hearings in the case took place on the very same day that Pendell filed his lawsuit against Shea.
It's a fascinating comparison indeed. Who is this lawmaker, whose judicial actions so directly contradict the sacred, constitutional separation of powers that is so important to Matt Shea?
Matt Shea.
Local journalism is essential.
Give directly to The Spokesman-Review's Northwest Passages community forums series -- which helps to offset the costs of several reporter and editor positions at the newspaper -- by using the easy options below. Gifts processed in this system are not tax deductible, but are predominately used to help meet the local financial requirements needed to receive national matching-grant funds.
Subscribe now to get breaking news alerts in your email inbox
Get breaking news delivered to your inbox as it happens.
---