News > Spokane
Oaks Classical Christian Academy graduate Andresick learns how to learn
Wed., May 31, 2017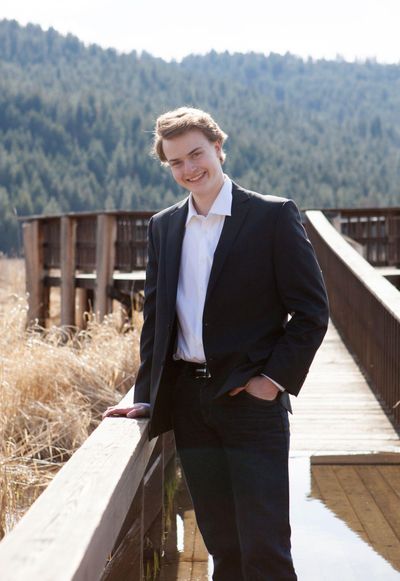 You could call Forrest Andresick a reluctant student in his first years at the Oaks Classical Christian Academy. He readily admits that his learning began over his own resistance, and he thanks his instructors who persevered.
And then, it all changed late in his junior year.
"I was talking to a friend over FaceTime, and we were working on our math homework," Andresick explained. "He said, 'You know what? I'm really going to turn it around and study well.' I started thinking about it, and I thought it was a really good idea."
It made for a dramatic shift.
"It would be hard to pin (it) down to any one teacher," he explained. "But I think it started with the philosophy class I took last year. I enjoyed seeing how people thought and have thought over the years. I started thinking about how I read and think, and I started actually wanting to know what is true.
"That gave me a lot of clarity in my own mind. When I turned things around, stopping doing the work for the grades and for the GPA, I started doing things for the knowledge."
Oaks turned out to be a perfect spot for such a renaissance.
"To start with, it's a classical school," Andresick said. "That in and of itself had a big impact on me. I learned how to learn and how to use conversation to discuss ideas.
"I mentioned that my teachers taught me with resistance. My freshman and sophomore year I just wasn't with it. But they kept at it, and now I have teachers that I can go to and talk with about even personal stuff. Finding a kinship like that is amazing."
Andresick's other passion has two wheels.
"I started driving when I was 15 1/2 and things just kind of clicked," he said. "There's something about just riding through the hills and marveling at God's creation.
"I developed a love of adventure when I was a kid. I love visiting new places. Just the other day I rode all around Coeur d'Alene. I rode up into the hills and had just a great time."
Andresick loves working on his Suzuki GS 500s and has done a good deal of cosmetic work on the bike. He's stripped it down and put it back together at different times.
"I don't know all that much about engines and carburetors and things like that," he said. "But I want to learn. It's kind of become my hobby."
The bike will go with him when he heads off to Hillsdale, Michigan in the fall to begin his college experience at Hillsdale College.
"A lot of that choice came because of my dad," he said. "He'd found out about the school and had been getting their newsletter. And then one of my counselors mentioned that I should take a look at Hillsdale. It all fell into place when I visited the school. I love the way the classes are taught there, and I am excited to continue learning there."
Local journalism is essential.
Give directly to The Spokesman-Review's Northwest Passages community forums series -- which helps to offset the costs of several reporter and editor positions at the newspaper -- by using the easy options below. Gifts processed in this system are not tax deductible, but are predominately used to help meet the local financial requirements needed to receive national matching-grant funds.
Subscribe now to get breaking news alerts in your email inbox
Get breaking news delivered to your inbox as it happens.
---