News > Local government
Fundraising, outside spending reach historic highs in Spokane City Council races
Nov. 3, 2017 Updated Fri., Nov. 3, 2017 at 6:57 p.m.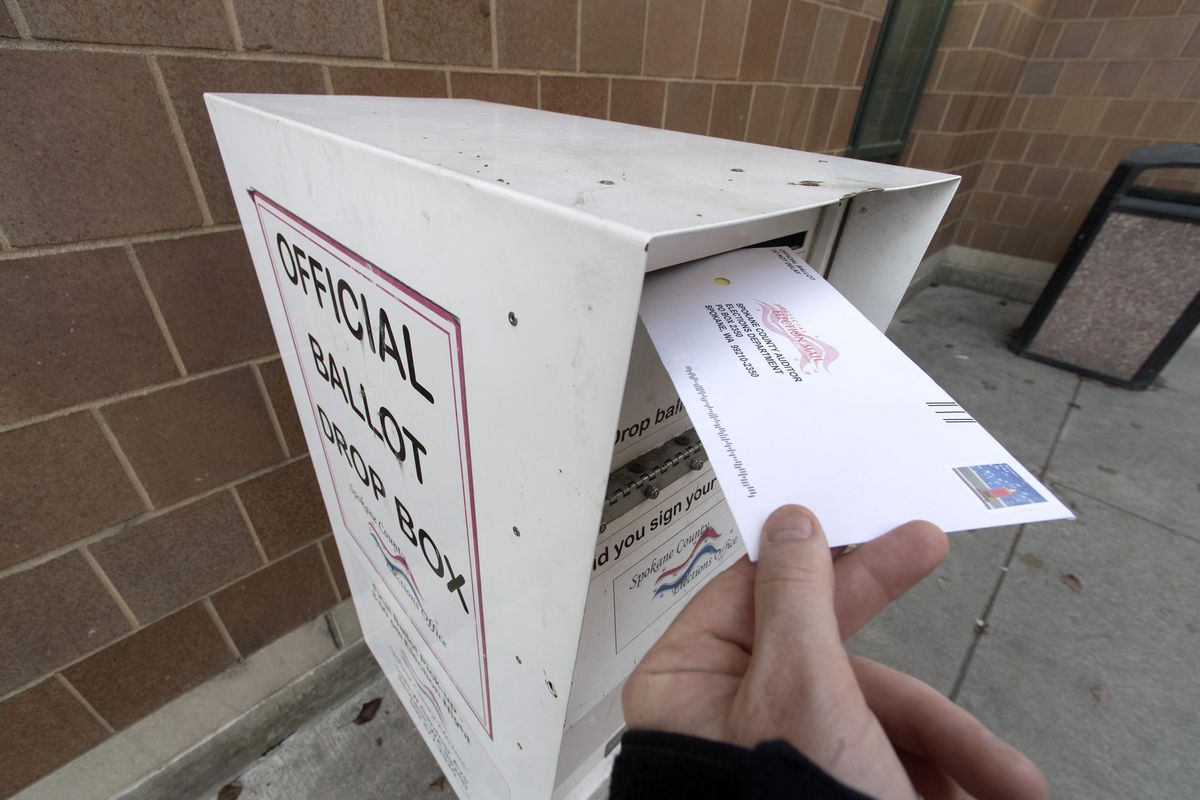 An election ballot is placed in ballot box outside of the Spokane Public Library on Nov. 7, 2016, downtown Spokane. (Colin Mulvany / The Spokesman-Review)
The contest to represent Spokane's South Hill is approaching the most expensive City Council race in at least the past decade.
Breean Beggs, the incumbent councilman, had raised nearly $74,000 in support of his bid as of Friday. Andy Dunau, the communications consultant challenging him, reported contributions of nearly $50,000.
But those tallies ignore the spending from independent groups, not aligned with either candidate, who have been financing mailers, TV and digital ads aimed at supporting or defeating either man's bid for the job.
Those funds tack on another $54,000 to the amount spent on the race, most of it in support of Dunau by the self-proclaimed pro-business advocacy group Better Spokane. A Facebook video the group put together disparaging Beggs' support of fining coal and oil trains rumbling through downtown has been viewed more than 90,000 times.
For the first time in a decade, that type of independent spending has reached all corners of the city, according to financial records submitted to the Washington Public Disclosure Commission. This year's races also mark the most expensive City Council campaign in that span.
Steve Corker, a former two-term city councilman who unsuccessfully ran for president of the panel against Ben Stuckart in 2011, called the current political spending level "ridiculous."
"I think the days of spending $12,000 and winning are over," Corker said.
That's roughly the amount Corker raised in his 2007 contest against Lewis Griffin, who didn't report any contributions. A decade later, the least expensive campaign, when factoring in independent spending, is Tim Benn's bid in northeast Spokane. He's raised $30,000, with an additional $1,700 spent in support of his campaign by a political committee representing Washington Realtors.
Corker has contributed to the campaigns of Dunau and Candace Mumm in this general election cycle, according to state financial filings.
Former City Councilman Mike Allen, who raised about $30,000 in each of his two campaigns for a seat, one unsuccessfully against Jon Snyder in 2009 and the other successfully against Richard Rush two years later, said the influx of money appeared to coincide with negative tactics in this year's contest. He pointed to a controversial mailer from the local firefighters union targeting Matthew Howes, and the questions raised by conservatives about Beggs' handling of a free speech case in Bellingham two decades ago, as evidence local campaigns had turned nasty.
"I honestly feel sorry for the candidates," Allen said. "It's going to make it really hard to find good, honest candidates, when their livelihoods are being challenged, and things are being said about them that are not true."
Allen has twice given to Dunau in this election, according to filings with the Public Disclosure Commission.
Allen said after his election to the council in 2011, it appeared that fundraising efforts "went nuclear." That year, the three open council contests cost a combined $158,000. Two years later, that total rose to $361,000.
When combined with independent expenses from outside groups, $372,000 has been raised for this year's council races. One out of every four dollars raised for the campaign came from an independent political committee backing a candidate, rather than the campaigns themselves. Those aren't final figures for this year's election, with ballots due Tuesday.
Corker said he supported Stuckart's proposed local campaign finance reforms that would lower the amounts individuals can contribute to campaigns and require more detailed reporting of independent campaign spending. But he said early endorsements by political parties, and the need for council candidates to continue to earn an income while campaigning, also led to ballooning money in local elections.
"If people can't doorbell every day, can't set out signs in the morning and night, then they have to spend money," Corker said.
Corker agreed with Allen that the tenor of this year's City Council campaign had pivoted more negative. But the former city council president attributed that shift more to the atmosphere at the national level rather than increased spending in Spokane.
"I think what the Trump election has done more than anything else is open up the opportunity to say a lot of things that just aren't true," Corker said.
For continuing coverage of local campaigns, visit the Spokesman Review's election website, spokesman.com/elections/2017/washington-general-election-nov-7/.
Local journalism is essential.
Give directly to The Spokesman-Review's Northwest Passages community forums series -- which helps to offset the costs of several reporter and editor positions at the newspaper -- by using the easy options below. Gifts processed in this system are not tax deductible, but are predominately used to help meet the local financial requirements needed to receive national matching-grant funds.
Subscribe now to get breaking news alerts in your email inbox
Get breaking news delivered to your inbox as it happens.
---