A&E > Books
Spokane's next poet laureate is Mark Anderson
Sat., Nov. 4, 2017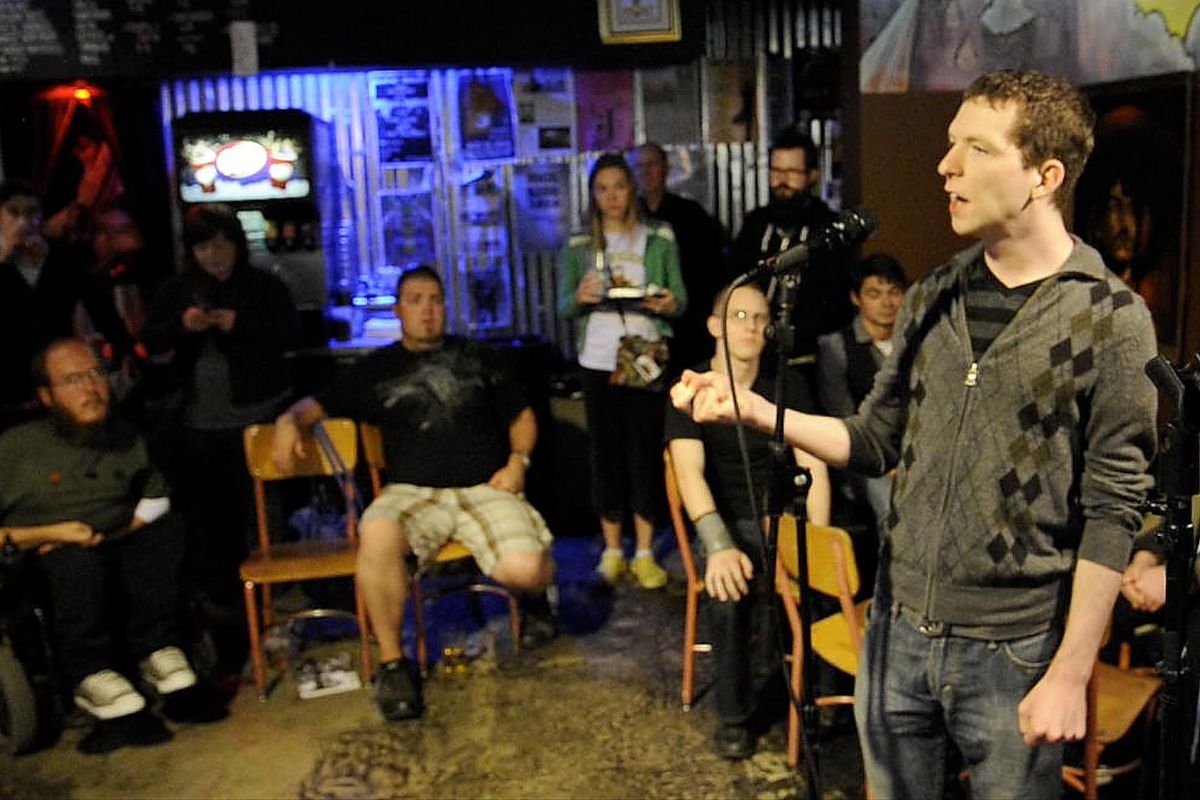 Mark Anderson, shown emceeing a Broken Mic Night, in 2012, was named Spokane's new poet laureate on Saturday, Nov. 4. He is the city's third poet laureate, following Laura Read and Thom Caraway. (Colin Mulvany / The Spokesman-Review)
Mark Anderson, a key player in the Spokane performance poetry scene, has been named Spokane poet laureate for 2017-19.
The appointment was announced Saturday night at the Spokane Arts Awards. Anderson is the city's third poet laureate, following Thom Caraway and the current laureate, Laura Read.
"I am so happy for Mark, and this honor is well-deserved. He has been an unassuming and quiet leader who cares deeply about poetry and this community," Read said. "He is an excellent poet and friend."
Unlike his predecessors, Anderson does not come from the ranks of college professors. The 29-year-old, who grew up in Mica, an unincorporated community between Spokane Valley and Freeman, founded Broken Mic, the long-running performance poetry open mic, held Wednesday nights at Neato Burrito in downtown Spokane.
Anderson, who won a Spokane Arts Award last year, was among the featured performers in April at Uncharted, a collaboration between the Spokane Symphony and Terrain, and has frequently presented at Get Lit. In 2013, he served as a "storm poet" during the Individual World Poetry Slam held in Spokane, and a year earlier won the first Ken Warfel Fellowship for poets who have made substantial contributions to their communities. His poems have been featured in "Railtown Almanac," The Far Field project curated by former Washington poet laureate Kathleen Flenniken, the Inlander and The Spokesman-Review.
His plans for his two-year tenure include expanding opportunities for artists at all stages of their careers.
"I want to create a couple really big shows, like things the size of Uncharted, but focusing on poetry," he said. "And also paying opportunities for poets," he continued, adding there are few paying gigs for poets outside of the classroom. He has a workshop series in the works and hopes to foster a collaborative environment.
"I'd like to work with different organizations, to work with like the Spokane Poetry Slam and other community organizations to help them develop outreach plans," he said. "I'd like to build from a few different layers to help fill in gaps and expand what can be done in the local poetry slam."
As a performance poet, he said, he intends to perform as much as possible during his tenure. Beyond that, he's eager to see what unfolds.
"It's very exciting to see what happens," he said. "I don't really know what it's going to be like yet, and I'm excited to see what I can do. What we can do. I'm excited to have this opportunity to create a lot of new experiences and helping more people into the story of Spokane poetry."
Even more exciting is the fact he sees Spokane's poetry scene, like its literary scene overall, as very much on the upswing.
"We're still just figuring out what we can make that's uniquely Spokane," he said. "It's really great to be a part of a community that's everyone supports each other. That's not common. Usually the academic poets and the slam poets and the open mic poets, no one really talks. Here, everyone supports everyone. It's really great."
Local journalism is essential.
Give directly to The Spokesman-Review's Northwest Passages community forums series -- which helps to offset the costs of several reporter and editor positions at the newspaper -- by using the easy options below. Gifts processed in this system are not tax deductible, but are predominately used to help meet the local financial requirements needed to receive national matching-grant funds.
Subscribe to the Spokane7 email newsletter
Get the day's top entertainment headlines delivered to your inbox every morning.
---