Sports > WSU football
Vince Grippi's three takes: Luke Falk goes out in style
Nov. 4, 2017 Updated Sat., Nov. 4, 2017 at 5:08 p.m.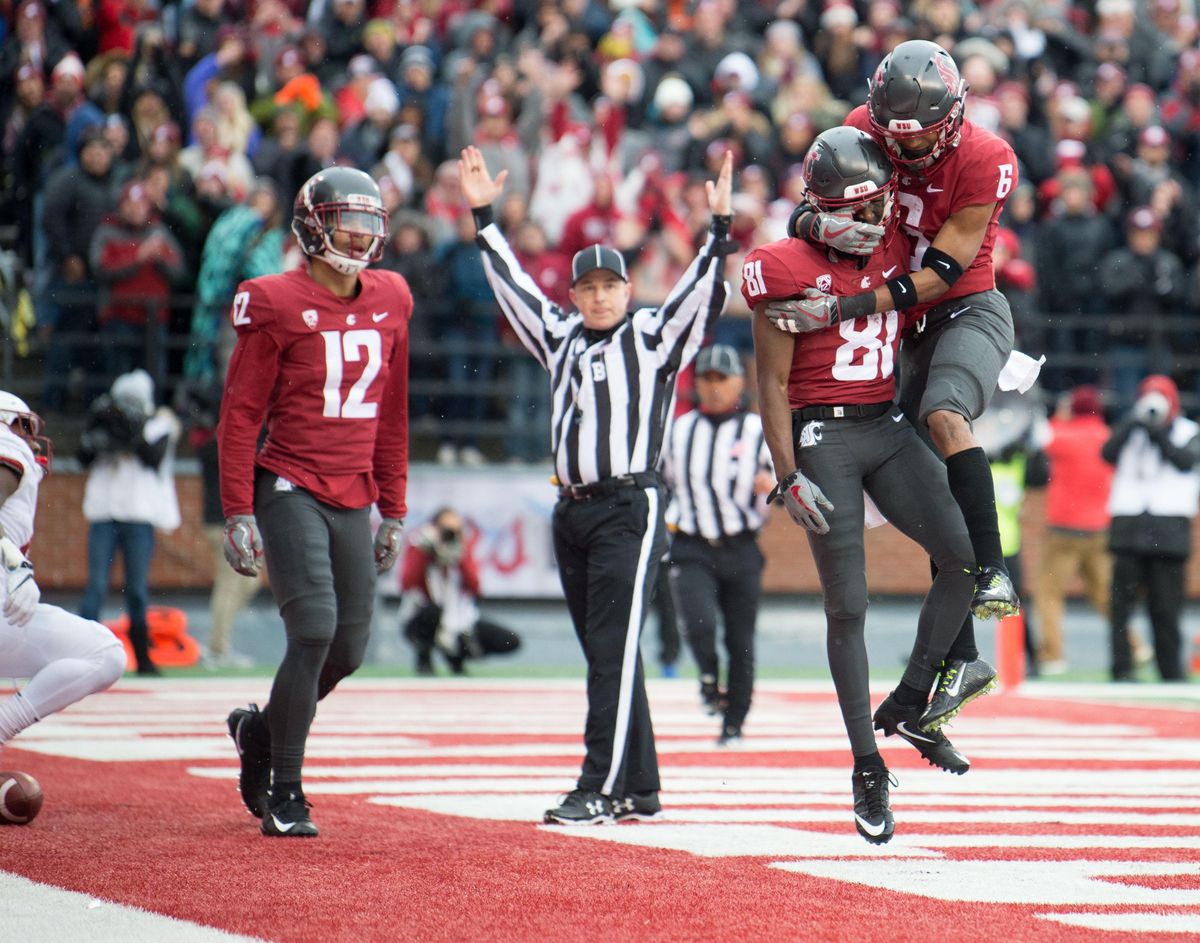 WSU players celebrate during the first half of a college football game on Saturday, November 4, 2017, at Martin Stadium in Pullman, Wash. WSU led 14-7 at the half. (Tyler Tjomsland / The Spokesman-Review)
With an 8-yard second-quarter pass to Jamal Morrow – if you like symmetry, a senior to a senior on Senior Day – Washington State's Luke Falk passed Oregon State's Sean Mannion as the conference's most productive passer.
Mannion's mark of 13,600 career passing yards has stood since 2014, Falk's freshman year. Now the record is Falk's.
And it come in his school-record 26th win as the Cougars' starting quarterback, a crucial 24-21 North Division victory over 21st-ranked Stanford.
He finished with 337 passing yards, his first time with more than 300 in five weeks, or since the 30-27 win over then-No. 5 USC. He was 34 for 48, with three touchdowns and one big interception.
But there is more to Falk than numbers, things that say even more about him as a person.
First off, he's spent five years in Mike Leach's quarterback room, listening to story after story. Imagine that. He may know more about sovereign immunity than some constitutional scholars. And pirates.
But even that torment pales in comparison to the hits he's endured on the field. In his four years in the shotgun for WSU, he's been sacked more than 100 times. And that total doesn't include the countless times he's been crushed after letting go of the ball.
A great example of that came in the middle of the third quarter, as Falk led the Cougars to a field goal, giving them a 10-point lead. On second down from the Stanford 13-yard-line, Falk dropped back to pass for the 30th time.
No one was open. He bought time, moving back and forth, before finally throwing the ball away to no one.
The best Cardinal defensive player, 6-foot-4, 295-pound Harrison Phillips exploded Falk, driving him into the turf. That had to hurt. And it also cost the Cougars 11 yards on the intentional grounding call.
But that's Falk. He gets beat up from the first snap of the season until the last one. And yet he deals with the aches and pains each day stoically, never complaining, never using them as an excuse. He leads by example.
Saturday he led the Cougars in Martin Stadium for final time. He was cheered lustily. He was praised. He was a star on Senior Day. He deserved all of it.
Big plays don't leave a mark
Last week in Tucson it was eight huge plays. Saturday in Pullman it was just three.
And they nearly cost Washington State a game for the second consecutive week, which also would have cost the Cougars any hope of playing in the Pac-12 title game.
But, thanks to Alex Grinch's defense and Falk's outstanding game, it didn't. They both had a hand in Stanford's explosive plays.
The first was delivered by the Pac-12's master of the big play, Bryce Love, who wears No. 20.
The Cardinal running back, the conference's leading rusher and lone remaining Heisman Trophy contender, broke through the middle of the WSU defense early in the second quarter and 52 yards later, Stanford had a 7-0 lead.
On his other 15 carries, Love had 17 yards. But he also 10 scoring runs of more than 50 yards this season, so there shouldn't have been much surprise in his explosive play.
The other two were a bit more surprising.
Freshman quarterback K.J. Costello, making the start instead of Kellen Chryst, tried to pass on a second-and-8 from the WSU 14. The ball slipped from his hand and bounced back up. He grabbed it, slipped through a hole on the right and ran untouched for a score that cut the WSU lead to 17-14.
That changed quickly, and once again No. 20 made the play. This time, though, the No. 20 was worn by linebacker Bobby Okereke.
He jumped Luke Falk's short pass to Jamire Calvin on fourth-and-1 – Calvin didn't come back for the ball and Okereke cut in the gap – and returned it 52 yards for the go-ahead score.
Yep, the same length as Love's first-half run.
Stanford return game dominates
Hidden yards. That's what coaches like to call things like return yards that don't show up in the offensive or defensive statistics.
They weren't all hidden in this one.
Stanford dominated the special teams, giving the Cardinal a short field more than once.
The biggest edge came on kickoff returns, of which Stanford had five for 173 yards.
The Cardinal started at the WSU 49, their 34, 40 and 49 after Cougar kickoffs. The returns were so good Washington State kicker Erik Powell made two tackles, both of which might have saved scores.
Local journalism is essential.
Give directly to The Spokesman-Review's Northwest Passages community forums series -- which helps to offset the costs of several reporter and editor positions at the newspaper -- by using the easy options below. Gifts processed in this system are not tax deductible, but are predominately used to help meet the local financial requirements needed to receive national matching-grant funds.
Subscribe to the Cougs newsletter
Get the latest Cougs headlines delivered to your inbox as they happen.
---