News > Home and garden
Why always white trim? These designers are breaking the mold
Sat., Nov. 4, 2017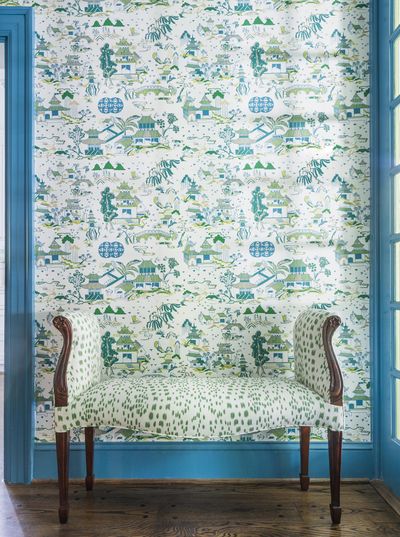 Ask most designers what color they usually paint interior trim – no matter the wall color – and they will tell you the same: white.
My go-to trim color for years has been Benjamin Moore's Decorator's White, a crisp chalky tone that, when used for trim, makes any wall color pop. Occasionally, I will use Benjamin Moore's White Dove, a softer, creamier white that works particularly well in more traditional rooms.
But lately I have seen several designers breaking the mold. They have gone bold and painted window casings, door frames, baseboards and crown moldings bright, saturated colors.
Most prolific in this gutsy movement is New York designer Steven Gambrel of S.R. Gambrel. Gambrel likes to choose a deep-toned accent color – plucked from another element in the room, such as an accessory or a fabric – for the room's trim. "Painting the trim a bold color better defines the scale of the room, and it gives the room's architectural elements – windows and doors – more prominence," Gambrel said. He thinks of a room's trim as he would a picture frame: A strong-colored frame focuses your eye and outlines that which is most important.
Of course, to paint trim a bold color, it needs to be in good condition and worthy of the attention color will draw. Neither is a problem for Gambrel, who works with some of the most prominent architects living today and who typically remains involved in the architectural choices from the beginning of a project.
When Gambrel's clients agree to go bold with a trim color, he always cautions them to wait until the room is finished before they judge it; only once the textiles, furniture and accessories are in does the room make sense. "Painting trim against a neutral wall in an unfinished room feels too strong," Gambrel said, "but when you start layering in carpet, trims, art and objects, it all becomes more balanced."
Balance is important to Gambrel, which is why when painting trim a bright color, he usually uses a textured wallcovering such as grass cloth or rough-cut plaster. The texture of the walls balances out the brightness of the trim; without the texture, he said, the room would feel too "jumpy."
For trim paint, Gambrel once used only the glossy oil paints from Fine Paints of Europe, but he has switched to Benjamin Moore's Aura semigloss paints, which are VOC-free. (He still uses Fine Paints of Europe for front doors and very special cabinet details.)
Designer Meg Braff likes to paint the trim a vibrant color in rooms that have lots of windows and doors because, she said, "it unifies the space and makes the room feel less choppy." But unlike Gambrel, Braff does not always keep walls neutral and textural. Instead she opts for vibrant wallpapers, which typically inform her trim color selection. In her rooms, the bright trim balances and anchors the busier wallpaper. In some ways it's the opposite of Gambrel; he uses textured walls to balance the bright trim, and Braff uses bright trim to balance the vibrant patterned walls.
Braff also likes to use vivid colors for the trim and cabinetry of butler's pantries and bars. She said these smaller spaces, particularly when adjacent to an all-white kitchen, turn into little jewel boxes.
Designer Katie Ridder paints trim bright colors, but she does so in smaller doses. Ridder likes to use bright shades on window mullions (the grids that divide windowpanes) to add color to a room. She does this specifically in more-open floor plans, when one room flows into another, thereby making it difficult to switch wall color. The other benefit of painting the mullions: You can skip the window treatments. This works well particularly in rooms such as kitchens where adding a curtain or shade might be awkward or bulky.
Before you decide to paint your own white trim a bolder color, know one thing: Painting trim is time-consuming. All those edges and windowpanes need to be taped, and the paint must be brushed on by hand; you can't just roll it on as you do on the walls.
Mayhew, a "Today" show style expert and former magazine editor, is the author of "Flip! for Decorating."
Local journalism is essential.
Give directly to The Spokesman-Review's Northwest Passages community forums series -- which helps to offset the costs of several reporter and editor positions at the newspaper -- by using the easy options below. Gifts processed in this system are not tax deductible, but are predominately used to help meet the local financial requirements needed to receive national matching-grant funds.
Subscribe to the Coronavirus newsletter
Get the day's latest Coronavirus news delivered to your inbox by subscribing to our newsletter.
---