News > Pacific NW
Few people get prison time after series of 2016 protests
Mon., Nov. 6, 2017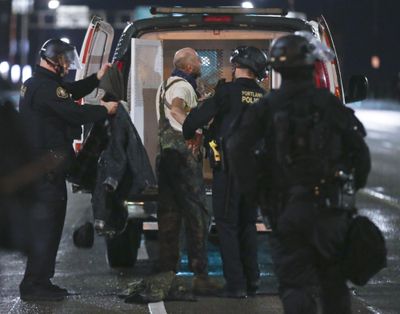 PORTLAND, Ore. – More than half of the 200 people arrested during protests after last year's presidential elections were not prosecuted, and many cases were dismissed altogether, Portland officials said.
Tens of thousands of people took to the Portland streets throughout the year protest the election of President Donald Trump, his polices or other issues.
The high number of cases led the Multnomah County District Attorney's Office and the Police Bureau to focus their efforts on the most dangerous offenders from the protests, Chief Deputy District Attorney Kirsten Snowden told the Oregonian/OregonLive.
Many of the cases from the first six consecutive nights of protests had incomplete or vague initial reports, prosecutors said.
Although police had large amount of video evidence from the protests, officials said they had a hard time identifying suspects among the large crowd of protesters, some who wore masks and dressed in all black.
Eleven people have already been convicted for crimes such as threatening people or property.
A man who was part of a protest two day after the November election was sentenced in October for using a baseball bat to wreck car windows and damaged city property. Another man was sentenced for kicking a bank's windows and threatening people with rocks after they tried to stop him.
"It shakes the confidence of people who want to exercise their First Amendment rights to want to go to the event," said Deputy District Attorney Ryan Lufkin at a sentencing hearing. "Who would want to take their children out to a protest when this is the result?"
Eleven others are still heading to trial.
Prosecutors agreed to drop misdemeanor charges against 43 others accused of non-violent crimes and allowed them to pay fines or do community service instead, they said.
Six defendants were acquitted or had their cases dismissed before their trials.
Local journalism is essential.
Give directly to The Spokesman-Review's Northwest Passages community forums series -- which helps to offset the costs of several reporter and editor positions at the newspaper -- by using the easy options below. Gifts processed in this system are not tax deductible, but are predominately used to help meet the local financial requirements needed to receive national matching-grant funds.
Subscribe to the Coronavirus newsletter
Get the day's latest Coronavirus news delivered to your inbox by subscribing to our newsletter.
---