News > Spokane
Family feels justice served after Renfro sentenced to death
Nov. 6, 2017 Updated Mon., Nov. 6, 2017 at 9:50 p.m.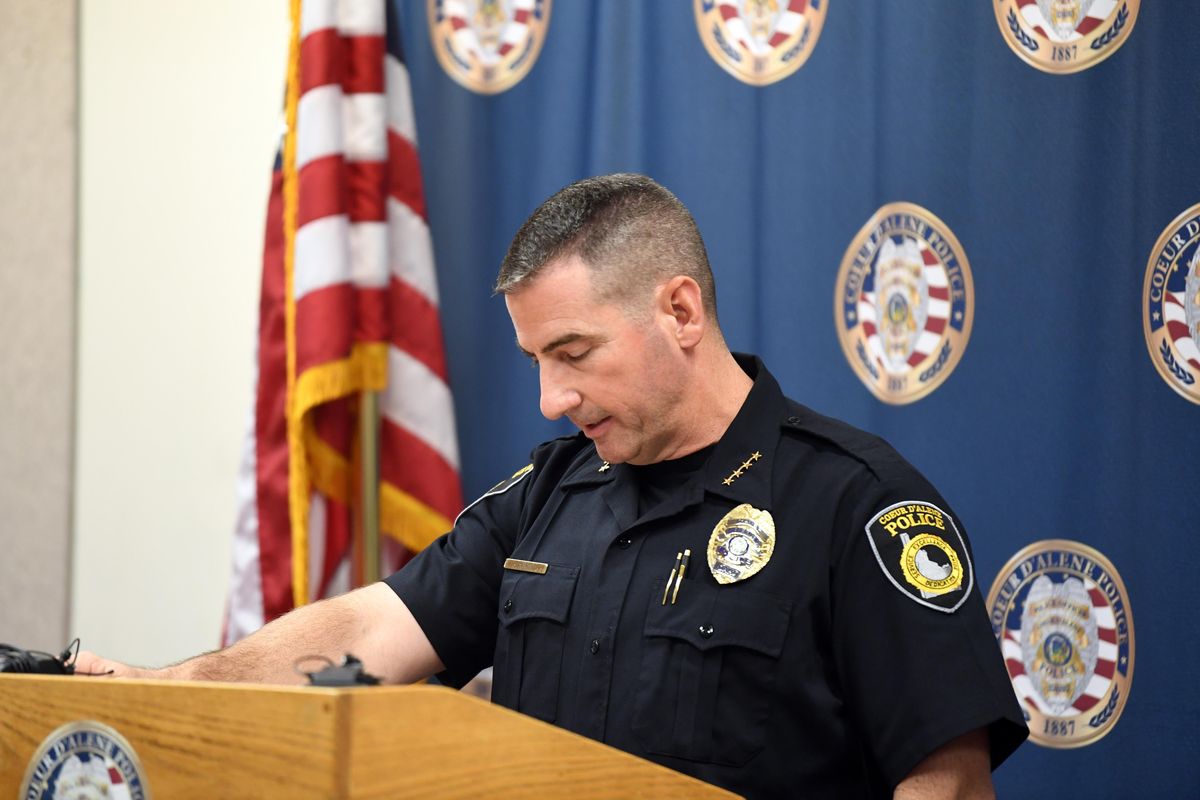 Coeur d'Alene Police Chief Lee White gathers his thoughts at the podium before talking about the sentencing of cop killer Jonathan Renfro and the murder of Sgt. Greg Moore, Monday, Nov. 6, 2017, at the Coeur d'Alene Police Department. Renfro received the death penalty Monday in court. (Jesse Tinsley / The Spokesman-Review)
No longer in a black suit and dress shirt, convicted cop killer Jonathan D. Renfro wore orange sandals and red-and-white striped jail garb Monday as he waited for his death sentence for the ambush-style murder of Coeur d'Alene Police Sgt. Greg Moore.
In addition to the death sentence formally handed down Monday, Idaho First District Court Judge Lansing Haynes also sentenced Renfro to life in prison without the possibility of parole, plus 19 years, for the other crimes he committed on May 5, 2015, including robbing Moore of his pistol, stealing his patrol car and trying to conceal evidence.
Moore's widow, Lindy Moore, and his ex-wife, Jennifer Brumley, thanked Kootenai County prosecutors Barry McHugh, David Robins and Jed Whitaker for taking Renfro permanently out of society.
"Nothing can bring Greg back," Moore said after pausing to cry. "But our family is at peace and we feel that justice has been served."
She thanked the jury, which had to sit through eight weeks of legal arguments, autopsy photos, numerous viewings of the video of the killing and dozens of experts before convicting Renfro and deciding unanimously Saturday that he should receive the death penalty.
"Thank you, Barry McHugh, for the decision to seek the death penalty despite the difficulties and the cost," Moore said. "If one life is saved because a criminal thinks twice about shooting at our law enforcement, then the cost was well worth it."
McHugh would not say whether defense attorneys Linda Payne, Jay Logsdon and Keith Roark offered to have Renfro plead guilty and accept a sentence of life in prison to avoid the death penalty.
He also said he could not give an estimate as to the cost of investigators' time, cost of attorney time or the overtime paid to the deputies and bailiffs who provided security in the courtroom. And those costs are separate from legal experts, one of whom billed the county about $223,000.
Now Renfro's immediate future is legal appeals, starting with direct appeal to the Idaho Supreme Court which will review the case before Renfro receives an execution date.
"We talked about that with the family in advance," McHugh said. "They are very well aware of the circumstances of our decision. I want to echo what was said a second ago: If our effort saves one life, than the money is well spent."
Brumley, who formed a close relationship with Lindy Moore even before the killing, thanked the community for its support.
She also thanked Kootenai County Commissioners for funding the prosecution and for the work of investigators.
"Coeur d'Alene is the greatest place on earth. The citizens of Coeur d'Alene are shining examples of neighborly love. We could not have asked to deal with such a tragedy in a more compassionate and caring place. For this we are eternally grateful."
Coeur d'Alene Police Chief Lee White broke down when he talked about Moore's son, Dylon, and the effect his father has had on the department.
"Watching Lindy, Jen, especially Dylon," White said, "it gave strength to our department members. We gained strength from watching their resolve."
White also thanked the community and prosecutors for their work in removing Renfro from the public.
Defense attorneys did not attend the news conference. McHugh said his office could not have earned the conviction without the work of several agencies and investigators.
"We are very appreciative of the jury, who were faced with the most difficult decision that I have had to present, or that our office has had to present, in many years," he said. "I'm very happy that we were able to achieve the justice that the family wanted."
Local journalism is essential.
Give directly to The Spokesman-Review's Northwest Passages community forums series -- which helps to offset the costs of several reporter and editor positions at the newspaper -- by using the easy options below. Gifts processed in this system are not tax deductible, but are predominately used to help meet the local financial requirements needed to receive national matching-grant funds.
Subscribe now to get breaking news alerts in your email inbox
Get breaking news delivered to your inbox as it happens.
---