News > Spokane
Breean Beggs, Kate Burke, Candace Mumm coast to victories in Spokane City Council races
Nov. 7, 2017 Updated Tue., Nov. 7, 2017 at 10:14 p.m.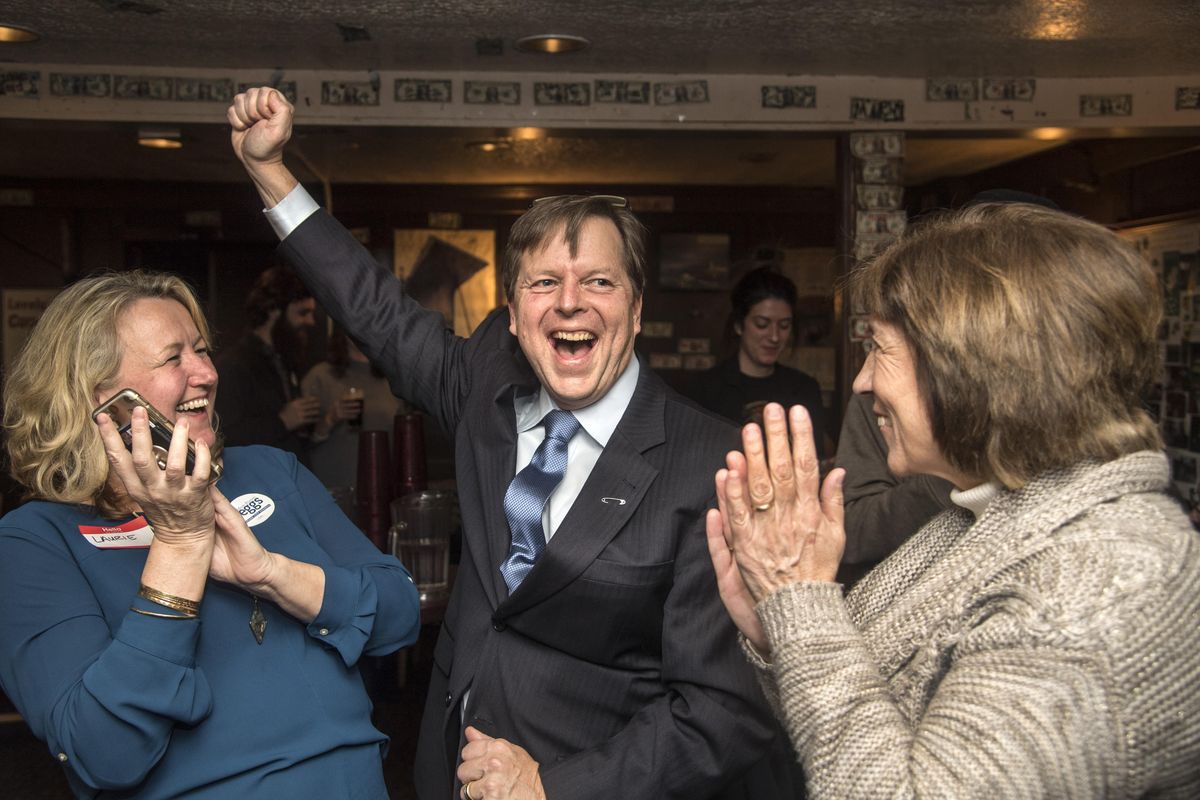 Spokane City Councilman Breean Beggs erupts with delight after viewing election results on a smartphone with his wife, Laurie Powers, left and fellow council member Lori Kinnear, Tuesday, Nov. 7, 2017, at O'Doherty's Irish Grill in downtown Spokane, Wash. Beggs lead over challenger Andy Dunau with 57% of the vote after the initial ballot count for Spokane City Council Position #2. (Dan Pelle / The Spokesman-Review)
The Spokane City Council will retain its progressive-leaning majority, as voters gave comfortable leads to a slate of candidates endorsed by Ben Stuckart in what became a costly and sometimes bitter campaign in the final few weeks.
Breean Beggs and Kate Burke held double-digit leads following the first round of returns Tuesday night. Incumbent Candace Mumm held an eight-point advantage over challenger Matthew Howes.
The contest for control of the council was the costliest since 2001, when membership on the panel was divided into districts. This year's race totaled more than $370,000 in candidate contributions and spending by outside groups not allied with any particular candidate, topping the $362,000 raised in the 2013 campaigns.
Beggs and Andy Dunau squared off in this year's most expensive council race in their bids to represent the South Hill. Beggs earned 57 percent of the votes counted Tuesday.
Beggs, who won his first election after being appointed to the seat last year, called the victory "a vindication of the work I've been doing."
"I've been working in this community, for this community, for a long time," Beggs said.
After Beggs' easy victory in the primary, Dunau criticized his opponent's support of the initiative to fine certain coal and oil train cars traveling through downtown in an attempt to deter fiery derailments. Beggs questioned Dunau's long-held silence on the finances of the Riverfront Park redevelopment until his run for office. Beggs faced questions from political opponents about his work on a 22-year-old criminal case out of Bellingham where he had successfully defended the right of a bookstore owner to sell a magazine prosecutors deemed obscene.
Dunau said he was proud of the campaign he ran, and looked forward to returning his attention back to his communications consulting firm on the South Hill.
"I feel great about the message that we put out there. I feel great about the contrasts that were put out there between the candidates," Dunau said.
Burke and Benn were locked in a battle they insisted was not defined by political ideology for the northeast Spokane seat being vacated by Amber Waldref, who has served on the council since 2009. Burke earned 59.7 percent of votes cast in the northeast, where turnout was the lowest in the city.
Burke said she was excited to get to work.
"I wouldn't say I was expecting it," Burke said of her victory. "It was like all my hard work paid off."
In the final days of the campaign, Burke made public her allegations of sexual harassment in 2016 by former City Councilman Richard Rush, and criticized Stuckart – who'd endorsed her in the race and gave money to her effort both out of his abandoned congressional campaign and personally – for failing to take her story seriously. The rift boiled over at Monday's City Council meeting, as Stuckart abruptly ended a meeting where Burke's supporters expressed concern over how the case was handled.
Burke said she'd be reaching out to the council president as she begins her term on the panel.
"We'll have to see how it goes," she said. "When anything like this happens, you've got to make sure you continue to cultivate relationships. That's what I'll be doing."
Mumm made it a clean sweep for incumbents, taking 54 percent of the votes counted Tuesday.
Mumm and Howes staked out different positions on the North Monroe Street lane reduction project, with Mumm arguing the work would make the corridor safer and spur business development. Howes argued the spending wasn't worth it and existing businesses would shutter as a result of loss revenue during the construction season.
Mumm said the victory affirmed the work she was doing for neighborhoods, including North Monroe.
"I know what this business district is capable of," she said.
Howes, making his first run for public office, became the target of mailer advertisements paid for by a political action committee backed by the local Spokane Firefighters Union. The ad accused Howes' northwest Spokane restaurant of committing multiple health code violations between 2005 and 2015, though Howes had only owned the pizzeria from 2009 onward.
A campaign spokeswoman said Howes would wait and see if the gap between he and the incumbent closed with Wednesday's vote count. Mumm led by 830 votes after Tuesday's count.
Benn, Howes and Dunau all ran campaigns calling out the current city council, led by Stuckart, for groupthink, saying they'd bring new voices to the panel. Though current council members eschew the progressive majority label, the panel has pushed through a number of legislative priorities, including paid sick leave for employees and codification of the city's plan to reduce greenhouse gas emissions, with the necessary votes to override a veto from Mayor David Condon.
Those elected in Tuesday's contests will serve four-year terms ending in 2021.
Local journalism is essential.
Give directly to The Spokesman-Review's Northwest Passages community forums series -- which helps to offset the costs of several reporter and editor positions at the newspaper -- by using the easy options below. Gifts processed in this system are not tax deductible, but are predominately used to help meet the local financial requirements needed to receive national matching-grant funds.
Subscribe now to get breaking news alerts in your email inbox
Get breaking news delivered to your inbox as it happens.
---