News > Crime/Public Safety
Questions of child custody follow fatal Spokane Valley stabbing
Nov. 8, 2017 Updated Wed., Nov. 8, 2017 at 9:46 p.m.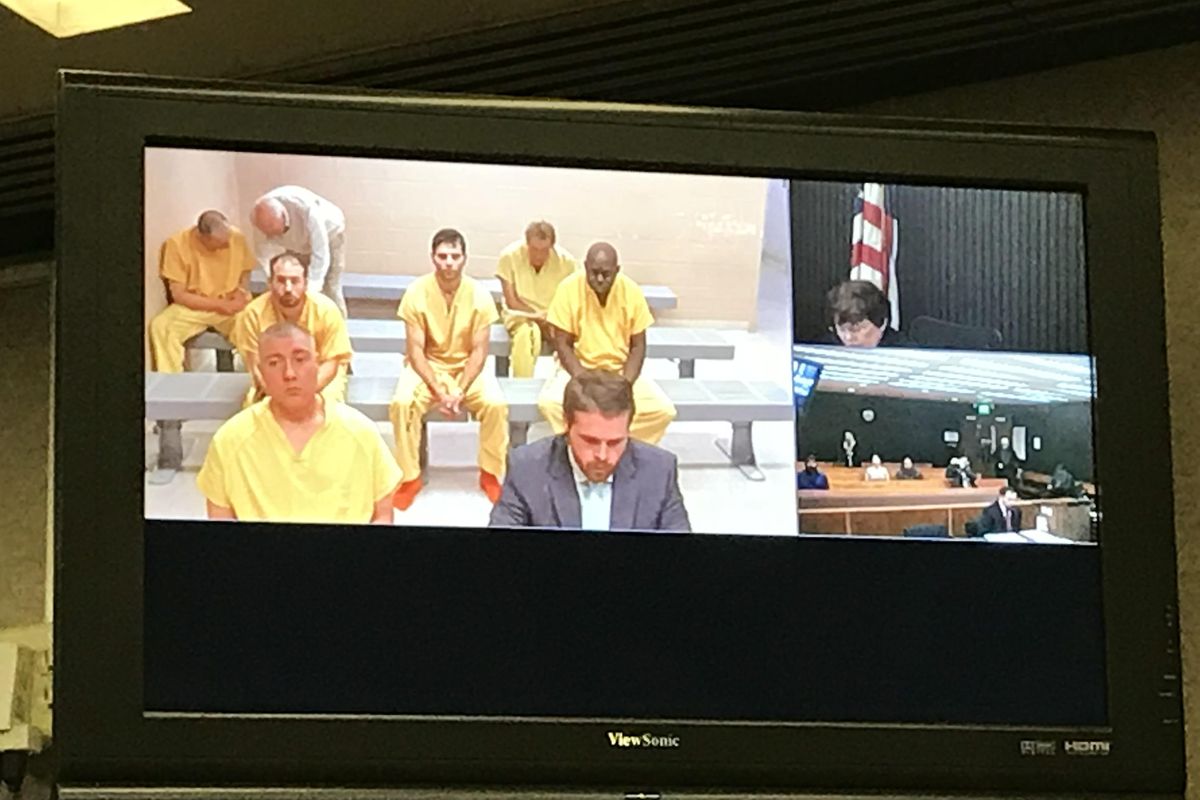 David M. Campbell, 37, appeared before Spokane County District Court judge Donna Wilson Wednesday, who set Campbell's bail at $1 million. (Jonathan Glover / The Spokesman-Review)
What happens to the child of a homicide victim when the suspected killer is their father? It's a question most families don't expect to have to answer.
But on Tuesday, one family did, after Jamie R. Bradshaw was allegedly stabbed to death by her ex-boyfriend David M. Campbell in the driveway of her Spokane Valley home. The two share an 8-year-old autistic and diabetic son, family say.
On Wednesday, a District Court judge ordered the father not to have any contact with Bradshaw's family, including his own son. He now sits in Spokane County Jail in lieu of a $1 million bond.
That leaves Bradshaw's family to pick up the pieces. But there's a problem: Most of them live in California. And those who don't are estranged.
"I don't even have any idea who's taking care of the arrangements of anything," said Bradshaw's aunt Julie Kralovetz over the phone from San Jose on Wednesday. "We're trying to figure all of that stuff out."
Kralovetz, whose brother used to date Bradshaw's mother, said the only two people capable of looking after the former couple's boy are herself and her daughter, who also lives in San Jose.
"There's nobody up there," the California school bus driver said. "We just don't know what to do that could help her."
According to police, Bradshaw was discovered Tuesday morning by a roommate. She was "lying face-down on their front porch, bleeding, and not breathing."
About an hour earlier, roommates told detectives, an "agitated" Campbell came to the 18611 E. Bridgeport Ave. home demanding to talk to Bradshaw, police said. The two went outside and began talking in the driveway.
A roommate who captured part of the conversation on the home's surveillance camera told investigators that Campbell left about 30 minutes later, making a U-turn in the street in front of their home and driving away. The neighbor said she went outside about 10 minutes later and found Bradshaw lying facedown on the front porch, bleeding from fresh wounds on her body.
Her roommates said she had a "light pulse." But by the time officers and medics arrived Bradshaw was dead.
Julie Morefield, a neighbor, who – upon learning of Bradshaw's death – collapsed at the scene and walked under police tape to see her friend, told investigators that Bradshaw was scared of Campbell. According to court documents, the neighbor said Campbell had threatened Bradshaw's life within the past two weeks.
Campbell was arrested in Spokane after an hourslong manhunt. He was charged Wednesday with second-degree murder.
Hours after her death, Bradshaw's child was sent to stay with her ex-boyfriend, Derrick Miller, who shares three other children with the woman, Kralovetz said.
A teary-eyed Miller came to the house Tuesday to take temporary custody of the boy and meet with friends and roommates of Bradshaw's who were displaced from their home while Spokane Valley police investigated. According to court records, Miller talked to Bradshaw daily and even received a text message from her at about 10 a.m. that morning.
Miller did not return messages seeking comment.
In cases where neither natural parent can provide care for a child, a guardian is typically appointed by a court. That process can take time, however, and a temporary guardian may take custody at the discretion of law enforcement.
Kralovetz said she's grateful Miller and his girlfriend are looking after the child in the interim, but he can't stay there forever.
"I know Derrick can't take him on," she said. "Derrick already has four kids of his own."
Local journalism is essential.
Give directly to The Spokesman-Review's Northwest Passages community forums series -- which helps to offset the costs of several reporter and editor positions at the newspaper -- by using the easy options below. Gifts processed in this system are not tax deductible, but are predominately used to help meet the local financial requirements needed to receive national matching-grant funds.
Subscribe now to get breaking news alerts in your email inbox
Get breaking news delivered to your inbox as it happens.
---