Sports > Seattle Seahawks
Three takes: Seahawks show need for discipline in 22-16 win over Cardinals
Thu., Nov. 9, 2017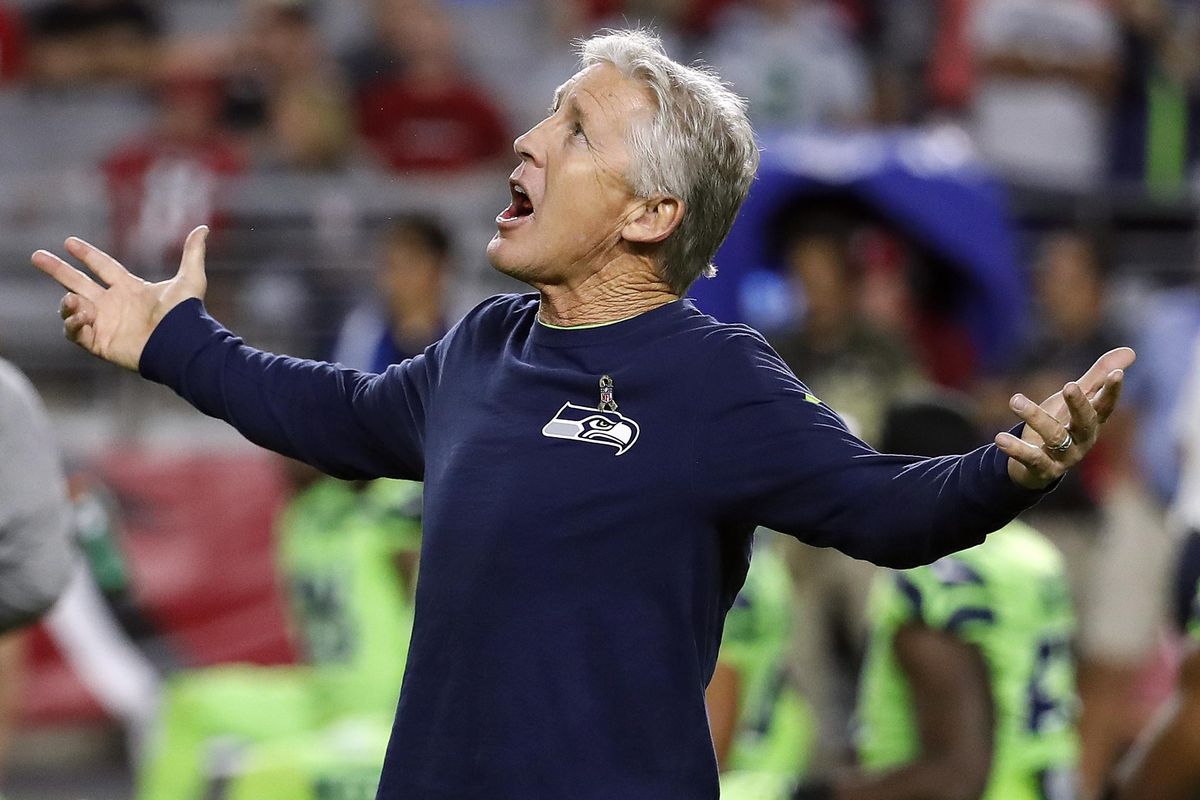 Seattle Seahawks head coach Pete Carroll looks at the open roof prior to Thursday night's game against the Arizona Cardinals in Glendale, Ariz. (Rick Scuteri / Associated Press)
Some not-so-idle thoughts on the Seattle Seahawks' 22-16 victory Thursday night against the Arizona Cardinals while trying to readjust the color settings on the television, wondering what defines a catch in the NFL and contemplating the last game Spokanites watched from University of Phoenix Stadium (hint: think GU basketball):
The Blair Walsh Project
At least Seahawks fans never had to hear NFL Network play-by-play announcer Mike Tirico utter the words "wide left" after a field-goal attempt.
Kicker Blair Walsh, who missed three times to the port side from fewer than 50 yards in last Sunday's 17-14 home loss to the Washington (insert racially insensitive nickname here), made both of his attempts Thursday, from 33 and 43 yards in the first half.
While Florida State has Wide Right I, II and III in losses to rival Miami, Walsh has a history of hooking the ball to the left.
His tenure with Minnesota was marred by a 27-yard miss in the final minute of a 10-9 wild-card playoff loss to the Seahawks two seasons ago. He was cut by the Vikings midway through last season.
That made him a seemingly odd choice this offseason for the Seahawks, who were looking for a replacement for the reliable Steven Hauschka after he left for Buffalo as a free agent.
Walsh made 12 of his first 13 attempts this season before last weekend's debacle in the rain.
Thursday's contest was played in a mostly enclosed stadium with a game-time temperature of 81 degrees, so it's hard to say whether Walsh has bounced back.
What remains a concern is that all four of his misses this season have come at home, with three of those while kicking toward the Hawk's Nest at CenturyLink Field.
The need for discipline
Pete Carroll's teams never have been known as the most disciplined (see USC, Reggie Bush).
Maybe it didn't matter during the Seahawks' Super Bowl runs, because their defense was so dominant.
(I still contend the problem with the decisive goal-line play in the Super Bowl loss to the New England Patriots wasn't so much Darrell Bevell's play call or Russell Wilson's throw, but the imprecise route run by wide receiver Ricardo Lockette).
But those days are history.
The Seahawks entered Thursday's game with 10.3 penalties per game, the most in the NFL. They committed 16 for 138 yards in Sunday's loss.
They were back at it against Arizona, which fumbled on its first play from scrimmage and had shown no offensive aptitude on its initial drives.
Trailing 7-0 late in the first quarter, the Cardinals marched 67 yards for the tying score. And they truly did march, seemingly 15 yards at a time. Four of Arizona's first downs – and 41 of the yards – on the drive came via Seahawks defensive penalties.
The Seahawks finished with 12 penalties for 108 yards. This team is no longer good enough to overcome those type of mistakes and win the NFC.
The road ahead
The Seahawks have, in effect, a second bye week this season as they won't play again until hosting the defending NFC champion Atlanta Falcons on Monday, Nov. 20.
Maybe that will provide enough time for safety Earl Thomas, cornerback Richard Sherman and newly acquired left tackle Duane Brown, All-Pros all, to get healthy.
The Seahawks might seem in good position with a 6-3 record, but they're still a half-game behind the NFC West-leading Los Angeles Rams (6-2).
In addition to the Falcons (4-4), the Seahawks still must play host to the league-leading Philadelphia Eagles (8-1), face the Rams again and travel to Dallas for a Week 16 matchup.
The Cowboys (5-3) should be up for that game, as it seemingly will mark the return of running back Ezekiel Elliott. His long-awaited, six-game suspension was upheld by a court Thursday (unless, of course, Cowboys owner Jerry Jones can get NFL commissioner Roger Goodell fired and Elliott's ban rescinded).
The Seahawks might need to sweep their six NFC West games (they're 3-0 so far) to win the division and guarantee a playoff berth.
Local journalism is essential.
Give directly to The Spokesman-Review's Northwest Passages community forums series -- which helps to offset the costs of several reporter and editor positions at the newspaper -- by using the easy options below. Gifts processed in this system are not tax deductible, but are predominately used to help meet the local financial requirements needed to receive national matching-grant funds.
Subscribe to the sports newsletter
Get the day's top sports headlines and breaking news delivered to your inbox by subscribing here.
---