Sports > Gonzaga basketball
John Blanchette: New-look Gonzaga showed they're ready to step up in win over Texas Southern
Fri., Nov. 10, 2017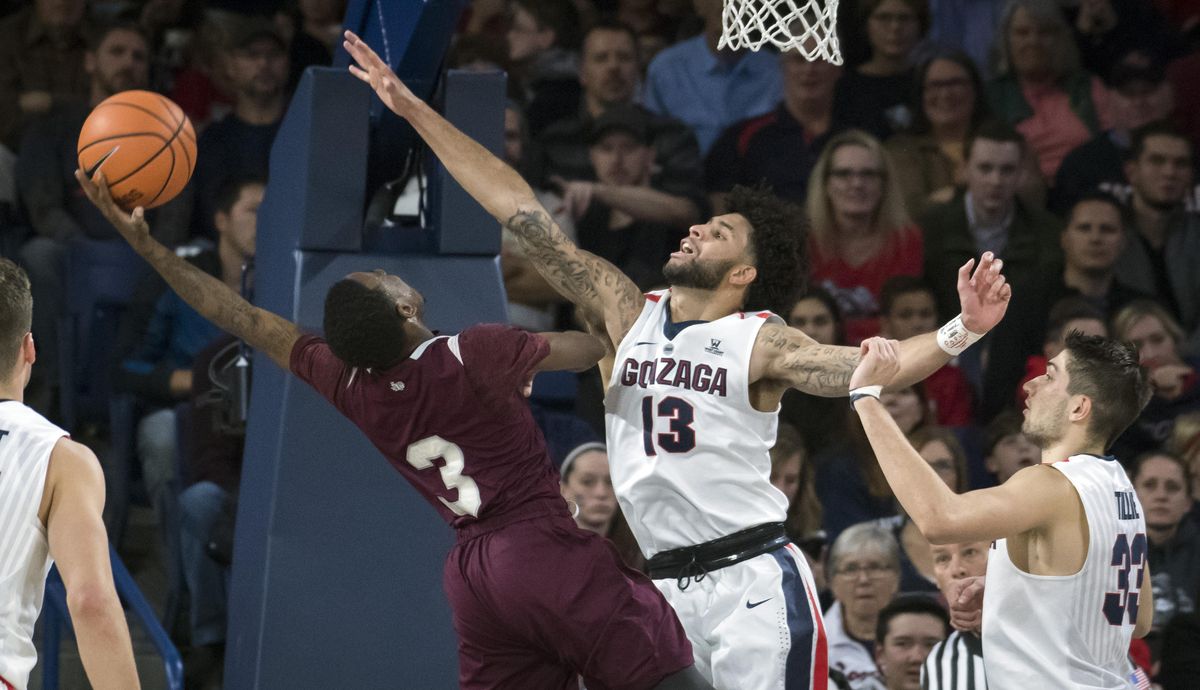 Gonzaga guard Josh Perkins (13) defends against a shot by Texas Southern guard Demontrae Jefferson (3) during the first half of a college basketball game, Fri. Nov. 10, 2017, in the McCarthey Athletic Center. (Colin Mulvany / The Spokesman-Review)
So how long will it take at Gonzaga to step away from the glow of the Bulldogs' Final Four season?
Have they already?
Will they ever?
Or is the answer yes – both times?
Depends on the perspective. For instance, when the Kennel Clubbers pushed through the doors at McCarthey Athletic Center on Friday night, clambering down the stairs and filling their six sections in a matter of minutes, one could imagine they were in a dither to see the new edition of the Zags and the all their many possibilities – or still abuzz from the magic that carried their old faves to within a minute or so of a national championship.
But when Corey Kispert – the first true freshman to start a Zags opener since Kevin Pangos – rose up and jammed home a rebound for the season's first points, the roar pretty much answered that question.
As the final horn sounded and the score on the Kennel's giant new center-hung video board showed the Bulldogs a 97-69 winner over Texas Southern, it seemed very much like business as usual – another game but overmatched opponent dispatched, the Zags one step on their way to where they usually go.
Until then, though, there wasn't a lot of "usual" about it.
Many of the protagonists from last year's 37-2 gem have scattered – to Portland, Andorra, Serbia – though they're watching.
"I am officially the biggest @ZagMBB fan out there haha!" Nigel Williams-Goss tweeted from across the pond.
Their replacements are gifted, but coltish. And even the holdovers are feeling their way through new demands and enhanced roles.
So there were wince-worthy stretches – as when the Zags turned the ball over four straight trips down the floor, unforced errors all. And then there were special, even spectacular moments: Kispert with a shot-fake-and-pass inside to Killian Tillie, who slicked a wrap-around to Rui Hachimura, who flushed a dunk for the benefit of the not inconsiderable Japanese media contingent assigned Zagside.
Not to mention Josh Perkins stepping up and knocking down 3 after 3 after 3, maybe the most welcome sight of the night to coach Mark Few and his staff.
"We have a lot of talented people," said senior Silas Melson, who himself had a sneaky-good night. "Killian's a beast. Rui's a beast. Guys like that will step up and by the time February and March come, it'll be exciting to see."
And Melson insisted it's all very much eyes ahead.
"We've done a great job of that," he said. "The only time we ever talk about last year is trying to reach that bar. We don't talk about the guys we're missing or how much fun we had – it's not about that. It's about getting back to that. We know that's the standard and we're trying to get back to that standard."
The Bulldogs may be the only ones putting that kind of pressure on themselves, and in a sense it's almost a defensive posture. Gonzaga's circumstance as a targeted team hasn't changed for more than a decade, but now they're fresh off a Final Four – and it matters not to any opponent that there's been churn on the roster.
Don't plan on surviving many off nights.
And all of the Zags have their little something to prove. Johnathan Williams sniffed a little at the NBA Draft before returning. Few used to call Tillie his "problem solver," but now could stand to segue into being a problem creator. Melson's team value has been unquestioned; now he gets to test his leadership muscles. The new and sparingly used players look to make their mark.
Perkins may be feeling those urgings and recalibrated expectations as much as anyone. So he didn't float long on the Final Four cloud.
"We didn't win the game," he pointed out, "so for a couple of days right away I was pissed off. But my fire was lit and I was looking forward to getting back there this year."
Then it's a good thing they hoisted a banner at the west end last month. Now the Zags can look at it – and the demands it represents – every day.
"One thing I've done a lot in the past and I'm guilty of is trying to compare this team to last year's team and other teams and hold them to that same standard," said Few. "But I have to remember that the team that played in Phoenix last year wasn't that good on Nov. 10. There was tons of growth that happened. And that's what we need to expect of these guys – that they'll make those gains every week."
You live in the moment, but with all the experiences and history and lessons that made you. And for Zags basketball, there was no experience quite like the Final Four.
"It'll always be with me," Few acknowledged. "There's a part of me that doesn't need to move on from it."
Local journalism is essential.
Give directly to The Spokesman-Review's Northwest Passages community forums series -- which helps to offset the costs of several reporter and editor positions at the newspaper -- by using the easy options below. Gifts processed in this system are not tax deductible, but are predominately used to help meet the local financial requirements needed to receive national matching-grant funds.
Follow along with the Zags
Subscribe to our Gonzaga Basketball newsletter to stay up with the latest news.
---