News > Education
Moody Bible Institute to close Spokane campus
Nov. 10, 2017 Updated Fri., Nov. 10, 2017 at 2:30 p.m.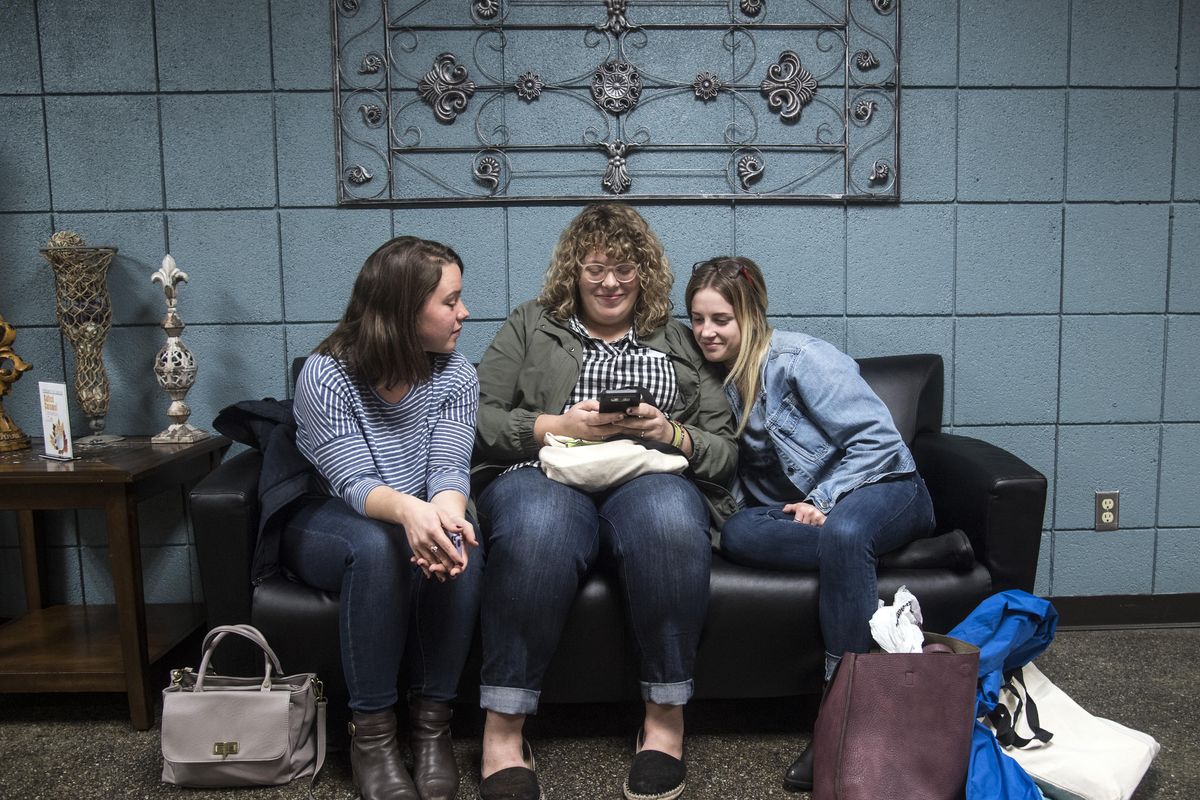 Moody Bible Institute students Melanie Baize, left, and Danielle DePace, right, visit with former student Miranda Smith on Thursday, Nov. 9, 2017, in the school's lobby. Moody, based in Chicago, has announced it's closing its branch campus in Spokane after 25 years. (Dan Pelle / The Spokesman-Review)
The Moody Bible Institute will close its Spokane campus at the end of the school year, leaving students to continue pursuing their undergraduate degrees online or at the Christian evangelical school's main campus in Chicago.
Students were notified of the closure on Wednesday, and Moody Global Ministries posted an announcement on its website on Thursday, saying big changes are needed to preserve the organization's financial well-being. The nonprofit also is cutting faculty and staff at its campus and seminary in Chicago, and closing its extension site in Pasadena, California, which offered a ministry leadership degree program.
Moody opened its Spokane branch in 1993, a few blocks north of Gonzaga University. It offered eight bachelor's degrees and two certificate programs and will close after graduation in May.
In an interview Thursday, Moody's dean and vice president, James Spencer, said the Spokane extension was envisioned as a place to send students who couldn't attend the Chicago campus because of space constraints. He said there was a time when the school received more than 1,000 applications a year for just 400 spots in Chicago.
The school saw significant growth beginning around 2008, but in recent years it has received fewer and fewer applications, Spencer said.
"Due to shrinking of that applicant pool, we're not able to send students out to Spokane like we were in the past, and we just haven't really had the resources to invest in direct-application strategies for that Spokane campus," Spencer said, adding that Moody is consolidating many of its resources in Chicago. "Basically what we are recognizing is that we spread ourselves out a little too much."
According to enrollment figures on Moody's website, the school had more than 3,500 students this fall, including 442 undergraduates in Spokane. Enrollment in Spokane was steady from 2010 to 2015, with about 114 new, full-time freshmen each fall. But 2016 saw a precipitous drop, with only 59 incoming freshmen. And this year, another drop: 37 freshmen.
Graduate student enrollment in Chicago and in Moody's online/hybrid programs also is down this year. Enrollment has been steady at the seminary campus in Plymouth, Michigan.
Spencer said Moody would revamp many of its degree and certificate programs for part-time and "nontraditional" students in an effort to expand the reach of its ministry. He said the enrollment declines are the result of demographic shifts and declining interest in higher education. Theological schools in particular have struggled to keep their branch campuses open, according to Christianity Today.
"There are certain regions of the country where high school graduation rates are up," Spencer said. "But, particularly where Moody is located in the Midwest, in Chicago, we are definitely struggling to reach more and more high school students. It's a broad higher education trend that everybody is struggling with right now."
Moody also runs a radio station in Spokane and an aviation program at Felts Field. Spencer said the school will continue training missionary pilots and technicians, although it will be changing the first-year Bible studies curriculum.
Spencer said many of those students go on to work for humanitarian groups in other countries.
"They deliver aid to people where you can't really drive it in," he said. "These are the folks that land on the sides of mountains, or landing strips that don't even look like landing strips. Our students learn not only those kinds of piloting skills, but they also get the maintenance training to take care of their airplanes on the field."
The Moody Bible Institute was founded in 1886 by a missionary named D.L. Moody; it was originally called the Chicago Evangelization Society. The school reported nearly $112 million in revenue last year, according to federal tax filings. Its highest-paid executive, President Paul Nyquist, received a salary of about $207,000 and more than $146,000 in retirement funds and other benefits.
Spencer said he didn't know how many jobs in Spokane are being cut. Christianity Today reported that Moody has about 45 faculty members in Spokane, about a third of whom are involved in the aviation program.
Students in Spokane should have no problem transferring their credits to Chicago if they decide to do so, and Moody will work with those who want to finish their degrees online, Spencer said.
"The goal is to make it as easy for the students as possible to complete their degree program, and to make sure that they're cared for and they don't lose out because of this decision," he said.
Zak Sommers, a Moody junior majoring in intercultural studies, applied to the Chicago campus two years ago but ended up moving to Spokane from his hometown of Orrville, Ohio. He's now the editor of the student newspaper, the Moody Mosaic, and volunteers at Spokane's Life Center church.
"A lot of students are bummed – not worried," Sommers said. "It's very encouraging to know that we are not alone."
The 23-year-old said he's disappointed but will happily transfer to Chicago next year.
"I'd say a lot of the students are more worried about the faculty," he said. "We are really trying to support them because they are losing their jobs."
Another student, Tyler Mark Nelson, wrote on Facebook that Moody's closure would deal a blow to other faith groups and service providers in the community.
"Local churches, ministries, and organizations, many of which have deeply benefited from the zeal and devoted service of students, will also reel from the loss," Nelson wrote. "The city of Spokane will lose a powerful and effective presence when MBI-Spokane closes its doors."
Moody spokesman Brian Regnerus said the school does not plan to renew its lease with Fourth Memorial Church, which owns the school building at 611 E. Indiana Ave.
Editor's note: This story was changed on Nov. 10, 2017. A previous version erroneously described Moody President Paul Nyquist's compensation package.
Local journalism is essential.
Give directly to The Spokesman-Review's Northwest Passages community forums series -- which helps to offset the costs of several reporter and editor positions at the newspaper -- by using the easy options below. Gifts processed in this system are not tax deductible, but are predominately used to help meet the local financial requirements needed to receive national matching-grant funds.
Subscribe now to get breaking news alerts in your email inbox
Get breaking news delivered to your inbox as it happens.
---