News > Education
With changing times, Spokane's marching bands fall out of step
Fri., Nov. 10, 2017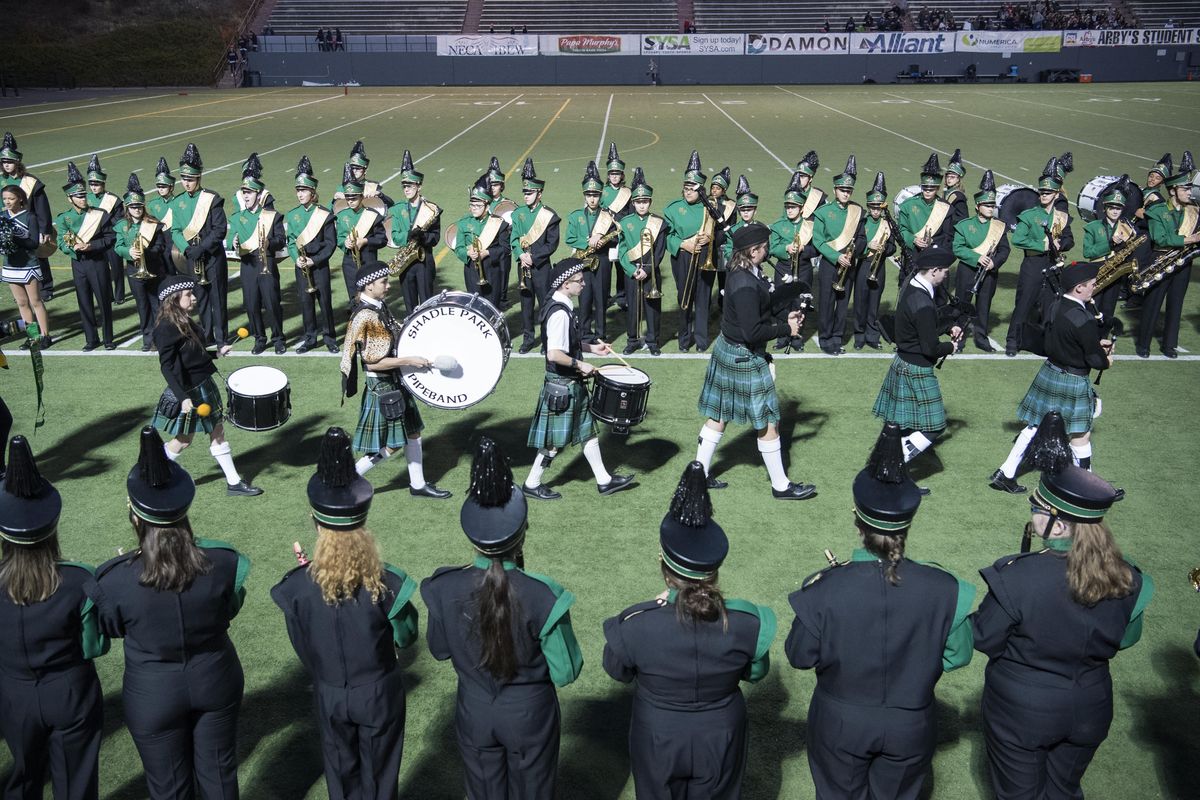 Members of the Shadle Park High School marching band welcome their bagpipe unit after playing at halftime of the football game, Thursday, Oct. 26, 2017, at Joe Albi Stadium. Shadle has one of the last marching bands at a Spokane High School. (Jesse Tinsley / The Spokesman-Review)
High school marching bands in Spokane aren't what they used to be.
Starting with Ferris High School in the early 2000s, each of Spokane's five comprehensive high schools have either discontinued or drastically scaled back their marching band programs. What was once a staple of high school football games is now often reserved for special events and parades.
This year, the district's last holdout, Lewis and Clark High School, stopped competing and drastically scaled back the complexity and frequency of its routines.
"We were the last school to hang on," said Daniel Nord, band director at Lewis and Clark.
That change is illustrative of wider cultural shifts, said Spokane-area marching band directors.
The major issues: time, money and waning interest.
"I think these cultural things that we are talking about are not just marching band problems, it's systemic," said Mark Tietjen, the director of University High School's marching band. "People are, their home lives are stressed."
And while University High School still fields a competitive marching band, he said, he's seeing more and more kids who can't participate because they "have to provide childcare to younger siblings."
Or because their families don't have enough money for band's travel. Or because the students themselves don't have enough time.
"I'm not drinking the Koolaid that America is out of its economic recession," he said. "I see my families working very, very hard to provide for themselves."
Joining a marching band can be an expensive undertaking. In the Central Valley School District, students pay between $225 and $400 per season.
In addition to the money, participation is a demanding time commitment. At University High School's award-winning marching band, members spend 2.5 weeks in the summer at band camp. Then, during the fall season, they practice every Tuesday and Thursday for 3.5 hours. On Saturdays they practice from 8 a.m. to 5 p.m., said Tietjen.
"Yeah, it's crushing," he said.
Those were the considerations swirling through Nord's head last year when the decision whether or not to end Lewis and Clark's program was being made. Nord said he calculated how many hours his students were dedicating to the program.
He said students were dedicating about 150 hours between Aug. 21 and Oct. 21.
And, on top of that, many of the students weren't all that crazy about marching band anyway, Nord said.
"You couldn't be in (any other) band at Lewis and Clark if you couldn't make that commitment, so we were seeing a lot of kids quitting because of it," he said.
Nord said he surveyed parents and kids and the "vast majority" of them felt that "their lives would be better without it."
"There is just so much demanded of a high school student that they were really stressed for time," he said.
But many of the students who reluctantly joined the band ended up loving it, Nord said.
"I think if their lives allowed them that kind of time they would still love the activity," he said.
And, like Tietjen, Nord believes the reduced interest is a symptom of the times. There are high school traditions that are increasingly outdated, forcing schools to "change with the times and adapt," Nord said.
And there is another, wonkier, reason marching bands are less popular.
"So, back in the day the expectation for the level of performance, whether it be the music or the style of shows, was a bit more user-friendly for everyone," said Kevin Hartse, Shadle Park High Schools band director.
Bands would play crowd favorites. The Beatles. AC/DC. Metallica. And those routines, when taken to marching band competitions, could pay dividends. But, starting sometime in the early 2000s, what marching band competition judges favored began to shift.
"I use the term esoteric-type shows," Hartse said. "And frankly, they had more artistic depth and content."
But with more artistic depth and content comes greater cost and complexity. For schools that couldn't, or didn't, keep up, competing became less and less enjoyable.
Shadle Park stopped competing in 2009, Hartse said. He remembers one year in particular, he said. The school's band was competing in the Northwest Marching Band championships at Joe Albi Stadium, and the announcers were introducing the bands. One band had 12 staff helping choreograph the movement, prepare music and train the students.
Shadle Park had three.
"As things started changing, I started recognizing, 'OK this is becoming less tenable to compete,'" he said.
For whatever reason Central Valley High School has embraced the changes, and is flourishing. This year 180 students performed in the school's award-winning band. Band director Eric Parker said they've embraced the complex movements and ornate routines, while still playing songs that a football home crowd will enjoy.
But, it comes at a price.
"If we are going to do songs that are popular, and most importantly copyrighted, we have to do that and now we have costs that are obscene, but necessary," Parker said.
And the band participants pay. $400 a season. That money, Parker said, goes toward travel costs.
Parker recognizes the cultural and financial difficulties of keeping a marching band program alive. But, he said it's worth it. Unlike most high school activities, he said, students aren't segregated by age.
"The freshman who have never done it before are going to determine the seniors' final year," he said.
Hannah Conrad, a junior at University High School and the drum major for her school's marching band, also loves the program, despite the commitment.
"Between the months of August and November we spend more time together as peers than we do with our own family," she said. "Marching band is my life, it sounds really nerdy but it's true. There really isn't any time for anything else in my life."
She added, "We do it for the love of music and for the love of each other and the family that we made."
Local journalism is essential.
Give directly to The Spokesman-Review's Northwest Passages community forums series -- which helps to offset the costs of several reporter and editor positions at the newspaper -- by using the easy options below. Gifts processed in this system are not tax deductible, but are predominately used to help meet the local financial requirements needed to receive national matching-grant funds.
Subscribe now to get breaking news alerts in your email inbox
Get breaking news delivered to your inbox as it happens.
---