Sports > Gonzaga basketball
TV Take: Comparisons to last season take center stage on opening night
Fri., Nov. 10, 2017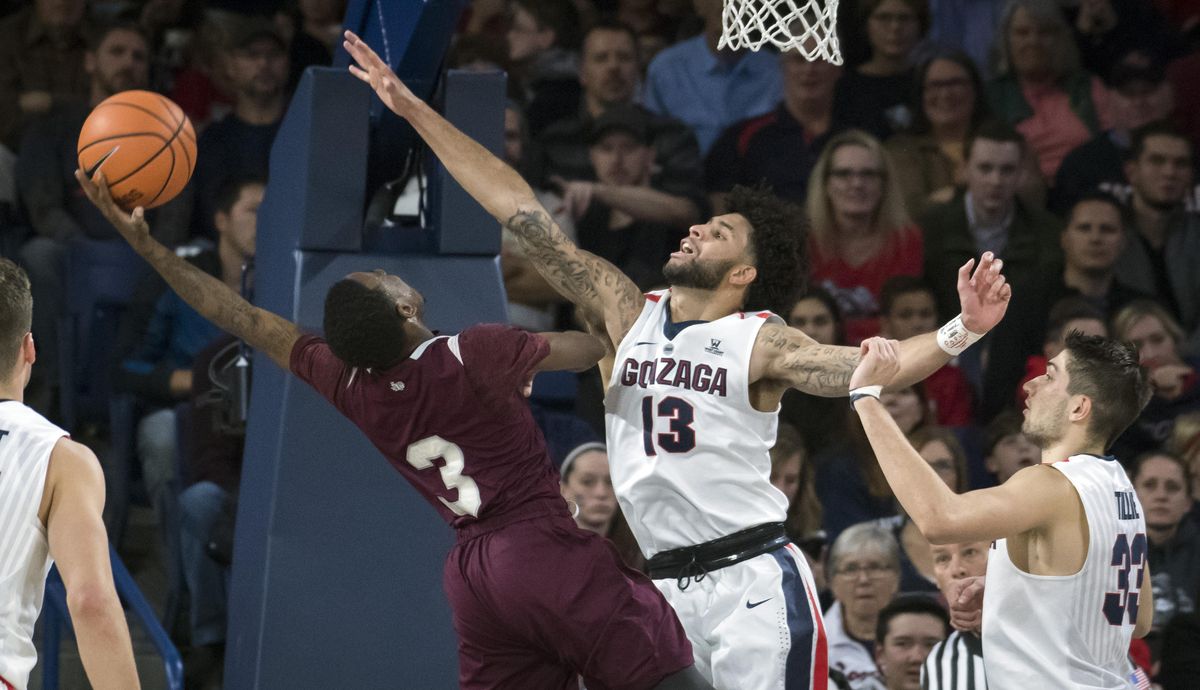 Gonzaga guard Josh Perkins (13) defends against a shot by Texas Southern guard Demontrae Jefferson (3) during the first half of a college basketball game, Fri. Nov. 10, 2017, in the McCarthey Athletic Center. (Colin Mulvany / The Spokesman-Review)
It's a new season for Gonzaga basketball, though one that begins with more than the usual emphasis on how last season ended.
Why not? It culminated in the national championship game, only a few minutes from everyone's ultimate goal.
Last year played a prominent part in this year's first regular season game, a 97-69 win over outmanned Texas Southern at the McCarthey Athletic Center. At least it did in how the game was presented by the KHQ broadcast team of Sam Adams and Richard Fox.
Again, why not? This team will be compared and contrasted by the viewers and fans throughout the first month or so of the season, so it's only fair the broadcast should reflect that.
What they saw …
The two-person crew was something of a surprise, as Gonzaga's pregame media notes listed the usual three-man crew, including play-by-play man Greg Heister and analyst Dan Dickau.
But it's never a bad thing to have Adams calling the action. Nor having Fox to break down what's happening.
Fox, a former Gonzaga big man understands play around the rim and, at halftime, succinctly explained what the loss of Przemek Karnowski and Zach Collins means to the Zags' inside presence.
"It's going to look different," Fox said, referring to the triumvirate of returnees Johnathan Williams, Killian Tillie and redshirt freshman Jacob Larsen. "But it might be just as effective."
The stat line against an undersized group of Tigers backed up Fox's point, as Tillie and Williams combined for 25 points, 20 rebounds and four assists. Larsen, who played just 7 minutes, added nine points and seven rebounds.
But Adams tried to move the focus more outside, where Josh Perkins took the reins of the offense, wondering at one point if Guard U. was back.
Fox was having none of it, though he did explain how Perkins' game must change for the Zags to be successful. Not only will he control the ball, Fox pointed out, he has to also call his number more often.
Perkins did. He was 6 of 10 from beyond the arc and scored a game-high 20 points. Throughout the action, Fox emphasized Perkins was hunting his shot, pointing out, correctly, "he turned down a lot of those shots last year."
Maybe not surprisingly, then, it wasn't Perkins who led the way in assists, of which Gonzaga had 21 on its 35 baskets. The leader in that department was reserve guard Zach Norvell, who had five, followed by Silas Melson and his four.
And it was Melson who also led the way for a defense that limited Texas Southern to 36 percent shooting and only 19 percent beyond the arc.
Those numbers impressed Fox, who said they could "lead you to believe they could be pretty special on that end of the floor."
What we saw …
Gonzaga's defense was really good at times and sloppy at others – as one would expect in a season opener.
However, drives that used to end up with a Collins or Karnowski block, Texas Southern was able to finish at the rim, especially early. But that became the Tigers go-to move. Actually, for a while, their only move.
"They've got great quickness, they're aggressive, they love to get to the rim, but right now that's just one-on-one," Fox said late in the first half as Gonzaga began to put a game-deciding run together. "You're not really making or forcing Gonzaga to defend much of anything."
And offensively, the Zags played a little disjointed at times, most notably in a first half that was marred by 11 turnovers.
That number got Brian Michelson's attention and in his halftime interview, the assistant coach was blunt. (And to be blunt, these type of interviews are one of the best aspects of the local broadcasts.)
"Not good," was Michelson's assessment of a half the Zags led 52-31. "That was a ridiculous amount of turnovers. We have to be way more solid."
Local journalism is essential.
Give directly to The Spokesman-Review's Northwest Passages community forums series -- which helps to offset the costs of several reporter and editor positions at the newspaper -- by using the easy options below. Gifts processed in this system are not tax deductible, but are predominately used to help meet the local financial requirements needed to receive national matching-grant funds.
Follow along with the Zags
Subscribe to our Gonzaga Basketball newsletter to stay up with the latest news.
---