Garth Brooks, Gonzaga basketball team up for local kids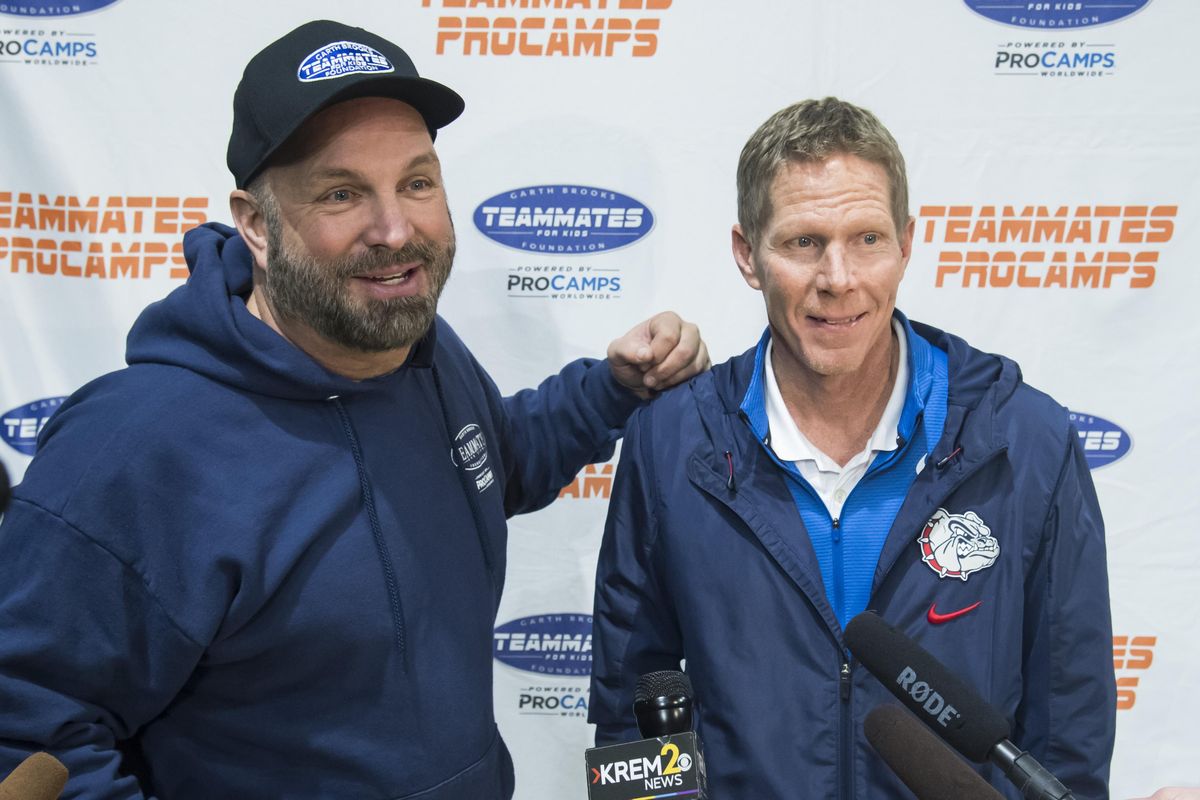 Garth Brooks isn't doing seven sold-out concerts in Spokane, he said – he's doing seven parties.
But before the country music legend rocked the Spokane Arena not just once but twice Saturday, he was doling out high-fives and chest passes to local children at the McCarthey Athletic Center.
Operating in each of Brooks' tour cities, The Garth Brooks Teammates for Kids Foundation and ProCamps has two primary missions: providing opportunities for underprivileged kids and giving them a memorable experience.
"One of the most important things I've done in my life, other than be a father, is this right here," Brooks said, pointing to a group of about 80 12-and-under children dribbling and shooting on Gonzaga University's home hardwood, all from the Boys & Girls Clubs of Spokane County and Big Brothers Big Sisters.
Camp staffers teamed up with Gonzaga men's basketball players and ran an assemblage of drills on Saturday morning. Afterward, Brooks and head coach Mark Few concluded the camp by offering a few sage words of wisdom and encouragement.
Brooks, a vocal sports fan and a former member of the Oklahoma State University track and field team, said he thought the kids were more receptive to the Gonzaga hoopers than him.
"As much as they want them to listen to us, they listen to those ballplayers," Brooks said. "… they look at them just in awe."
The 18th-ranked Bulldogs, who advanced to the NCAA national title game in April, opened their 2017-2018 campaign with a 97-69 dispatching of Texax Southern at home Friday night.
By Saturday morning, such talents as forwards Johnathan Williams and Killian Tillie were providing instruction and getting in on the Brooks-inspired fun.
All this before Brooks' 3 p.m. and 7:30 p.m. shows.
"I've never heard of someone doing two shows in a day. I'm going to tell my players that when they're tired," Few said with a laugh.
"The guys came on their day off, smile on their faces. This kids will remember being with these guys," Few added.
Brooks said he's followed Gonzaga men's basketball for years and has witnessed the program's ascension from upstart midmajor to national power.
"They just started knocking off the big guys, and they were the giant killers and the Cinderalla team. And for me, that's the ingredient right there," Brooks said. "The underdog. I pull for them every time. (I get it) from my mom, I don't know why, but my mom could never ever go with the favorite."
"Now that (Gonzaga) has established this (high) level of playing that's so expected, they still come off as the underdog, and I just love 'em for that."
---