Sports > WSU football
Analysis: Washington State defense earns seven takeaways as Cougars hold off Utah 33-25 ahead of bye week
Nov. 11, 2017 Updated Sat., Nov. 11, 2017 at 10:18 p.m.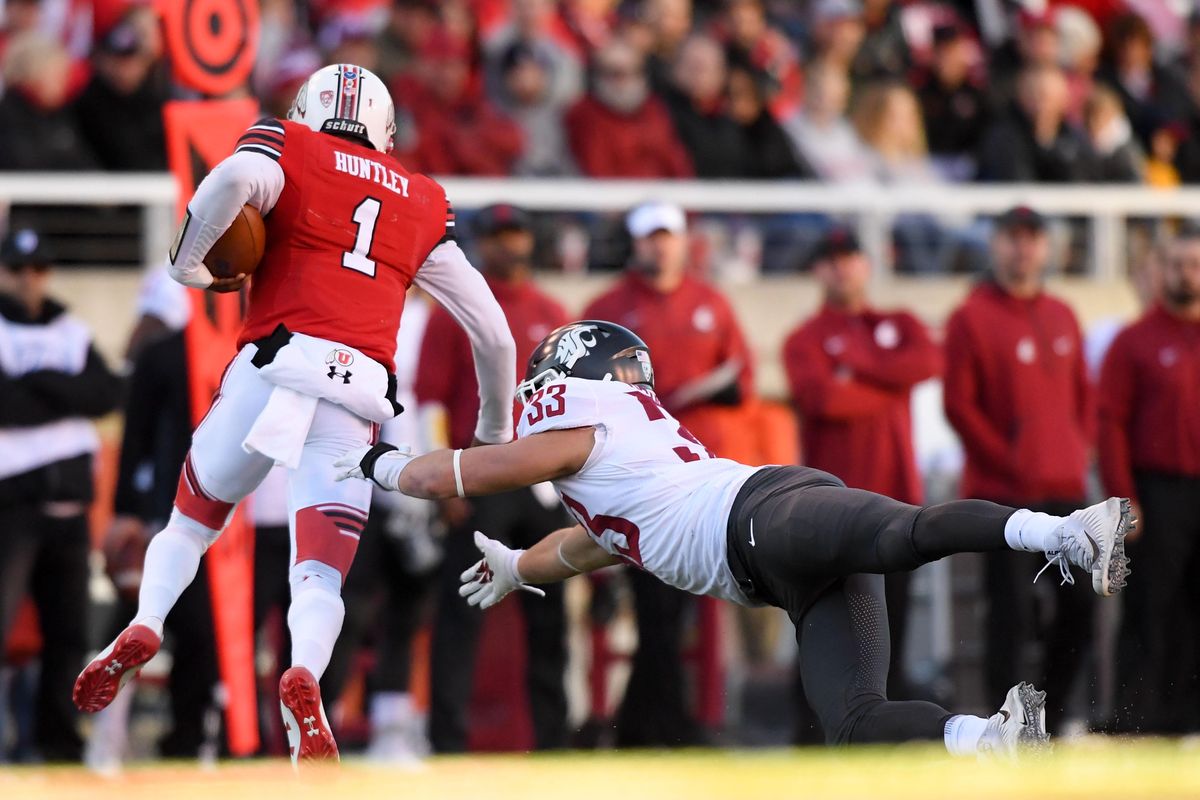 Utah Utes quarterback Tyler Huntley (1) slips a tackle from Washington State Cougars linebacker Dylan Hanser (33) during the first half of a college football game on Saturday, November 11, 2017, at Rice-Eccles Stadium in Salt Lake City, Utah. (Tyler Tjomsland / The Spokesman-Review)Buy a print of this photo
SALT LAKE CITY – Luke Falk and the Washington State offense will lament all of the scoring opportunities they squandered Saturday night.
They'll do that, surely, but probably not before they offer their deepest gratitude to Hercules Mata'afa and the tough-as-nails Cougars defense.
Seven times during the Pac-12 game at Rice-Eccles Stadium, the Cougars pilfered the ball from the Utes – and more times than not, it left Falk and the offense in a prime spot to punch in six points.
The WSU quarterback, making the first start of his college career in his home state of Utah, would've liked to lead a more efficient offense in front of an estimated 60 family members and friends. But the scoreboard after four quarters reflected a 33-25 WSU win, so the Cougars were as opportunistic as they needed to be – granted, just barely – in a game that held big implications for their Pac-12 title hopes.
The Cougars (9-2, 6-2), with a bye week on the docket, can now cool their heels for 12 days before playing the Huskies in another Apple Cup that will determine whether it's WSU or Washington representing the North in the conference title game.
In the meantime, Falk and the offense will try to get back to a groove that's made it one of the most potent in the country for much of the quarterback's career.
"I think we move the ball really well, it's just we got to that red area and for some reason, I think we just stalled," Falk said. "Three times we were able to punch it in, but if we do our job and put it in, then it's not as close as a game and we don't put as much stress on the defense."
If it ever was stressed at any point of the game, the "Speed D" kept a pretty good poker face.
Mata'afa registered three of WSU's seven sacks – he also had five tackles-for-loss – and had a hand in one of the seven turnovers. It'd been 14 years since the Cougars registered that many takeaways in a single game.
"Our big motto is we want to lead the country in turnovers this year," said nickel Hunter Dale, one of the four Cougars to pick off the Utah QBs. "I know we were a few behind Wyoming and every time we're out there, we want to get a turnover."
It's what Alex Grinch, WSU's third-year defensive coordinator, calls "takeaway time." Takeaway time was more or less an event of its own Saturday night, lasting nearly four hours and mercilessly ending when Jalen Thompson came down with Troy Williams' last-ditch heave as the clock ran out.
"They were stingy on defense like they have been all year," Utah coach Kyle Whittingham said. "I thought our defense was lights out. Washington State averaged less than four yards a play. It was not enough to overcome seven turnovers. Certainly going minus four in that area, you cannot win."
The Cougars scored touchdowns on just three of their 17 offensive drives in the game, and it felt even worse than that, considering three times they inherited the ball inside Utah's 30-yard line.
"We had a couple of really good drives, but I thought we could have done more," Cougars coach Mike Leach said.
WSU rolled up 338 offensive yards. Utah had 367. The Utes moved the sticks 27 times. The Cougars did it just 20.
Luckily, the Cougars have one of the country's highest-scoring players at their disposal: kicker Erik Powell.
Powell drilled four kicks through the uprights, from 44, 32, 38 and 33 yards, and his magic left foot often bailed the Cougars out when they couldn't make simple plays in the red zone. Only four players in the Pac-12 came into the game with more points than Powell, who, four field goals and three PATs later, now has 99 on the season.
The offense showed life at certain points of the game and probably figured it had put the game away when Falk hit Isaiah Johnson-Mack on a 6-yard cross into the end zone to make it 33-18 with 8:23 left.
But then the Utes assembled a quick two-minute drive to get into the end zone, cutting the deficit to eight points. And Falk gave Utah a real chance to tie it up when Kenric Young cut in front of a deep throw down the left sideline for an interception.
But Utah only made it to the 41-yard line. Then the Utes' recurring issue of the night bit again. On first-and-10, Huntley's pass was deflected by defensive end Nnamdi Oguayo and rush linebacker Chima Onyeukwu won a jump ball to snatch it out of the air.
The Cougars went three-and-out, but Utah couldn't convert in desperation time. The Utes brought in the strong-armed Williams to try a Hail Mary, but Thompson's pick sealed the win.
"We haven't reached where we want to be in the future," Cougars safety Robert Taylor said, asked if the defense has hit its ceiling. "We've got a lot of football left and a lot more that we need to accomplish."
Local journalism is essential.
Give directly to The Spokesman-Review's Northwest Passages community forums series -- which helps to offset the costs of several reporter and editor positions at the newspaper -- by using the easy options below. Gifts processed in this system are not tax deductible, but are predominately used to help meet the local financial requirements needed to receive national matching-grant funds.
Subscribe to the Cougs newsletter
Get the latest Cougs headlines delivered to your inbox as they happen.
---