Crafted influence: New York state parks and museums show off the work of Hubbard, Olmsted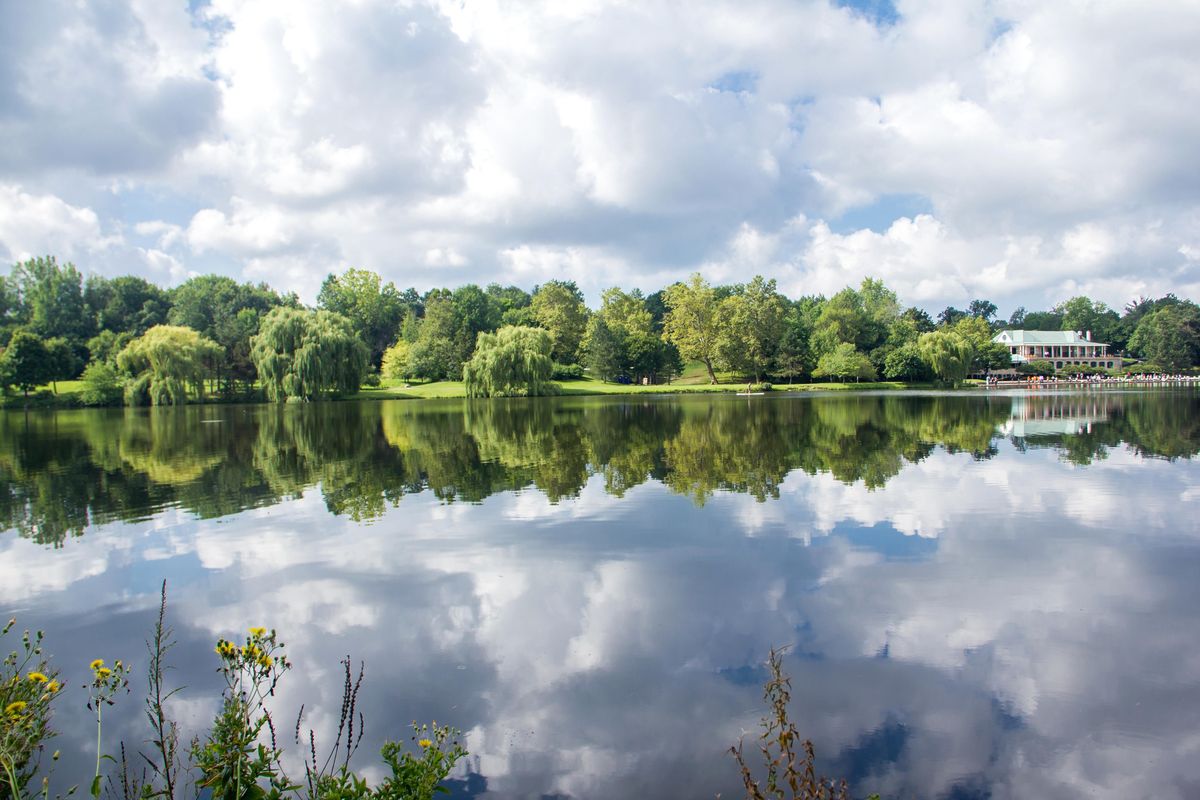 Although Elbert Hubbard has been dead for a century, he would fit right in today.
Hubbard was self-absorbed, confident and determined, a garrulous prophet who styled himself as Fra Elbertus and spanned the country preaching on the cultural and aesthetic nuances of the day. His opinions covered nearly everything, and he perpetuated them, on paper and at the lectern, with a gift for self-promotion.
After perfecting his marketing skills as a soap salesman, he turned his home-grown print shop into Roycroft Village, an early 20th-century shrine for Luddites. Artisans soon joined the printers. And, when flocks of admirers and customers followed, Roycroft made the leap from guildhall to light industrial complex.
Within a year or two, Gustav Stickley began producing distinctive hardwood furniture, barely 150 miles away. By the time Hubbard and Stickley had flooded the country with handcrafted products and the ideals behind them, Frederick Law Olmsted already had cemented his reputation as this country's first and foremost landscape architect.
These three made up the major force behind North America's cultural resistance to the industrial revolution. While the promoter and the manufacturer outfitted middle-class homes with hand-hewn furnishings and decorative arts, the urban visionary surrounded them with expansive parks.
Hubbard, who spoke in Spokane, praised it. Olmsted's successor firm, Olmsted Brothers, created our well-known park plan and designed the Rockwood neighborhood.
With these things in mind, my wife, Ann, and I, like moths drawn to a flame, braved a late-September heatwave to survey their influence on the state of New York. We stopped in Buffalo, Rochester and Syracuse, all near Interstate 90, before finishing up in New York City, where we walked through Central Park, the project that had launched Olmsted's storied career.
Roycroft, near Buffalo in the village of East Aurora, still shines as a beacon for the American arts and crafts movement. Hubbard set the example and became its spokesman.
Wealthy after turning Larkin Soap, his brother-in-law's start-up, into a mail-order giant, he took up fine printing and created "The Philistine," a monthly outlet for his progressive ideas and epigrams. Eventually, it had 100,000 subscribers.
His print shop thriving, Hubbard sought out metal- and woodworkers, jewelry designers and skilled carpenters, opening Roycroft in 1897. Soon, he needed a hotel to house the visitors, so he tore down his home and opened Roycroft Inn. We splurged by spending our nights in the spacious inn, where our room included pieces of Roycroft and Stickley furniture. Meals were very good, and the dining room crowd included plenty of locals.
The campus, with its cobblestone, half-timbered structures, lies directly across the street. We took the in-depth, two-hour tour. Led by a trained guide, it was well worth the extra time and money. As a bonus, it's only a two-block walk to the photo- and book-filled Hubbard Museum.
After going bankrupt at the end of the Recession, Roycroft was saved from demolition in the 1980s. Now it draws about 200,000 visitors a year under the ownership of a local foundation.
Buffalo itself, boosted to prosperity by the Erie Canal, once had a half million residents. Today, diminished but thriving, it has 256,000. Olmsted's 1868 design for a major portion of the city included spacious parks and handsome boulevards, most of which survive.
Downtown, Niagara Square, a huge traffic circle, sends a handful of major streets fanning outward toward the northeast. Delaware Avenue, running through their midst, leads to Delaware Park, the crown jewel and site of the 1901 Pan-American Exposition.
Landscaped traffic circles interrupt Delaware and one of its companions. Each circle launches a half-mile-long parkway that ends at Soldier's Circle, a roundabout that's almost a park by itself. Such parkways! They are wider than Manito Boulevard and are filled with lawns, shade trees and flowers. Wide roadways on either side are lined with splendid older homes.
Delaware Park includes almost anything a park could need. There are playfields and gardens, meadows and trails and – typical Olmsted – a very large lake. The Buffalo History Museum and the showplace Albright-Knox Art Gallery stand near one corner. The Buffalo Zoo occupies another.
Several miles south, down Lake Erie's shore, Olmsted's South Park, also large, features one of America's two remaining three-domed, Victorian-style conservatories.
And, yes, we saw Niagara Falls, which divides downtown Buffalo from Canada. It does not disappoint. Olmsted's Niagara Reservation, the nation's first state park, protects the U.S. shore from development but not from modern high-rises that dot the bluff on the other side. As a consequence, Canadians have a better view.
Rochester, less than an hour east of Buffalo, is about the size of Spokane but without as much metropolitan population. Many of the best sights are along the Genesee River, which borders it on the west. Olmsted's designs adorn four parks along its banks. We only saw one, but it was Genesee Valley Park, which is magnificent.
Although golf courses now consume its southern half, the park incorporates the usual features, utilizing natural terrain to replicate nature. Winding roads and paths supplement the planned, spacious groves of trees, lawns and sports fields. One of two bridges across the Erie Canal leads to a unique view of the spot where the canal crosses the river.
The University of Rochester's handsome, well-seasoned campus sits directly north, also close to the Genesee's eastern shore.
Thanks to daytime road reconstruction, central Rochester was nearly impassable. Eastman-Kodak, which put the city on the map, is not what it once was, but George Eastman's home in the upscale East Avenue neighborhood is worth a visit. Historic churches and the renowned Eastman School of Music are blocks away on the edge of downtown.
History buffs interested in women's rights and the suffragette movement will enjoy the Susan B. Anthony Museum, which is located in her former home. And it's hard to imagine a better place for lunch than the Genesee Brew House Restaurant & Bar. Adjacent to the brewery, within walking distance of the city center, it perches high above Genesee Falls in contrast to its near neighbors, mostly obsolete red-brick industrial buildings.
There is one other don't-miss. Go for a ride on the Erie Canal. Our captain crammed lots of history into a two-hour excursion, reminding us how much the canal, almost two centuries ago, had transformed U.S. commerce and facilitated migration to the West.
Heading further east, we drove through the Finger Lakes region. It's probably a fine place to spend a summer, but vacation homes often obscure the view, and the highways don't always follow the water. There are lots of cornfields. Who knew? But as expected, there are wineries. The riesling lived up to its reputation. The cabernet didn't deserve one.
We skipped Cornell's campus at the foot of Cayuga Lake, ignorant of its Olmsted design, but didn't miss Syracuse University. Both very old and quite modern, the home of the Orange occupies a terraced hillside on the edge of that city's downtown. A mile away, the Erie Canal Museum houses interesting history in the shadow of large historic churches.
The rest of this stop belonged to Stickley.
Oldest of five brothers, all of whom manufactured furniture, Gus Stickley may have been a more modest and pragmatic man than Hubbard, but he harbored many of the same ideals. And as time went by, their careers began to overlap.
Stickley, as the 20th century began, turned out functional white-oak furniture built to his structural ideal and distinctive for exposed joinery. Popularized as mission oak, it worked well inside the new house form, informal bungalows, which had exteriors made with natural materials and interiors sporting fine woodwork and cabinetry.
Like Hubbard, Stickley developed a catalog and a periodical, "The Craftsman." He assembled his own corps of artisans, opened a New York City showroom and prospered until tastes started to change. Stickley didn't and, by 1918, he was bankrupt.
In partnership, two of his younger brothers, Leopold and John George, survived. Their firm, L. & J.G. Stickley, aided by the late-20th-century arts and crafts renaissance and broader product lines, has kept Stickley furniture at the forefront of the high-end market.
Owned today by the Audi family, Stickley dealers for three generation, the revitalized company operates an airy plant in Manlius, just east of the city. In addition to aromas of fresh-cut wood, two-hour tours provide first-hand looks at computer-driven machinery operating side-by-side with workers employing old-fashioned skills.
The Stickley Museum, which occupies the former plant in nearby Fayetteville, has a generous display of vintage pieces. Another a mile away, Stickley Audi & Company operates an expansive showroom.
In what Gus Stickley saw as his last big act, he established Craftsman Farms on wooded acreage in Morris Plains, New Jersey. We went there, too. Stickley had planned a school for boys. When it didn't materialize, he moved his family into the log headquarters. Now, it's a museum that contains quite a bit of the original furniture, and a docent tells plenty of interesting stories.
Back in New York, we stopped at Kykuit, the Rockefeller estate, and saw its wonderful artwork on the way to visiting friends in the Big Apple. We caught an after-dark showing of a lighted Chihuly exhibit, which closed last Sunday, in the New York Botanical Garden and finished the trip with a flourish.
Ann achieved a lifelong goal by attending a Metropolitan Opera matinee. Then we set aside my lifelong prejudice by taking in the regular-season finale at Yankee Stadium. Glory be! The Yankees lost.
Hubbard on Spokane
Elbert Hubbard, long-haired, wearing a frock coat and a flowing tie, spoke here at least three times, on April 7, 1903, Oct. 18, 1907, and Sept. 27, 1909. He may also have been here in 1905 because he praised the city lavishly in the March 1906 issue of "The Philistine."
Spokane, he wrote, is "the model city of America … in its attention to the excellent and fit in architecture." Using the city's 1889 fire as a reference, he also called it "the most beautiful city ever created within so short a time in the history of the whole world."
Before delivering his 1907 lecture, Hubbard told a Spokane Daily Chronicle reporter "Spokane should have a beautiful concrete bridge at Monroe Street, and if the city fathers accept my suggestion, they will have Kirk Cutter draw the plans."
More or less, that's what they did.
In May 1915, Hubbard sailed for Europe, confident he could convince Kaiser Wilhelm to halt the expansion of the world war. He and his wife died when a German U-boat sank the Lusitania.
If you go
Expect tolls. I-90 doubles as the New York Thruway. However, you can cross most of the state for about $20. And if you're driving a rental, you should use the EZ-Pass lane. You'll receive a bill.
Don't sweat gasoline. There are travel plazas on the toll road, and it's hard to drive an hour without running into a city.
Don't drive in unfamiliar cities without a detailed map. Hand-outs are fine for freeways and a few major streets, but they provide little help almost anywhere else.
You won't see lots of Subarus. Much like Volvo a generation ago, Washington, Oregon and Colorado, along with New England, are the nation's hot spots for Subaru sales, Spokane ranks high for sales per capita.
---