News > Spokane
Work on U-District pedestrian bridge stops for season
Wed., Nov. 15, 2017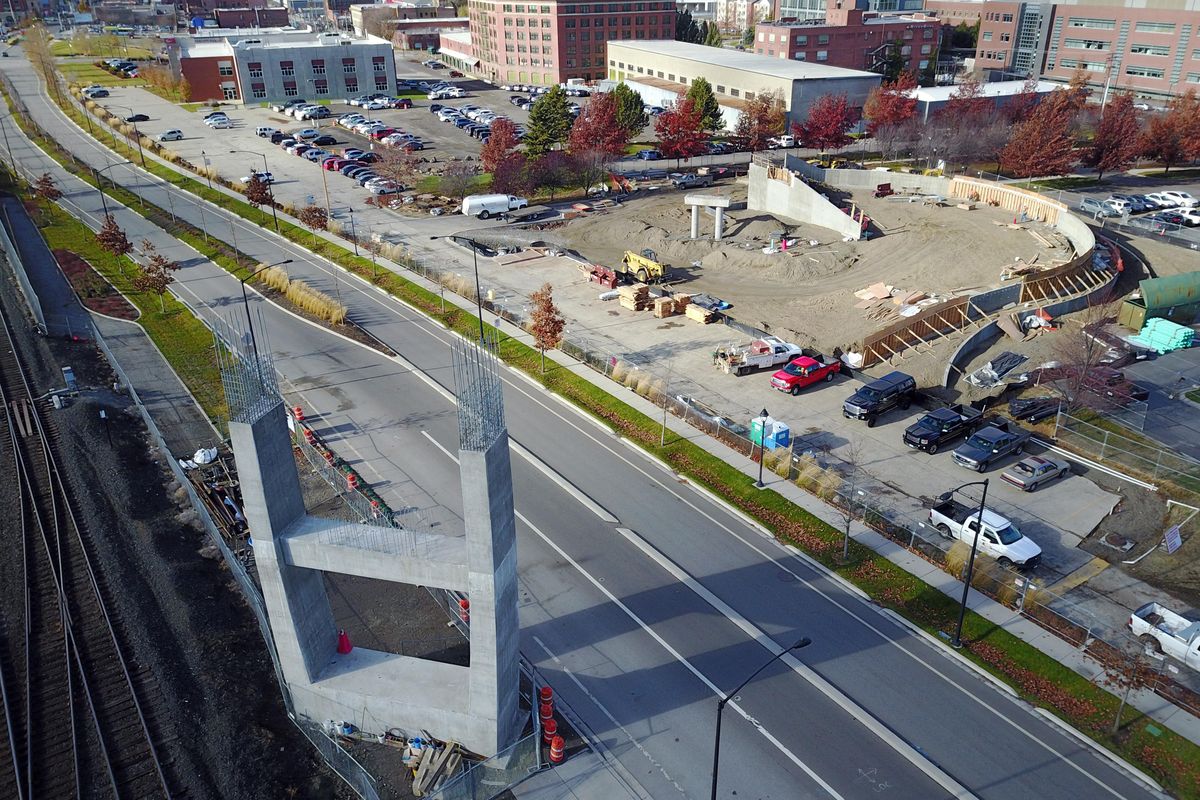 The support arch, shown Tuesday at right, for the new University District pedestrian and bicycle bridge rises more than 40 feet into the air. Construction has stopped until the new year. The south side ramp structure is at left. (Jesse Tinsley / The Spokesman-Review)
Construction workers buttoned up work on Spokane's newest bridge for the season, leaving the pedestrian and bicycle bridge in the University District about 45 feet tall.
When the central arch on the cable-stayed bridge is finished, it will reach a height of 120 feet.
The nearly $12 million University District Gateway Bridge, its official name, is about 30 percent complete and is expected to be done and open in September.
Much of the construction around town stops for winter due to the frigid temperatures, but the bridge was halted due to an agreement with BNSF Railway, which sees a marked uptick in train traffic for the holiday season. Work should begin again in the new year.
When complete, the bridge will be the latest landmark on the city skyline, and join a procession of public investment on the east end of downtown, spurring what city leaders hope is private development in a part of town that has withered in recent decades.
Along with the recent transformation of East Sprague Avenue, the creation and extension of Martin Luther King Jr. Way and the growth of the University District, new proposals have proliferated. At the pedestrian bridge's south landing, Avista has plans for a bioscience hub with a six-story, 140,000-square-foot multiuse building filled with high-tech labs, offices, classrooms and study area. The building is the first of two phases of what is called the Catalyst Project situated on 5.5 acres owned by the energy company.
The city is also gearing up for the next phase of construction to extend MLK Way to East Trent Avenue. That work that will begin in the spring. In 2019, the city will redo another section of East Sprague, between Browne and Scott streets.
In all, the east fringe of the city core will look nothing like what it used to, when it was disparaged as a dangerous old rail yard and warehouse district.
"It's going to be really cool," Marlene Feist, director of strategic development for the city's public works department, said of the bridge. "It's just one more step in the transformation on the east end of downtown."
Local journalism is essential.
Give directly to The Spokesman-Review's Northwest Passages community forums series -- which helps to offset the costs of several reporter and editor positions at the newspaper -- by using the easy options below. Gifts processed in this system are not tax deductible, but are predominately used to help meet the local financial requirements needed to receive national matching-grant funds.
Subscribe now to get breaking news alerts in your email inbox
Get breaking news delivered to your inbox as it happens.
---